You can attend this job fair without leaving your room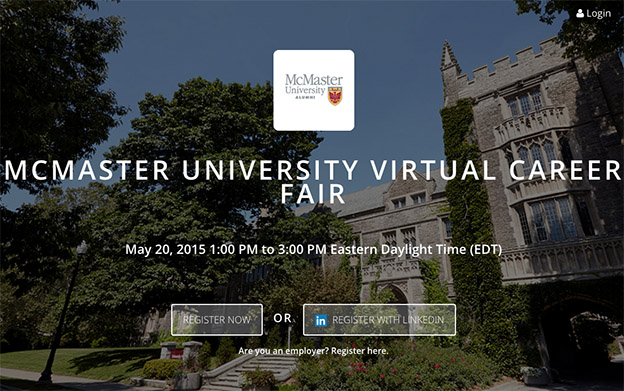 ---
Finding employment can be challenging if you're away for the summer and are unable to have a face-to-face meeting with a company of interest.
On Wednesday, May 20 between 1 and 3 p.m. the Student Success Centre, in partnership with the McMaster Alumni Association, will offer McMaster's first Virtual Career Fair.
Students and alumni will have the opportunity to virtually network and chat with 36 industry recruiters and HR representatives.
"It's important for students to treat this as if they are speaking in-person to the employer," says Gisela Oliveira, Student Success Centre Manager for Career and Employment. "Properly introducing yourself and having an elevator speech prepared is critical to creating a good first impression."
Recruiters will be looking to fill full time, co-op, internship and new grad positions. Participants are encouraged to update their resume and upload it to their account when they register for the event on Brazen Careerist. On the day of the event, students and alumni will login, wait in a virtual queue and be allotted a set time to speak with a representative.
To prepare for the event, students and alumni should register ahead of time, check back to the site often as employers upload their virtual booths, research the companies attending and verify the opportunities available.
Following the event, employers will automatically be sent the resumes of the participants they spoke with during the virtual fair and job seekers should be sure to follow up with the employers they connected with online.
Current list of employers:
Engineering

Brock Solutions
ConocoPhillips Canada
Dufferin Construction Company
GeoTab Inc
Walterfedy
CN Rail

Government/Not for Profit

Communications Security Establishment Canada
OPP Uniform Recruitment
Good Shepherd
North East Community Care Access Centre
The Children's Aid Society of Hamilton
Umbrella Family and Child Centres of Hamilton

Finance

Manulife
RBC
Ontario Teacher's Pension Plan
Rogers Communications
Reynolds and Reynolds
GE Canada

Healthcare

Amaris
Antibody Health
Communications
Atlas Healthcare
Brain Injury Services
GlaxoSmithKline

Sales/Consulting

APAC Customer Service
G&K Services Canada Inc
Sryker
Xerox
Enterprise Holdings
Comtech Group

IT

Aversan Inc
FDM Group
Ingenia Tech
Tata Consultancy Services
D2L Corporation
Epic