Students are encouraged to vote in upcoming Municipal Election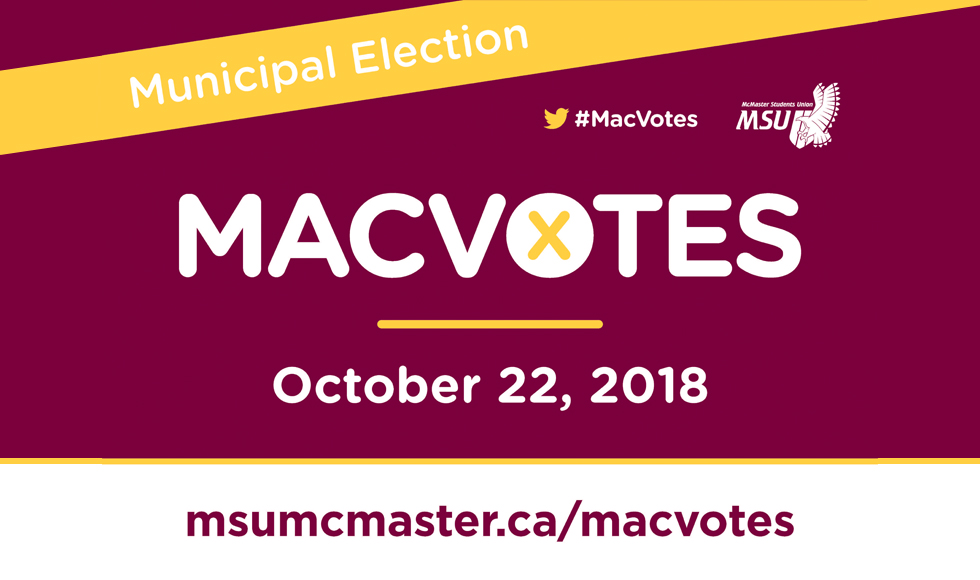 ---
On October 22nd, 2018, the City of Hamilton will determine the new Mayor of the city as well as it's Ward Councillors. The McMaster Students Union is encouraging students to get out and vote.
Voting is an important and powerful function of your democratic rights — at the federal, provincial, and municipal level. Your opinion and your vote matter, and voting significantly impacts the direction Hamilton takes as a city. As a post-secondary student, you are eligible to vote as long as you are a Canadian citizen over the age of 18 residing in the local municipal region. You can vote for both the Mayoral candidate you feel best resonates with you, as well as for a Ward Councillor candidate in your area.
The issues inherent to an election are complex and students should inform themselves on the current topics of discussions in order to know who can best represent them. Municipal politics are equally as important as the provincial and federal governments.
Ever been at a bus stop and been unable to board the HSR? Do you live in a house with inadequate heat or too many people? City Councillors address these issues. This is why it is imperative that students go out and vote.
On October 16 between 2-4 p.m. there will be a Ward 1 Candidates Debate in the MUSC atrium.
As students, you represent a large and vital demographic. In order to communicate relevant challenges, it is important that you are informed and ready to vote on October 22nd. Take the time to look over the information on this site and review the Election FAQs, the Mayoral Candidates, and the Ward 1 Councillor Candidates. Read more into the issues that matter to you, be it student housing, city transit, or economic development. Follow debates leading up the election, and don't hesitate to get involved and ask questions relevant to you. Visit this page often to stay up to date, and share your thoughts and opinions with us via Twitter and Facebook while spreading the word with the #MacVotes hashtag.