Student's app will help non-experts assess mental health issues in developing countries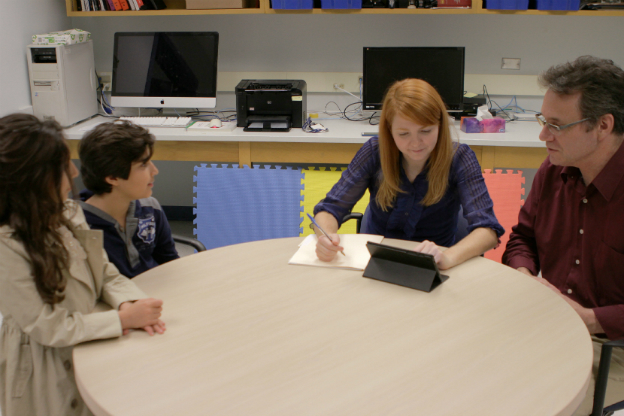 Amber Rieder, PhD candidate in the McMaster Integrative Neuroscience Discovery and Study program, piloting the app she developed alongside her supervising professor Dr. Geoffrey Hall.
---
Need to solve a problem you can't see?
There's an app for that.
Amber Rieder, a PhD candidate in the McMaster Integrative Neuroscience Discovery and Study program, is developing a mobile psychiatric assessment tool for use with children in developing countries.
The International Mobile Psychiatric Assessment for Children and Teens app, known as IMPACT, will help non-experts in rural areas assess young people for mental health issues.
IMPACT uses a series of carefully constructed questions to help users interview patients. At the end of the assessment, answers are exported to a secure server and can be accessed and shared by health care professionals.
The project was inspired by a World Health Organization program called the Mental Health Global Action Program (mhGAP ), designed for individuals without psychiatric training to provide basic treatment for mental, neurological or substance use disorders.
The program is commonly used in places around the world where there are limited resources or expertise, but proper assessment and treatment remain an issue.
"If there is a way to treat them with limited resources, there should be a way to assess them," says Rieder. "Children are vulnerable to psychiatric disorders during development, and this is exacerbated in developing countries where poor living conditions, including poverty and limited resources, confer further risk."
The mhGAP guidelines are also available on the app, and can be used for treatment after a diagnosis.
While the program is currently available for the Android operating system, it will eventually be available for Apple's iOS.
Rieder will continue testing the app under the supervision of Geoffrey Hall before taking it to Kenya for further research next term.
There, she will collaborate with child psychiatrist David Ndetei who is delivering psychiatric treatment using the mhGAP to 6,000 rural school children.
"I don't think people realize how much of an impact early intervention has. They don't get any meaningful recognition of mental illness until later when it's become a problem and I think that's what's so exciting about the project," says master's student Ellis Freedman who is also a part of the project. "It's targeted towards children so you can intervene much earlier and prevents a lifetime of burden."
Kenya has fewer than 100 psychiatrists – very few of whom specialize in children – despite having a population of 41 million.
Rieder will maintain a blog as she travels to Kenya to test the app, and you can follow the journey here.
A crowdfunding website has been set up to raise money to purchase more tablets that will be sent to Kenya. If you would like to help fund the project visit https://www.gofundme.com/gslcp8.