McMaster expands student supports as disability disclosures, accommodations increase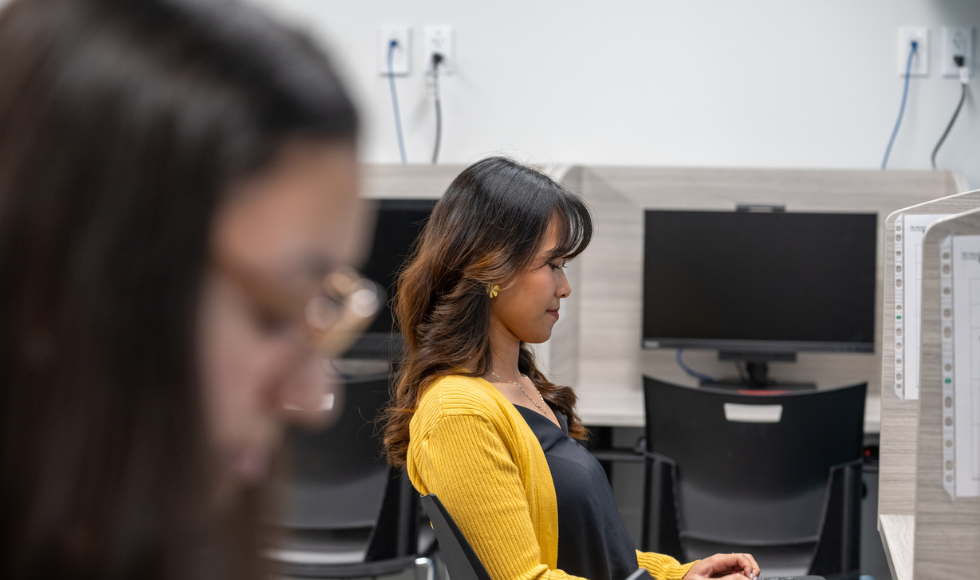 Student, faculty and staff from across campus were consulted as part of a strategic review of Student Accessibility Services at McMaster.
---
McMaster is expanding student accessibility supports as more students who disclose disabilities are attending and staying through to graduation, creating a sharp increase in the number and complexity of academic accommodations, a strategic review has found.
Students with disabilities are well-served once they are connected to Student Accessibility Services (SAS) and able to access an intake appointment, the McMaster University Review of Student Accessibility Services report shows.
It makes four main recommendations related to "four areas of enhancement." They are, clarity of roles and responsibilities; developing supports for diverse students with disabilities (eg: graduate, international, Black and Indigenous); enhancing training and outreach; and greater support as services shift to a social model of disability, from a medical model.
"Increasing numbers of students are disclosing a range of disabilities at McMaster today, where in the past these students may not have had an accurate assessment of, or support, for their disabilities through childhood, and may not have pursued university at all," says Sean Van Koughnett, associate vice-president (Students and Learning) and dean of students.
"There are no signs that the demand for this critical service has plateaued. I welcome the report's recommendations as we build a system at McMaster that can serve this generation of students and the next."
Removing barriers, adding support
This shift to a social model includes recognizing that social and environmental factors often act as barriers to success. To create an inclusive and accessible campus, the goal is to remove these barriers and promote an environment in which every student can flourish and succeed.
Work has started to optimize the intake process for students as they navigate the robust supports available within Student Affairs and across the university. In addition, a new information system is expected by the Spring 2024 term, which will streamline scheduling and communication with both students and instructors.
SAS is also increasing capacity and transitioning to a specialized model to better address the needs identified by students, instructors and staff.
"Earlier this year, during visits to McMaster's six Faculties, I heard directly from students and faculty members that they were experiencing challenges with the system. These visits, and feedback shared with the dean of students, were the catalyst for initiating the review," says Susan Tighe, provost and vice-president (Academic).
"I am thankful to the reviewers for capturing the voices of so many of our students, faculty, and staff as they worked on the report. This is an important step toward achieving McMaster's institutional priority of inclusive excellence."
Driven by student voices
Reviewers provided insight into the efficiency and effectiveness of the academic accommodations process for students with disabilities, and the SAS' readiness as the number of academic accommodations continue to rise.
The reviewers held consultations in May-June 2023 with the McMaster Students Union, the Graduate Students Association Executive Team, Maccess and other student representatives to ensure the review was shaped by student voices and needs. The reviewers also met with the McMaster University Faculty Association, academic leaders, SAS and Student Success Centre staff, as well as the Equity and Inclusion Office, Student Wellness Centre and other university units.
Over the last five years at McMaster, there has been a 58.5 per cent increase in the registration of students with disabilities and a 62 per cent increase in students registering with mental health issues as their primary disability. Today, SAS serves approximately 11 per cent of the McMaster student population.
In the 2022-23 academic year, SAS administered nearly 20,000 test and exam accommodations at the Tim Nolan Testing Centre, compared to about 8,500 in 2019-20.
"I have confidence in the strong leadership at McMaster's SAS department and in their ability to continue introducing forward-looking improvements to the system," Tighe says. "Every student here brings their own experiences and perspective and contributes to a richer university experience for our student population."
The five-member review team was chaired by the executive director, Student Life Programs and Services at the University of Toronto, who worked with four representatives from McMaster.