Strategic Plan: Relationships at the heart of community engagement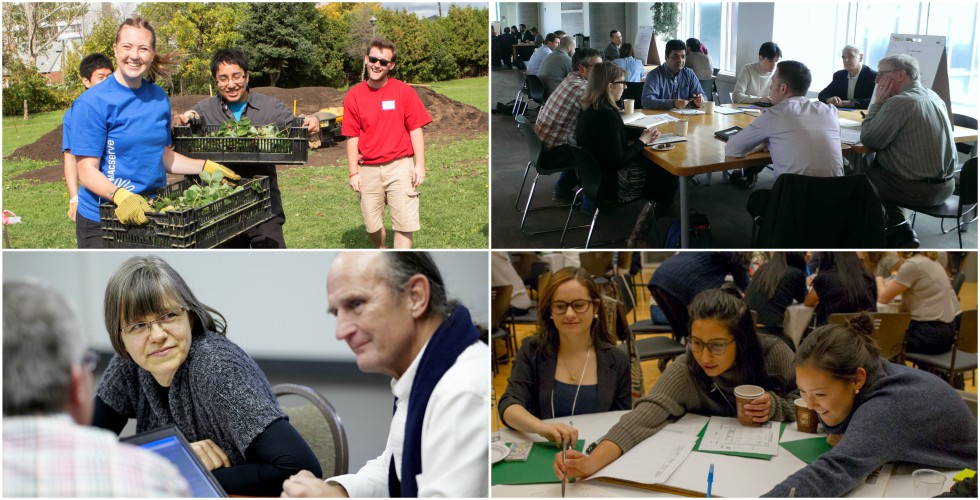 ---
Relationships build community.
That's the foundational principle underlying a new five-year strategic plan intended to guide the development of community partnerships and community-engaged teaching, research and service activities at McMaster.
The Network for Community Campus Partnerships (NCCP), which is coordinated by McMaster's newly established Office of Community Engagement, developed the plan, Working Together for an Inclusive, Sustainable Hamilton, after more than six months of extensive consultations with more than 300 students, staff, faculty and members of the Hamilton community.
"Strong relationships are at the heart of community engagement," says Sheila Sammon McMaster's Director of Community of Engagement. "McMaster is committed to building principled, sustainable, and reciprocal relationships with our community partners and, guided by the principles in this plan, to connecting people across communities, sectors and disciplines so that, together, we can be a force for good in our community."
Principles of Community of Engagement include:

Relationships: We can't have community without relationships. Any successful partnership must be built on trusting and respectful relationships guided by integrity.

Reciprocity: From design, to participation, to the outcomes of a project, we strive to work together for mutual benefit.

Equity: We are conscious of the historical and structural inequities that exist in society and strive to provide access and opportunities to all residents and members of our communities.

Continuity & Sustainability: Acknowledging that different communities work on different timelines and schedules, we strive to consider both the short and long-term implications of our work together.

Openness to Learning: Change takes time. We are committed to continually learn from our work together, reflecting on and sharing both our successes and failures to grow as individuals, partnerships, and communities.

Commitment to Act: We aspire to make a positive difference in our community by sharing and acting on our knowledge to contribute to the greater social good.
The plan establishes six key principles of community engagement and identifies the goals that will drive the work of the NCCP over the next five years.
Goals include: establishing the principles of community engagement as the foundation of community-campus partnerships; building bridges by embedding the University in the community and inviting the community into the University; aligning with neighbourhoods, community groups, governments, and institutions to partner on collaborative projects that respond to community-driven priorities; and to assess and learn from the outcomes and impacts of community engagement work on an ongoing basis.
"This strategic plan represents the collaborative effort of faculty, staff, students and community members alike who, over the past few years, have been part of a sustained dialogue to renew the University's approach to community engagement," says Susan Searls Giroux, associate vice-president (faculty) who oversees the Office of Community Engagement.
"Whether it's working with community partners to develop research projects that address urgent challenges, or creating opportunities for our students to enrich their understanding of what it means to engage with communities, this plan represents McMaster's commitment to engaging in a way that enhances both our research and academic missions, while supporting the vitality and well-being of the Hamilton region," says Searls Giroux.
A number of programs and initiatives have already been undertaken to embed community engagement into the academic mission of the University and create closer ties with Hamilton community including the development of the Interdisciplinary Minor in Community Engagement, Change Camp Hamilton, and the Research Shop.
McMaster also recently signed a set of Principles of Cooperation with the City of Hamilton, Mohawk College and Redeemer University College in which each partner recognized the importance of post-secondary education to the community and committed to working together for the benefit of the citizens of Hamilton and broader society.
The Office of Community Engagement, through the Network for Community Campus Partnerships, will oversee the implementation of the plan through co-led community-campus working groups focused on research, education, service and community-defined priorities.
Read Working Together for an Inclusive, Sustainable Hamilton