Strategic Leaders pilot program receives award at CAUCE 2018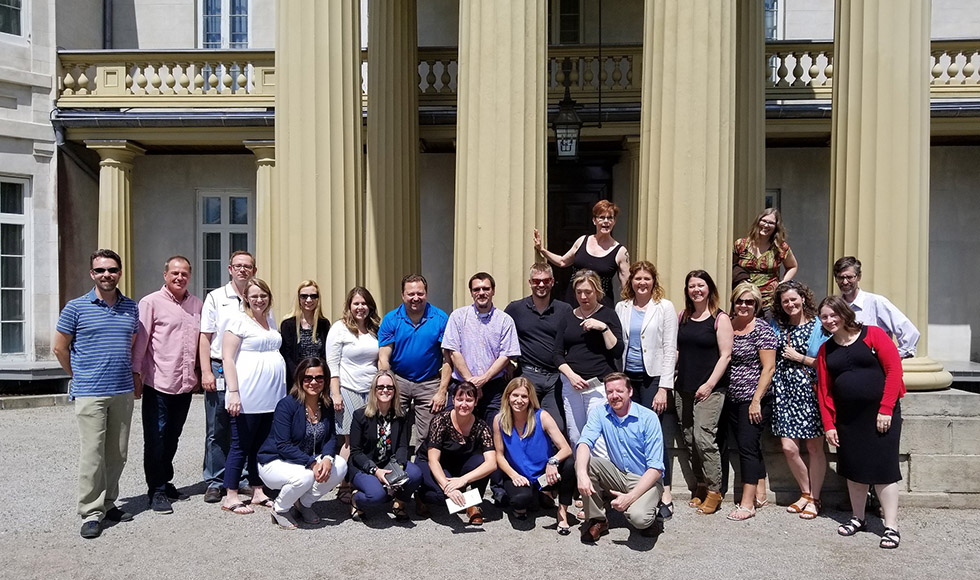 ---
Award recognition for the Strategic Leaders staff leadership training program emphasizes McMaster's commitment to the development of people in bold and innovative ways said Lorraine Carter, Director of McMaster Continuing Education, at an awards ceremony in Halifax at the end of May.
"At a time when experiential learning and community engagement are important benchmarks for universities, our continuing education colleagues across Canada have recognized this program as a responsive and socially accountable approach to leadership development," said Carter, who accepted the award on behalf of McMaster University Continuing Education at the Canadian Association for University Continuing Education (CAUCE) conference on May 29.
Recently, McMaster refreshed its leadership philosophy by revising its six core leadership capabilities and defining leadership levels for roles across the organization. As a result, a program called Strategic Leaders was developed in 2017 to deliver a new approach to leadership training.
Dr. Rumeet Billan is the lead facilitator and credits the success of the pilot program to the support that she and the development team received from McMaster throughout the process.
"This isn't your standard leadership program – it's bold, different and innovative," said Dr. Billan, "and McMaster University stood behind us and provided the support to ensure that it would be a success."
The initiative combined the expertise of McMaster Continuing Education, Human Resources Services, and DeGroote Executive Education –bringing together key stakeholders from each division to embark on a collaborative development process. The program integrated three key themes including: Leading Self, Leading Others, and Leading at the University. Participants gained an awareness of their current leadership capabilities and worked to build on their skills to effectively lead others and position themselves for growth at McMaster.
Connecting participants with other leaders across the university was a key feature of the program. George Hamilton was one of the first to participate in the program and noted the benefits of learning from his colleagues experiences.
"Finally, here is a skills development program created by the organization, for the organization," said Hamilton, who works as the Manager of Finance in the Faculty of Health Sciences, "I enjoyed hearing how my peers had some of the same issues I did, and others had issues I had never even considered – it gave me a sense of belonging."
Wanda McKenna, Assistant Vice-President and Chief Human Resources Officer at McMaster University was very pleased with the success of the program and said that it exceeded all expectations for being new, bold and different. It also created a "positive buzz" on campus around leadership development following the program.
"I am delighted to see such enthusiasm for the Strategic Leaders pilot program," said McKenna, "McMaster employees are committed to their ongoing learning and development and we are delighted to provide such a great opportunity for leadership growth and give back to our employees, the university and the Hamilton community in this very important way."
The Strategic Leaders program offers a variety of learning methods to support leadership growth. Throughout the 7 full-day classes individuals in the program have the opportunity to participate in coaching sessions, mentoring guidance, experiential learning, and hear from guest speakers from the McMaster and Hamilton community.
The program is available to employees who oversee a function and/or team within a department or faculty. Typical job titles at the Strategic Leader level may include: Assistant Director, Assistant Registrar, Chair, Manager-Finance, Manager-Information Technology, Program Manager, or Research Program Manager. Applicants must have served in a strategic leader role for a minimum of one fiscal year cycle as of the program start date.
For more information about the Strategic Leaders program, sign up for the upcoming program preview webinar scheduled for June 27 at 12PM (EST).
Application deadline: July 27, 2018
Program start date: October 17, 2018
To learn more about Leadership Development opportunities at McMaster visit leaders.mcmaster.ca.