Stepping out of the classroom, and Out of Our MiNDS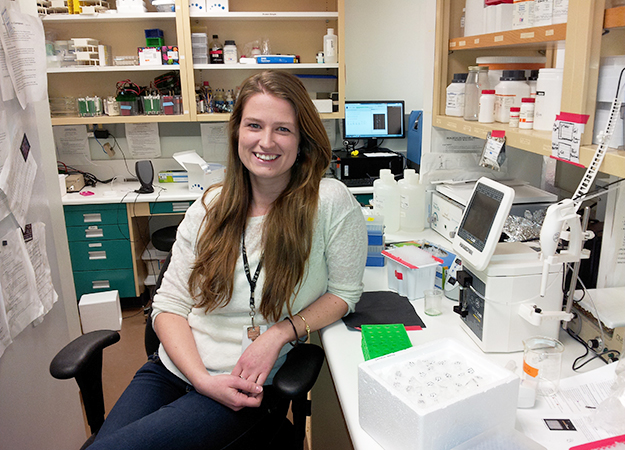 PhD candidate Kate Williams is helping to bring neuroscience research into the greater Hamilton community through the 'Out of Our MiNDS' program. The three-year-old initiative has been a big hit with young students in the Hamilton and Burlington area.
---
"The kids always get excited when they get to see the brains," says Kate Williams.
No, the cheerful PhD candidate is not on location for the latest George A. Romero film, but tucked away in a neuroscience lab on campus — fielding questions about McMaster's innovative "Out of Our MiNDS" program.
Launched in 2010, the community-driven program was designed to bring neuroscience education to the greater Hamilton area, with a focus on children and young students. Through regular visits to area schools, Williams and several of her colleagues are hoping to make advanced science fun, interactive and accessible.
Recent visits include Pineland Public School and Charles R. Beaudoin Public School in Burlington, and George L. Armstrong Elementary on the Hamilton mountain. The team has also made trips to libraries and retirement homes in the area.
"We just love communicating science, and we want to get the kids excited about their opportunities," says Williams, who uses scaled-down models of brains and other interactive tools to offer a beginner's look at complex neuroscience. "We've designed a program to teach the students about the brain using hands-on demonstrations and experiments. We split the lesson into three areas: neuroanatomy, microanatomy and neurophysiology."
Housed within the McMaster Integrative Neuroscience Discovery & Study graduate program (known as MiNDS), the notion of stepping "out" of the program's on-campus locale was originally developed by Williams, fellow graduate student Lilia Tcharnaia and program director Kathy Murphy. These days, graduate students Jason Boulet and Lindsay Rosen are helping to run the sessions.
According to MiNDS program coordinator Sandra Murphy, Williams is a "go-to" presence in the lab, whether she's editing papers, answering technical questions or leading a group discussion.
"Kate is a very easygoing person, and the students in the program appreciate her time and enthusiasm for research that she willingly shares," says Murphy. "I never need to worry about  getting things done on time when Kate is one of my volunteers. She has also been recognized by the University for her outstanding contributions to community service with an award from the Graduate Students Association."
To date, more than 80 faculty members from across the University have contributed to the development of McMaster's neuroscience graduate program — a collaborative effort involving the faculties of Science, Health Sciences, Engineering and Humanities. Areas of neuroscience research in the MiNDS program include: cellular and molecular; clinical and health; cognitive; computational; neurotech; and systems and behavioural, with an overall goal of combating diseases such as Alzheimer's, autism, Parkinson's and dementia.
Current student projects are varied and complex. Many involve advanced research related to bipolar disorders, depression, schizophrenia, sleep quality, memory and aging, among dozens of other topics.
On May 23, Out of Our MiNDS team members will be sharing their experiences with other outreach groups at the Canadian Association for Neuroscience conference in Toronto.