Startup Survivor winner makes it easy to put your best foot forward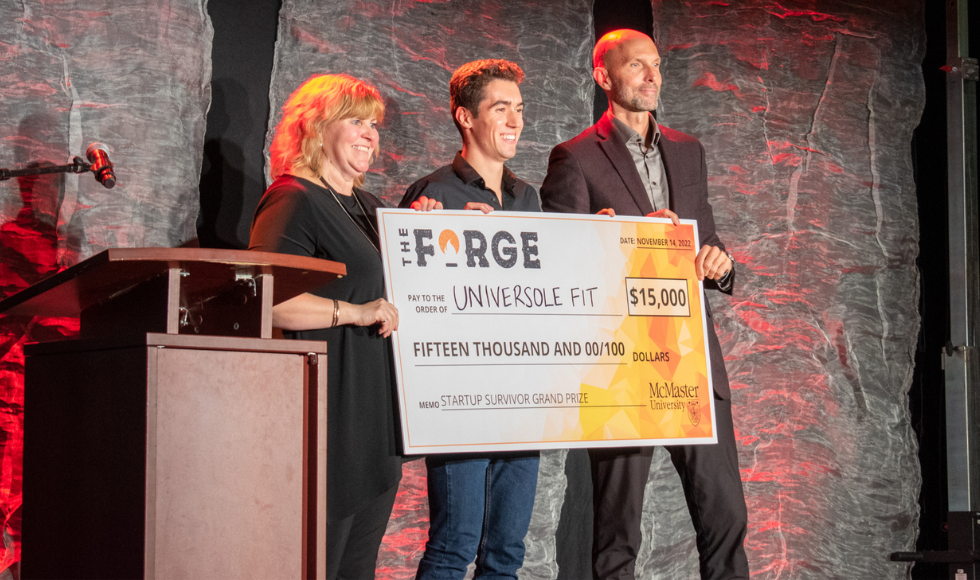 Universole Fit co-founder Joshua McGillivray receives the Forge Startup Survivor grand prize of $15,000 from Provost Susan Tighe and Dean of Students Sean Van Koughnett.
---
A student startup that uses 3D modelling and AI technology to help online shoppers find the best-fitting shoe has taken home the grand prize at the Forge business incubator's Startup Survivor pitch competition.
The awards were given out Nov. 14 at the Forge's Startup Survivor pitch competition, where the finalists — five student entrepreneurs — competed for the ultimate prize in front of a panel of expert judges.
Universole Fit, which took home the $15,000 grand prize and the $1,000 people's choice award, finds the ideal foot and shoe match based on retailer-specific stock. It helps online shoppers find a shoe that fits the first time while decreasing the rate of returns for retailers.
Co-founded by McMaster biomedical engineering grad and master's student Joshua McGillivray, McMaster engineering grad Aqeel Awadia and McMaster engineering graduate Daniel Shields, Universole Fit became a full-time client of the Forge this fall — the only company from their Survivor cohort to accomplish that.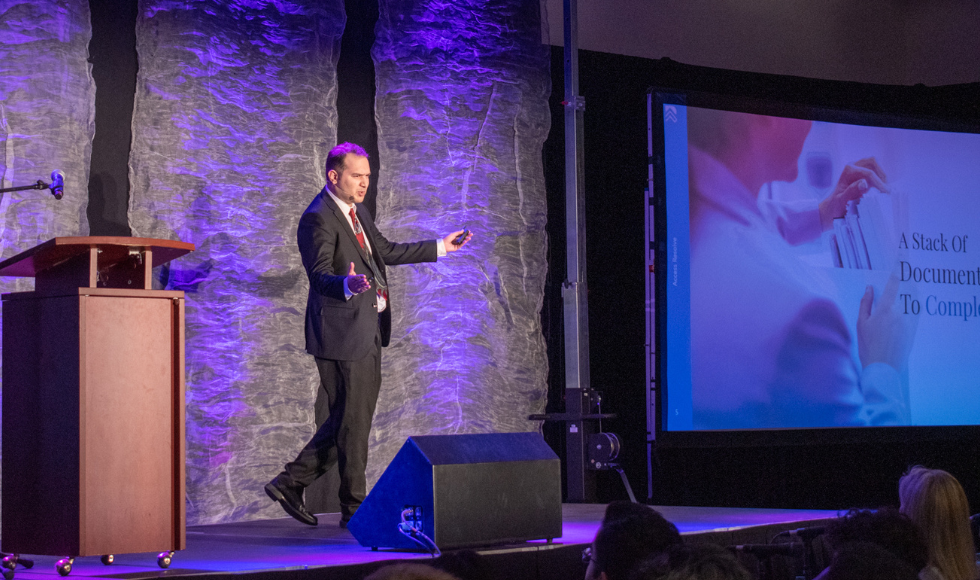 In second place, winning $10,000, was AccessResolve, human resources software that makes it easier and more efficient to track and manage workplace accommodations.
Founded by McMaster engineering grad Areeb Khawaja and current master's students Mohit Lal and Shivalika Sirohi, AccessResolve also won second place in the World Challenge Challenge 2022 student competition at McMaster this year.
AccessResolve not only manages accommodation requests and creates individualized and company-specific workflows, it promises to save time and increase productivity through faster processes and auto-generated reports.
AccessResolve has been working on developing a pilot with McMaster Human Resources in recent months.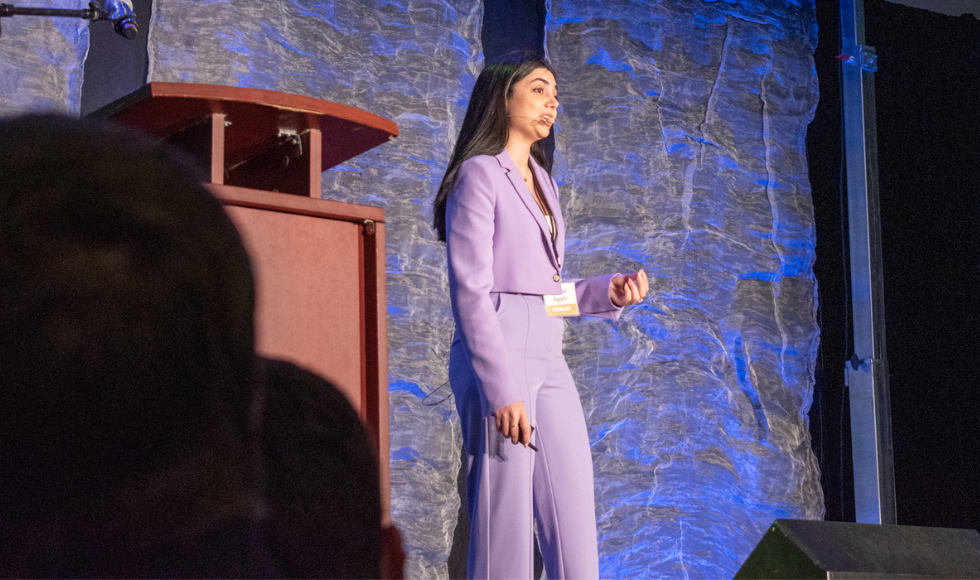 In third place, taking home $7,000, was Tression, whose founder created enhanced compression leggings designed to to allow users to manage their health without having to sacrifice comfort or style.
Founder Parisa Agahi, who graduated with a master's degree in biomedical discovery and commercialization, developed the Tression compression pants after watching her mother struggle with unsatisfactory compression stockings when dealing with varicose veins.
"Women around the world shouldn't have to sacrifice their comfort or style in order to manage their health," the Tression website says. "They deserve compression clothing that are not only effective at enhancing circulation, but are also comfortable, fashionable and easy to wear."
MedX Insight won the $1,000 bonus challenge prize for pitching a platform that aims to improve patient care and save time for doctors through smart screening, compliance monitoring and a dashboard that tracks patients' response to medication and flags drug interactions or reactions.
Founded by McMaster undergraduates Shreyas Suri and Max Chan, along with University of Waterloo students Kevin Ouyang and Adil Mohammed, MedX Insight is designed to streamline appointments and assist in decision-making. The startup has a long history with the Forge, working together before its co-founders enrolled at McMaster.
The fifth finalist was FYSIQ, an intelligent fitness analysis suite for strength training that uses pose-estimation, biomechanics and machine learning algorithms to give coaches, trainers and athletes the insights they need to optimize performance without injury.
Founded by Global Health master's student Noah Smith and McMaster Engineering graduate Jesse Rowley, FYSIQ uses AI-enhanced analytics to monitor an athlete's workout execution and form. The platform also offers an extensive workout catalogue with detailed instructions and how-to videos.
About the Forge:
Founded in 2015 and funded by McMaster University, the Forge Business Incubator program serves startups in the Hamilton, Greater Toronto and Niagara Regions. Clients receive expert mentorship, funding, investor introductions and other entrepreneurial support. So far, 275 companies have been through program and have raised over $45 million while selling products in 50 countries.