Start (me) up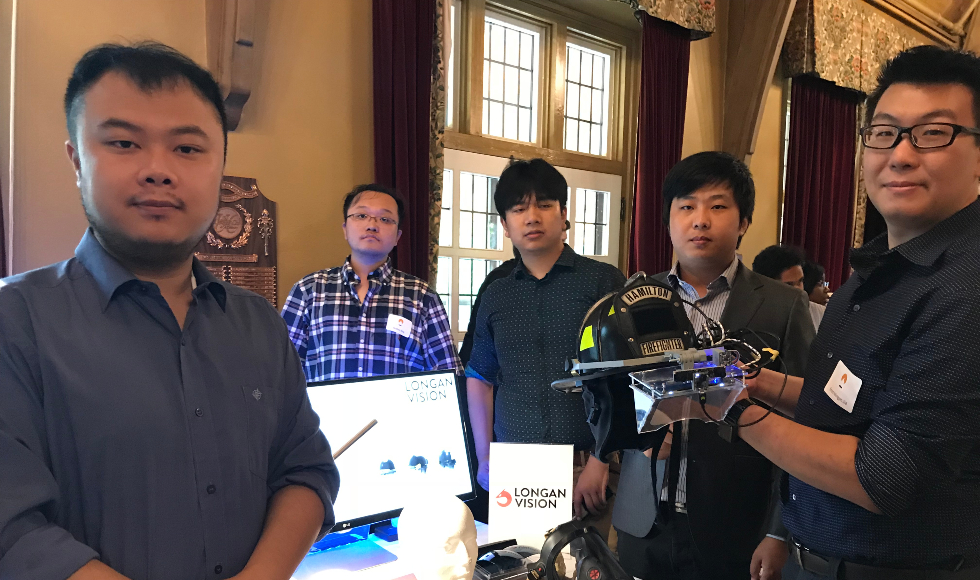 (From left): Chang Liu, Anzhou Xing, Yuanming Cao, Jerry Xu and Enzo Jia of Longan Vision. Photo by Sara Laux
---
Helping firefighters see in thick smoke, thanks to a flip-down visor with an infra-red camera and augmented reality.
Connecting independent beauty pros – hair stylists, estheticians and make-up artists – with clients at the swipe of a screen.
Painting lines on sports fields faster and straighter.
Folks working with The Forge, McMaster's startup incubator, have a lot of creative ideas to solve a lot of different problems – and are getting help from Mac to turn their ideas into marketable reality.
Last night, the top teams from the incubator's intensive 15-week summer accelerator program got to show off their accomplishments in the program's Demo Day, demonstrating prototypes, sharing successes and networking with potential investors, customers and employees.
"This is an opportunity to present ourselves and our company to the wider community," explains Chang Liu, a software engineering graduate student and co-founder of Longan Vision, which developed the flip-down smart visor for firefighters. "It's a way to show what we've been doing and how we're helping firefighters." The company has started demonstrating its technology with fire departments in Niagara, Hamilton, Waterloo and Brantford.
Anita Grant, who describes her company, Fleeky, as the "Airbnb of hair, face and nails," says she got the idea for her online platform while watching her sister struggle to establish her career as a hair stylist.
"Beauty pros are great at makeup and hair, but they often lack business and marketing training," says the Ryerson graduate. "Fleeky allows beauty professionals and clients to find each other quickly and easily. Because our platform is unique, our biggest challenge is educating people about what we do – so this event is great exposure and a chance to showcase the site for a local audience."
The Forge provides programming in three stages for early-stage entrepreneurs, helping with everything from product-market validation to rapid prototyping to scaling up production. Since its start almost four years ago, more than 90 companies have been through The Forge, raising almost $20 million and selling products in more than 30 countries.
This year, The Forge's summer program kicked off in March with a pitch contest that rapidly filled CIBC Hall to capacity – and then some.
"We may have been slightly in violation of the fire code," chuckles Monika Yazdanian, The Forge's director. "Fortunately, we have a startup for that."