Star athlete balanced books with competitive sports during time at Mac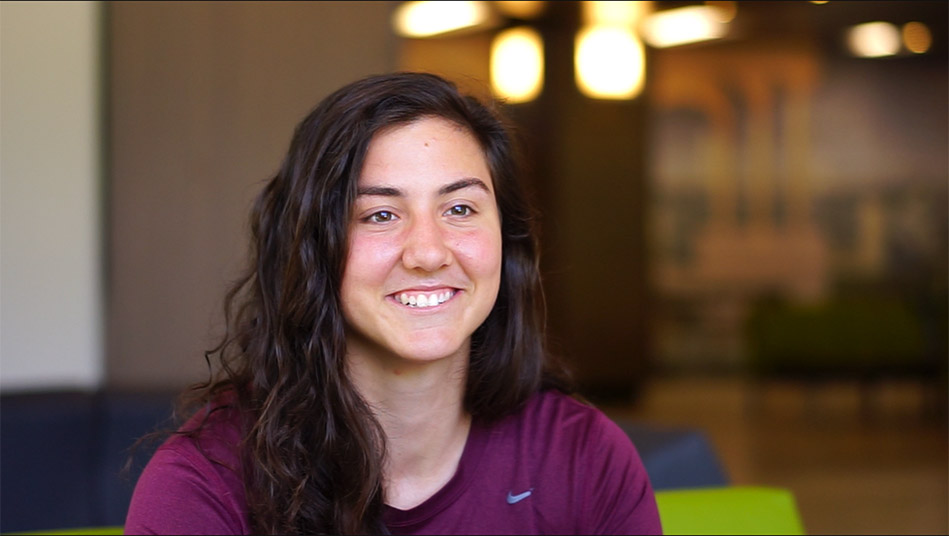 ---
When choosing a university, Cindy Nelles sought a place that balanced her inner academic nerd with her outer competitive athleticism.
"I wanted to maintain both sides of who I was and that [university] was McMaster," said Nelles, a Civil Engineering graduand.
Nelles' enthusiasm for sports began at the age of 10, when her father signed her up for a touch-rugby league in her hometown of Belleville, Ont. Once in high school, rugby became an integral part of her life, with Nelles advancing to the national level and eventually playing U-20 for Team Canada.
But Nelles, the recipient of McMaster's female athlete of the year award for 2016, pushed beyond sports excellence. She chose McMaster's engineering program because of its general first year that allowed her to explore everything the field had to offer.
Engineering seemed like a good fit because it opened the doors for many opportunities, from starting a career to pursing to research to getting an MBA, Nelles said.
Throughout her time at McMaster, Cindy balanced a demanding athletic regimen with a demanding course load in civil engineering. As the first varsity rugby player from McMaster to receive the Canadian Interuniversity Sport (CIS) award, Nelles, who also served as the captain of the Marauders varsity rugby team and as a call-up on Team Canada while the team toured in France and New Zealand, recently experienced a victory of another sort: The triumph an Engineering student feels the moment their final-year capstone project is turned in.
For Nelles, a collaborative and supportive team defined her capstone course experience. Not one to shy away from a challenge, Nelles and her classmates tackled a daunting project: Redesigning a portion of the Hamilton harbourfront. Just like winning on the rugby field, Cindy attributes her capstone project's success to "hardworking" teammates who were keen to exceed expectations and "contribute their share of the work."
But Nelles' best memory of McMaster isn't wining the big game or finishing a major project. It's the people she met along the way. "It's the little things – it's going to the library and taking a snack break to chat or share a laugh with friends or catching up [with teammates] in between sets at the gym."
While serving as captain of McMaster's varsity team and a leader for the Maple Leaf rugby team at the national level were remarkable experiences, it is McMaster's friendly atmosphere and supportive, tight-knit student body that resonated most with the star athlete.
"Having great groups of people around you to help you better yourself [is what] brings the level of the [university] experience up."
What's next for Cindy? She's interested in pursuing a project management-related position in her field and intends on training for the national team during tours that could take her to places like Ireland, the UK, and France.
While she admits that the latter may be difficult to do while holding a full-time position, Cindy hopes to channel her inner Marauder and face the challenge head on.