Collaborating for a safe, respectful St. Patrick's Day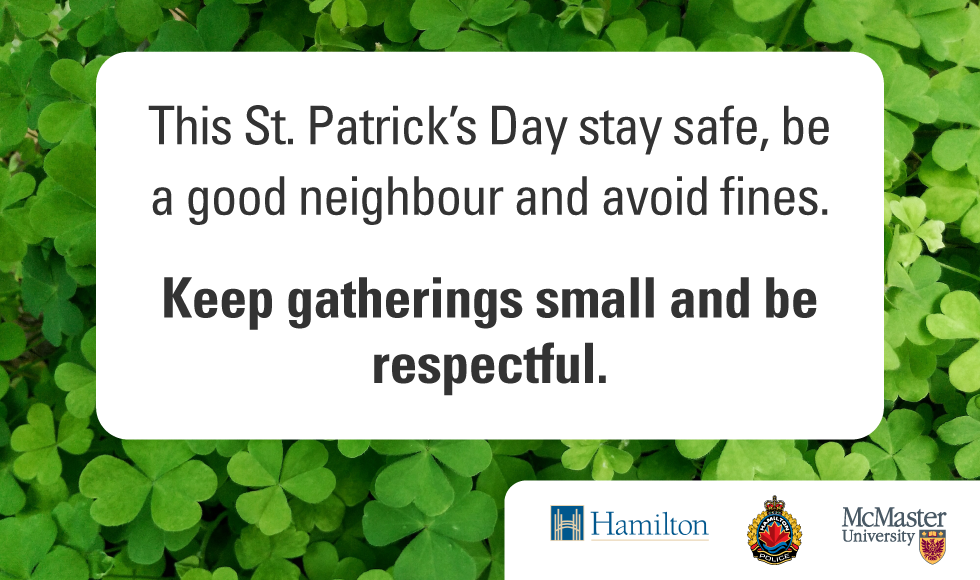 ---
McMaster students play an important role in making our community a great place to live.
As we head into St. Patrick's Day, McMaster University, the City of Hamilton and Hamilton Police Service are working together to encourage students to stay safe, be good neighbours and avoid fines associated with disruptive parties.
A Nuisance Party bylaw has been put in place by the City of Hamilton to discourage attending disruptive or unsafe activities, such as a street party. Charges under this City of Hamilton bylaw could result in large fines up to $10,000.
The City of Hamilton has also implemented a zero-tolerance zone, or University District Safety Initiative, in the neighbourhoods around McMaster which will be in effect Friday, March 17 at 12 am until Sunday, March 19 at 11:59 pm. 
McMaster is reaching out to students in various ways to make sure they are informed about the Hamilton bylaw and zero tolerance zone. This will include a message from the dean of students, social media posts and communications within student residences on campus.
"While socializing with friends, avoid the extremely high risks associated with large or disruptive gatherings — whether in Hamilton, or in any community across Ontario," says Sean Van Koughnett, associate vice-president and dean of students.
"This St. Patrick's Day, stay safe, be a good neighbour and avoid fines. Keep gatherings small and be respectful."
The City of Hamilton and the Hamilton Police Service will also be sharing messages on social media about prioritizing safety.
"On this day, and every day, I wish to remind all residents to be considerate of their neighbours and not to attend or organize disruptive events. Unsanctioned street events are a safety risk to attendees and the wider community," says Andrea Horwath, the mayor of Hamilton. "The City of Hamilton is working with McMaster University, Hamilton Police and our first responder partners to ensure any negative impacts of these gatherings are addressed."
"I wish the students of McMaster University and everyone taking part in St. Patrick's Day celebrations a safe and enjoyable occasion," says Horwath.
McMaster will be paying for additional Hamilton Police officers to patrol the neighbourhoods around the university on St. Patrick's Day, as it has done in recent years.
"We continue to work collaboratively with the City of Hamilton, McMaster University and our first responder partners to enable us to address the negative impacts of unsanctioned street gatherings," says Hamilton Police Service Superintendent David Hennick.
"Safety and well-being are a shared responsibility, and we need to come together as a community," says Hennick.
Van Koughnett says, "we want to help make sure our community is safe and we also want to prevent any student from experiencing any adverse impacts when bylaws, law and/or McMaster's Code of Student Rights and Responsibilities are violated."
Students can learn more about the City of Hamilton's nuisance party bylaw and University District Safety Initiative on the city website.