Spring Convocation ceremonies to present honorary degrees to ten distinguished figures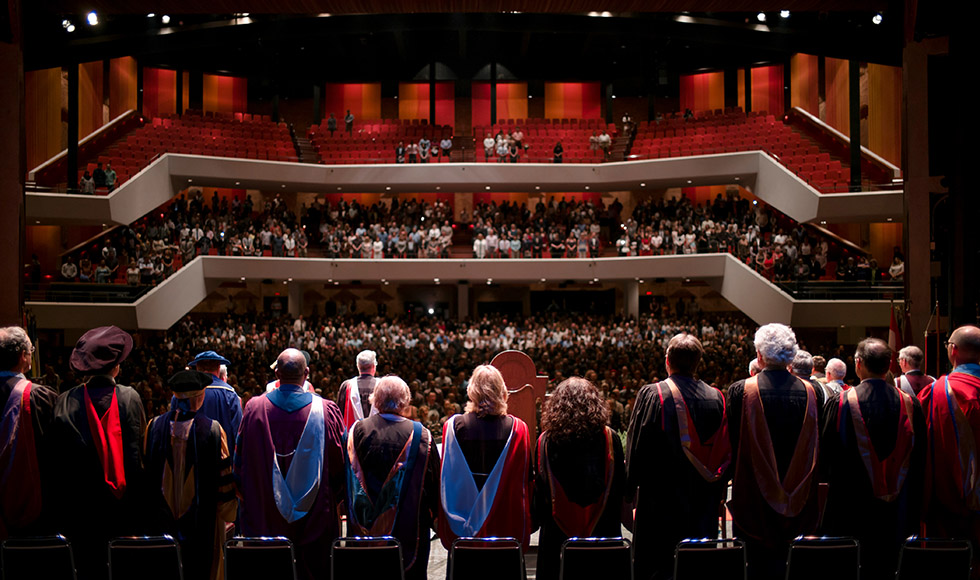 ---
McMaster is to honour the significant achievements of 10 distinguished figures in fields as diverse as astronomy, the fight against HIV/AIDS, technology development, environmentalism, cardiovascular health, journalism and humanitarianism, as the university awards honorary degrees at its Spring Convocation ceremonies.
In order of presentation, here's a look at who will be receiving honorary doctoral degrees in ceremonies in May and June:
Avis Favaro, Nursing, 2:30 pm, May 23: Favaro is Canada's longest-serving television medical correspondent. After 10 years as Global Television Network's medical correspondent, she joined CTV National News in 1992, and has earned numerous journalism awards and 13 Gemini Award nominations, capturing the honour in 1997.
Anne-Marie Zajdlik '90, Health Sciences, 2:30 pm, May 24: Zajdlik is a family physician and HIV specialist who has made it her life's work to see the end of AIDS in the country of Lesotho in southern Africa. The McMaster graduate is founder and director of Guelph's ARCH clinic and founding director of Bracelet of Hope, a charitable organization that employs scores of women while raising awareness of HIV-AIDS and money for fighting the epidemic in Lesotho.
John Mighton '82, Humanities, 2:30 pm, June 11 Mighton, a McMaster alumnus, founded Junior Undiscovered Math Prodigies and developed a novel instruction method to help children from lower-income families improve their math skills. Mighton is also the author of many award-winning stage plays and appeared as Tom the teaching assistant in the Oscar-winning Good Will Hunting.
Nicholas Brathwaite '82, Business, 9:30 am, June 12 McMaster alumnus, Science 1982. An inventor, technology developer and philanthropist, Braithwaite co-founded nCHip and developed devices such as cell phones and digital cameras. Brathwaite and his wife Janice founded the PETNA Foundation to address important causes in his native Grenada and beyond, supporting students, rebuilding homes after natural disasters, and providing access to technology.
Kenneth Hall '55, Social Sciences, 9:30 am, June 13 McMaster alumnus, Social Sciences 1955. Hall served as a teacher, vice-principal and principal in Hamilton for 30 years, but is best known for his work as a volunteer and environmentalist. A two-term president of the McMaster Alumni Association, Hall has also served with the Hamilton Naturalists' Club and Royal Botanical Gardens and was a founder of the Bay Area Restoration Council. 
Martyn Burke '64, Social Sciences, 2:30 pm, June 13 McMaster alumnus, Social Sciences 1964. Burke is a journalist, documentary-maker and novelist whose subjects have included the Vietnam War, Idi Amin, the KGB and organized crime. He has written seven novels and several movies, and was nominated for an Emmy Award, a Directors Guild Award and a Writers Guild Award for his work on The Pirates of Silicon Valley. 
Michael Joyner, Science, 9:30 am, June 14 Joyner is an investigator at the Mayo Clinic whose research has shaped the understanding of cardiovascular function, the physiology of elite athletes and the relationship between heart disease and cognitive impairment. He has served on advisory boards from the National Institutes of Health to NASA.  He has written for The New York Times, Sports Illustrated and Outside magazine.
William Harris, Science, 2:30 pm, June 14 Harris is a founding figure of astronomy at McMaster whose research in globular clusters made him a leader in that field from the time it was established. Harris was a key figure in developing McMaster's Arts & Science Program, Integrated Science program and Origins Institute. He has been the principal investigator on 10 Hubble Space Telescope programs, more than any other Canadian.
Waguih Ishak '78, Engineering, 9:30 am, June 15 Ishak is a two-time McMaster Engineering graduate who has distinguished himself as a researcher and technology executive. He is named as inventor on seven US patents and is the author of more than 100 papers. After successful terms at other industry-leading corporations, he joined Corning to establish its Corning West Technology Center in Silicon Valley, and he continues to serve as Corning's Division Vice President & Director of the CWTC.
Roya Mahboob, Engineering, 2:30 pm, June 15 Mahboob, Afghanistan's first female technology CEO, was named one of TIME magazine's 100 Most Influential People in the World in 2013 for her work to empower young people and women in Afghanistan. She is the founder and CEO of the Afghan Citadel Software Company which became a prominent IT consulting firm.
Convocation ceremonies are to take place at FirstOntario Concert Hall (formerly known as Hamilton Place).