Spring 2022 convocation: A celebration of our graduates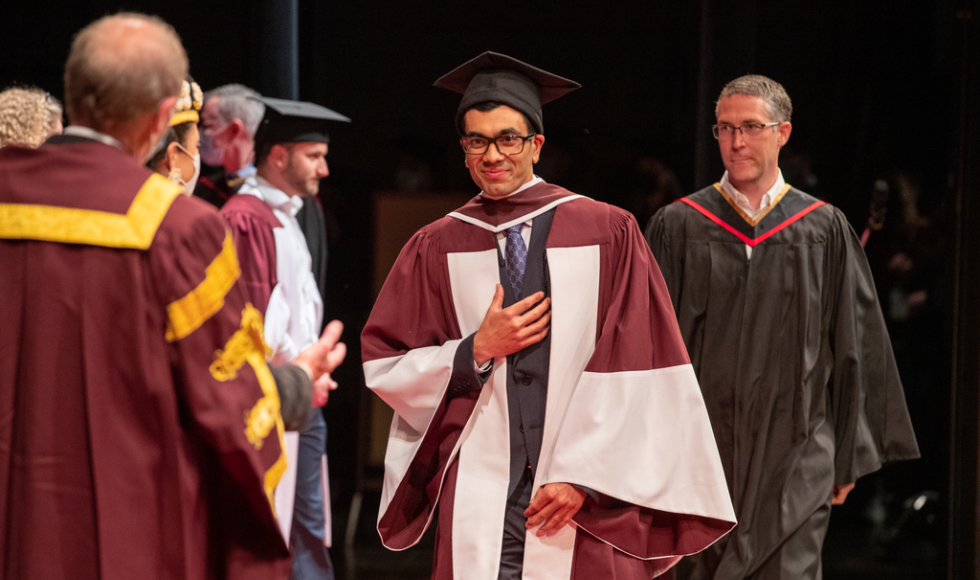 Yes, there's a doctor in the house - many in fact! Here's one of them crossing the stage at a convocation ceremony for Faculty of Health Sciences graduates at FirstOntario Concert Hall on May 25, 2022
---
Congratulations, Class of 2022! You did it.
You navigated a series of hurdles — chief amongst them a global pandemic — but persevered and made it to the finish line of convocation.
Twelve convocation ceremonies were held across May and June to mark the achievements of graduates across McMaster's six faculties.
Many graduates expressed how happy they were to be able to celebrate as a community.
"This is a humbling experience, I mean especially after the last two years of just being on Zoom and everything, it's just great to see the people that you worked with […] all enjoying this moment together," said DeGroote School of Business graduate Andre Missios.
Others shared how much the moment meant to them.
"I feel proud of myself and my peers and everything we've achieved and everything we've gone through to get here on stage," said Faculty of Health Sciences graduate Alisiya Petrushkevich. 
Here are some special moments from our spring convocation ceremonies.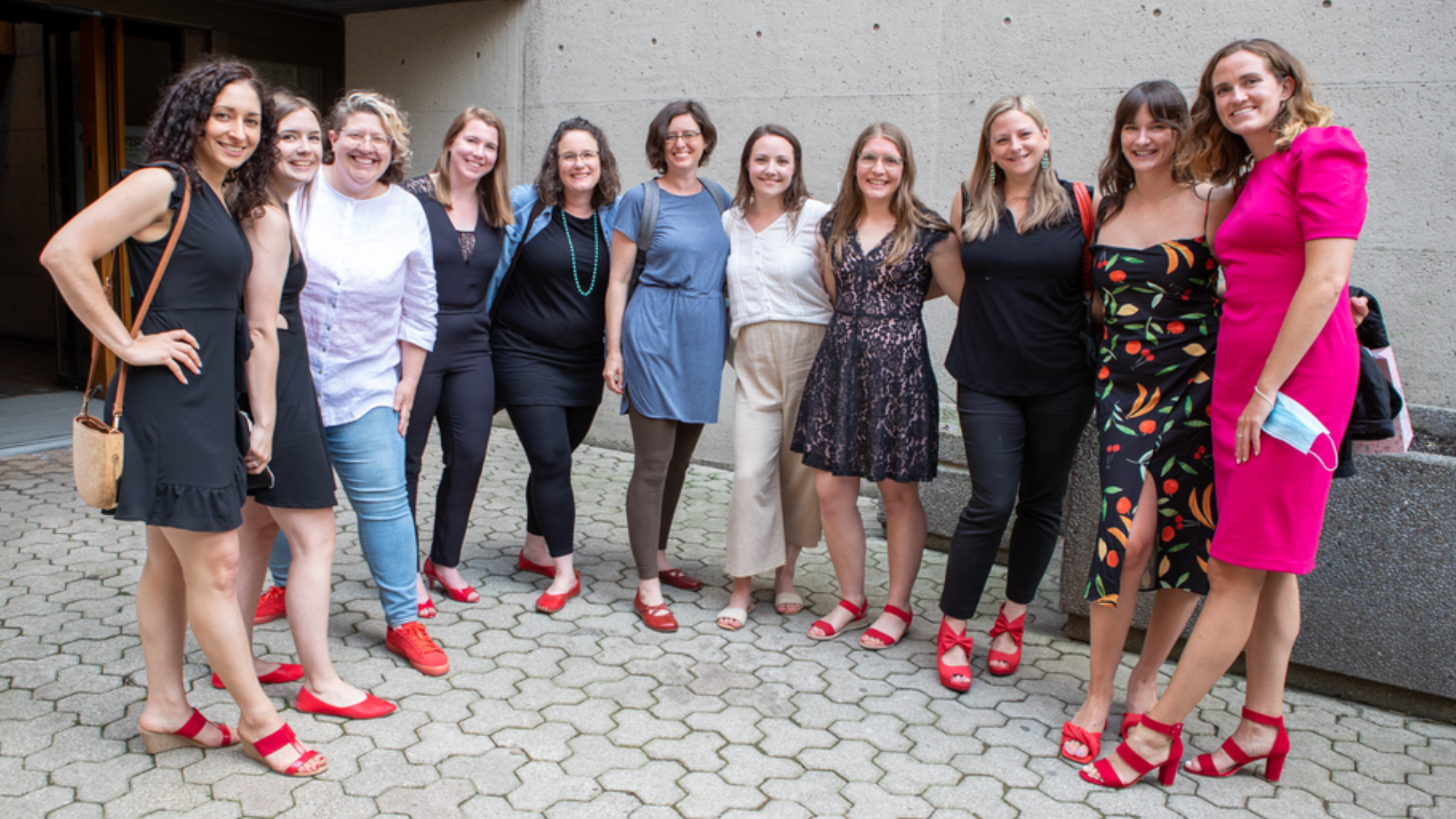 Did someone call the midwives? As per tradition, our midwives made sure they stood out from the crowd by wearing red shoes.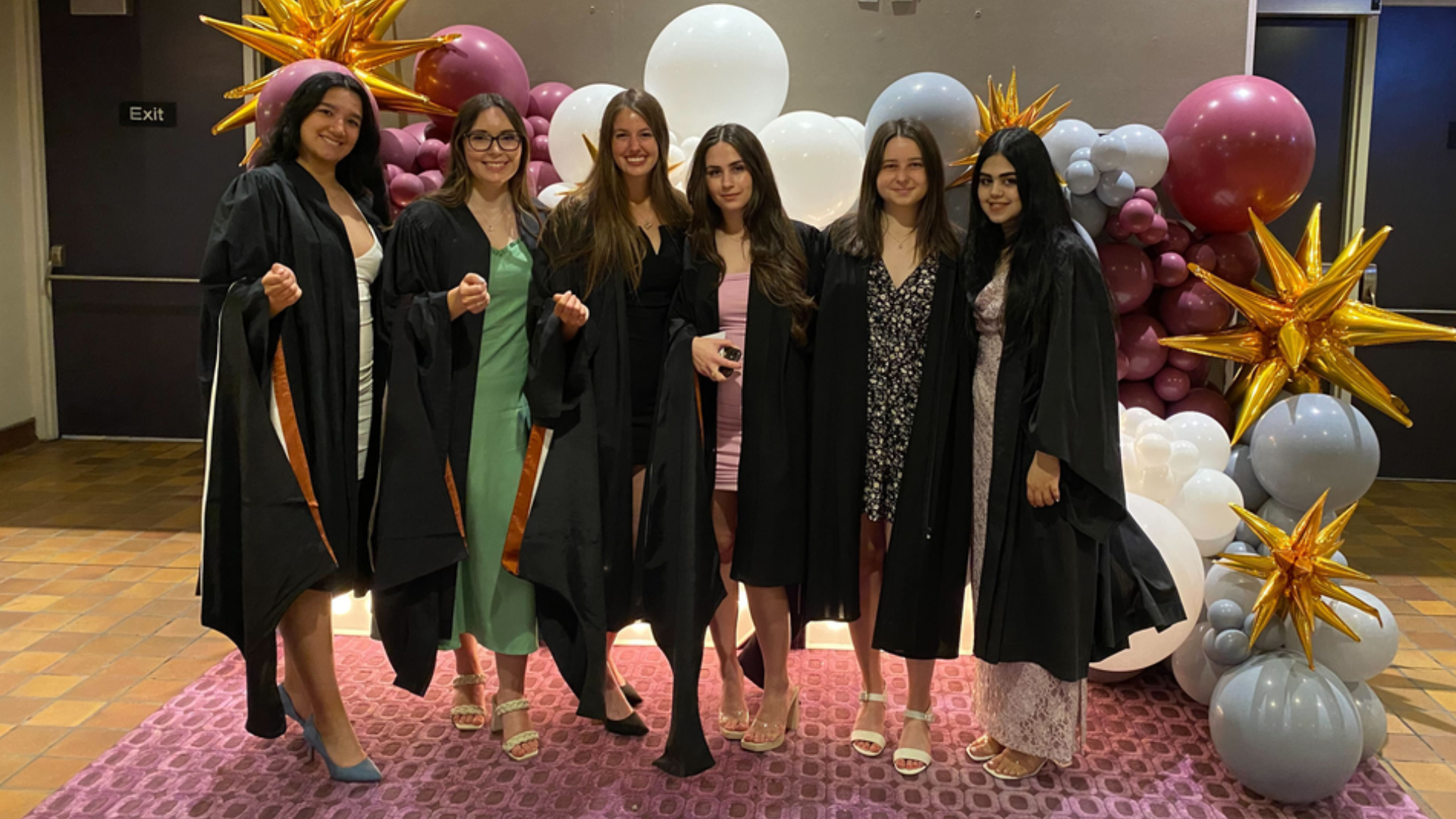 DeGroote School of Business graduates set to cross the stage and start a new chapter. We wish you all the best with whatever comes next.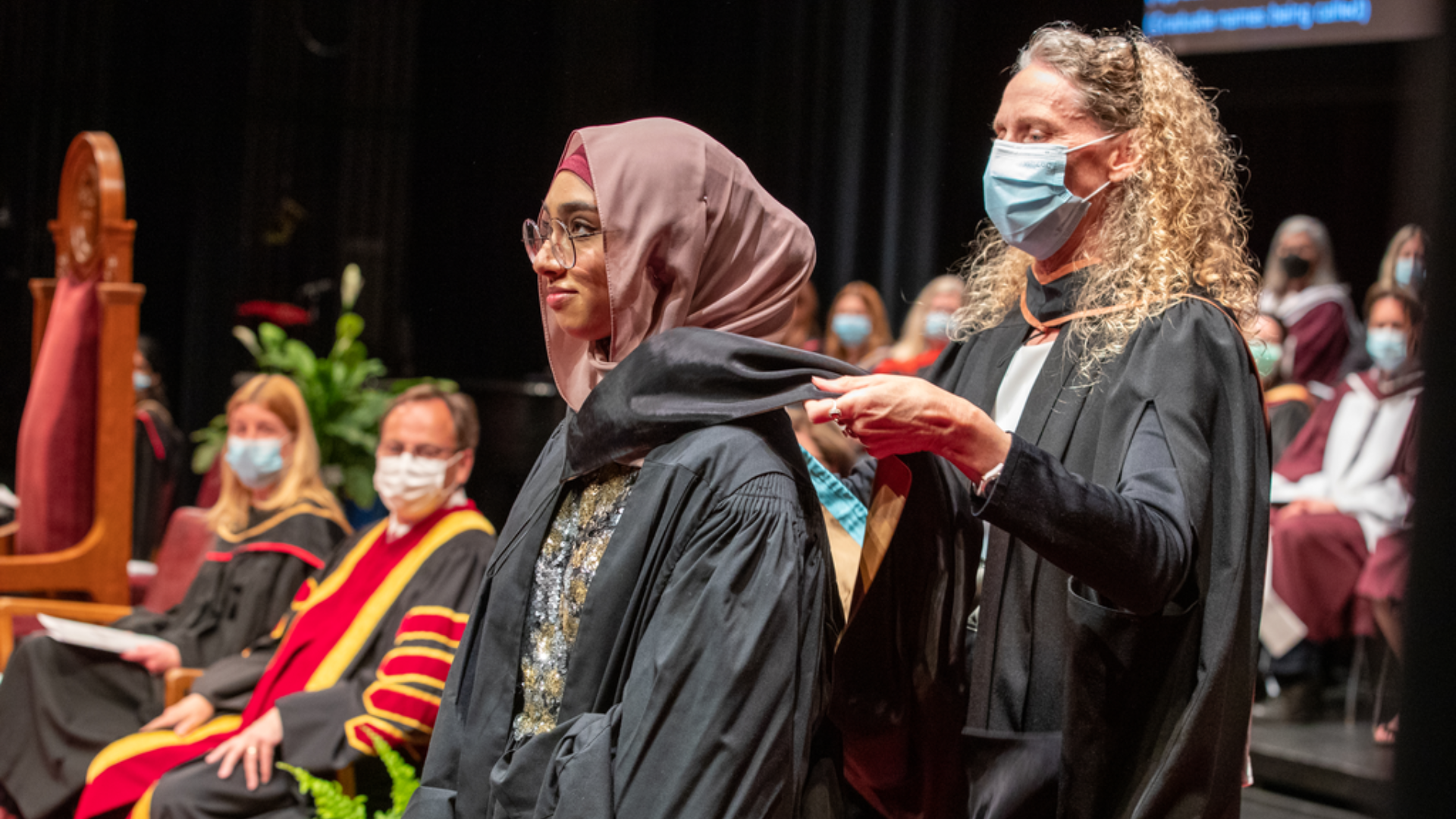 The moment our graduates have been working towards. University Registrar Melissa Pool places a hood over the shoulders of a School of Nursing graduate.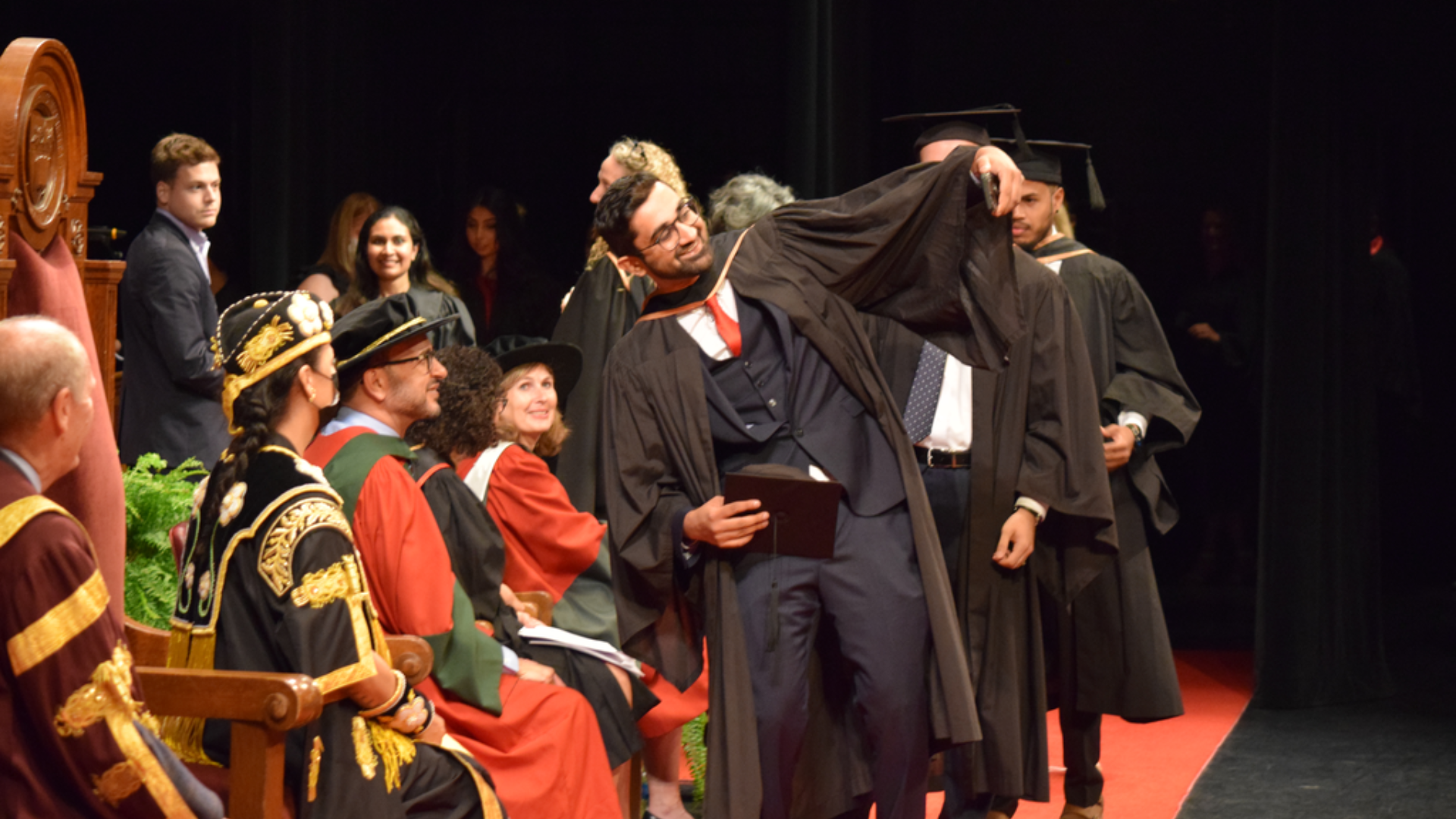 Capturing the moment! A graduate stops to grab a selfie with Khaled Hassanein, the dean of the DeGroote School of Business.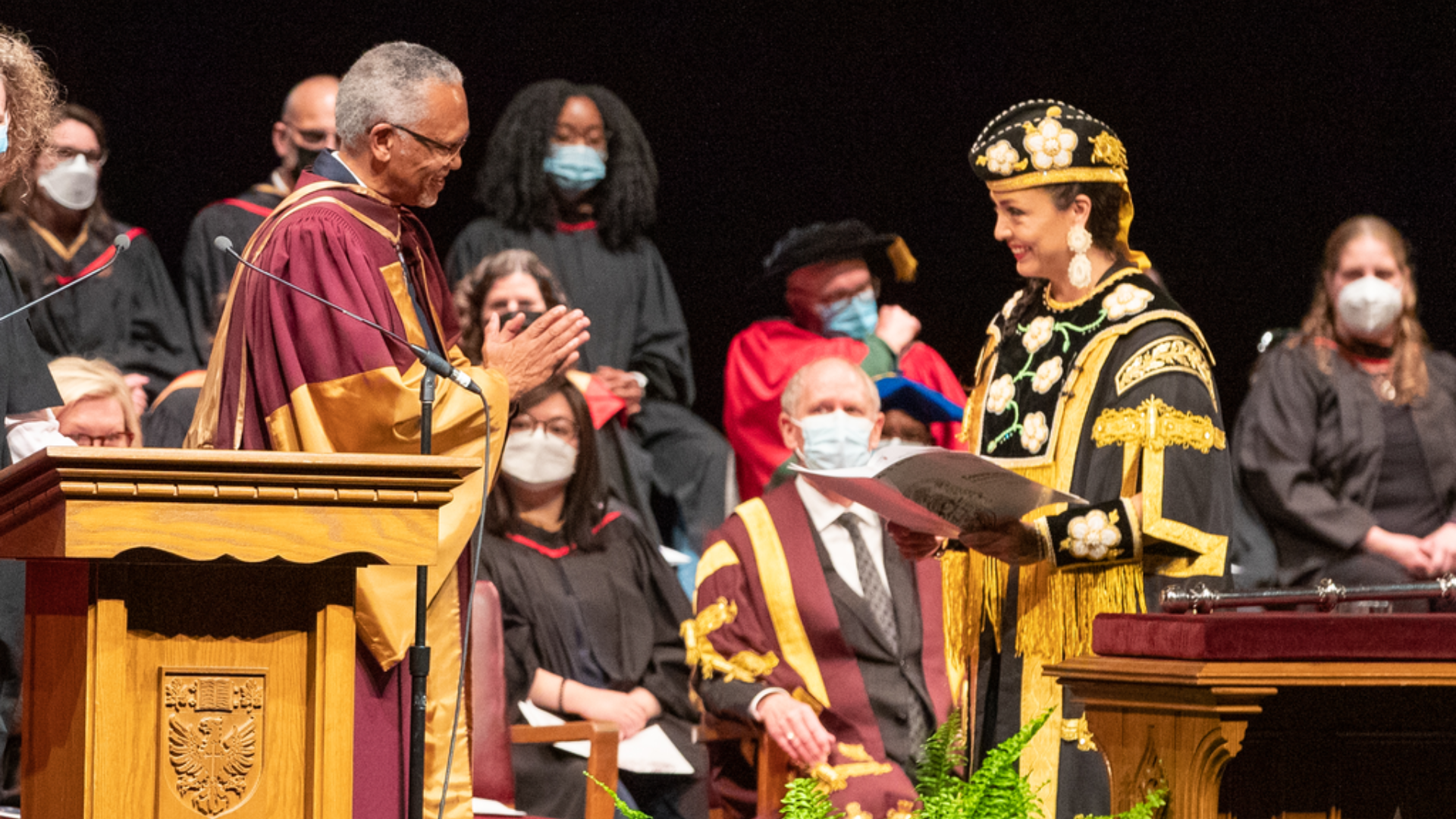 James Volmink, a medical practitioner and educator widely recognized for his contributions to evidence-based medicine, was one of ten distinguished figures who received an honorary degree from McMaster at spring 2022 convocation events. Here he is with Santee Smith, McMaster's chancellor.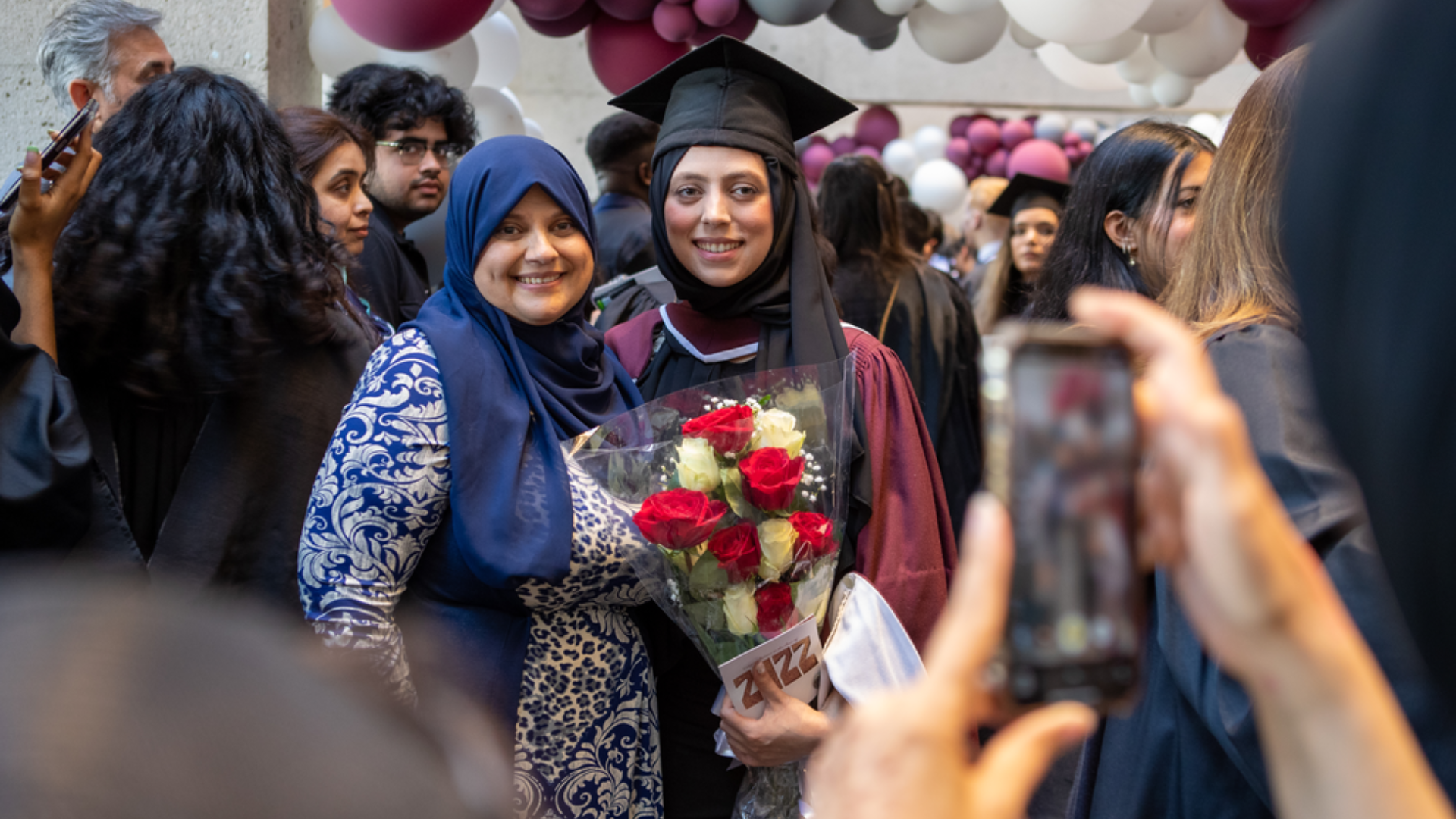 You can now call Sondos Ayyash Dr. Ayyash. Here the Faculty of Engineering graduate celebrates receiving her PhD in biomedical engineering.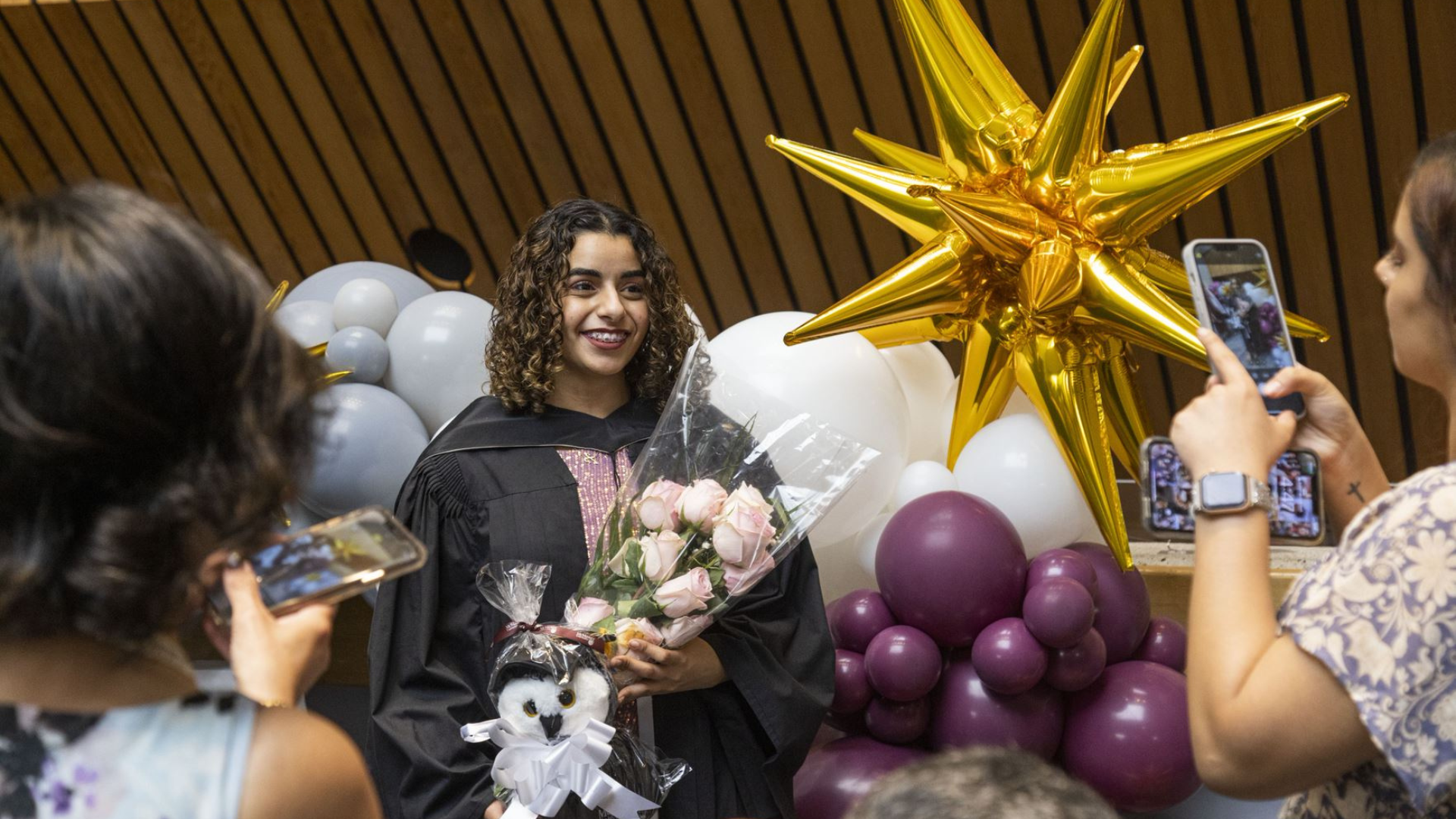 Faculty of Humanities graduate Roba Raouf poses for photos after crossing the stage at convocation.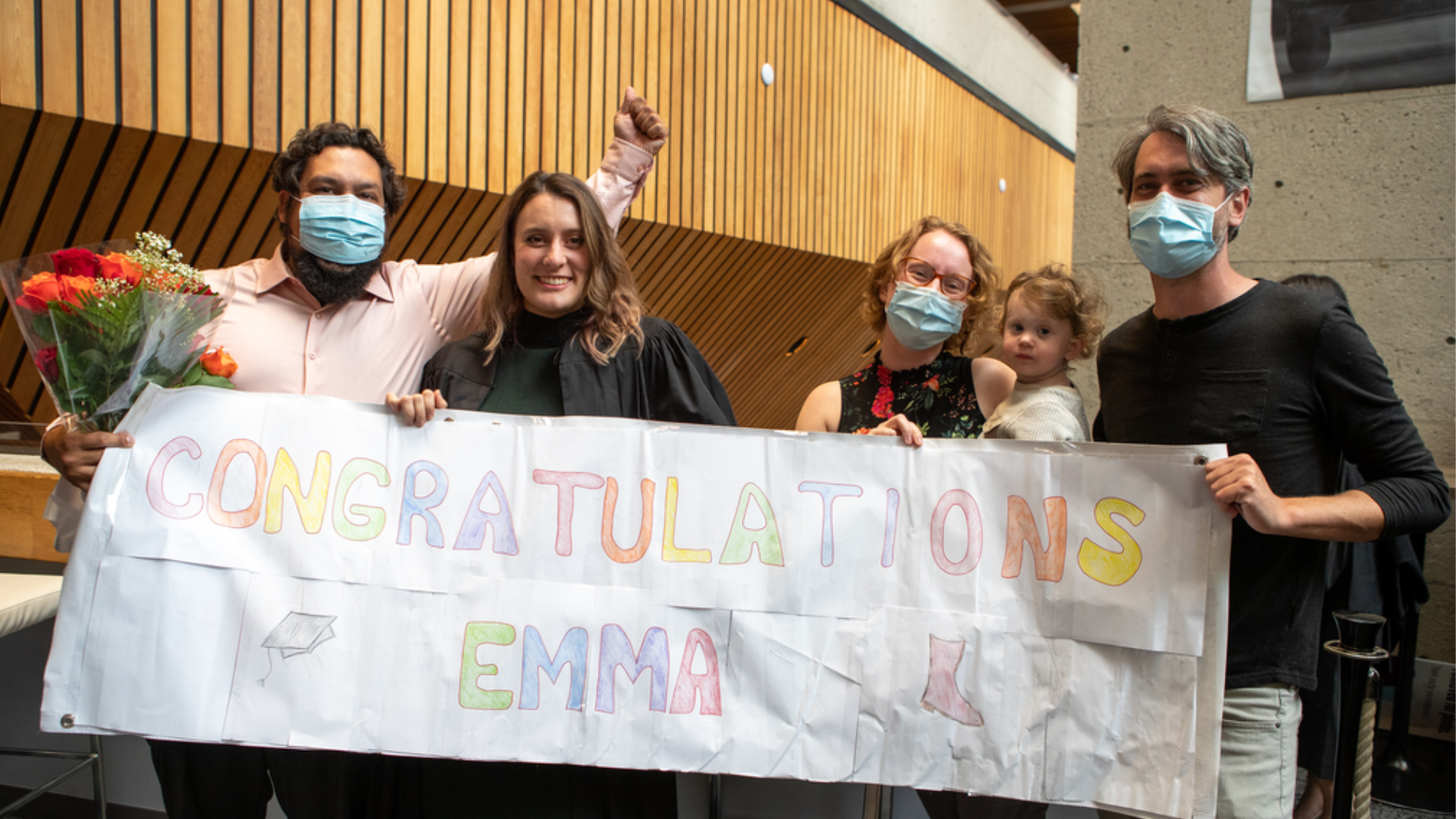 Emma Witkowski's family was there to cheer the midwifery graduate on. Bonus points for the homemade banner!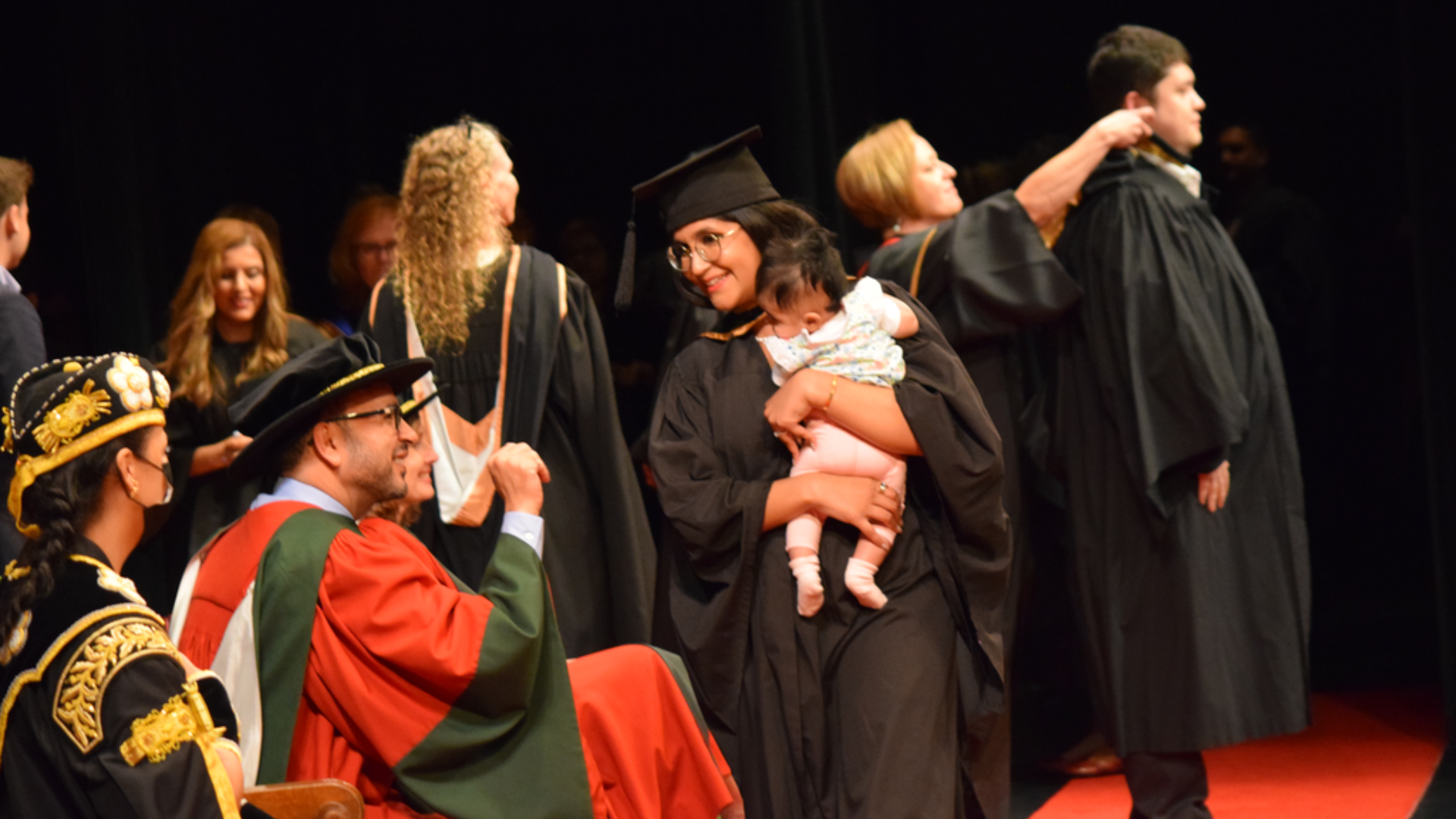 Do we spot a future McMaster grad? A DeGroote School of Business graduate introduces their little one to Dean Khaled Hassanein. To all our graduates juggling school and parenthood, we see you!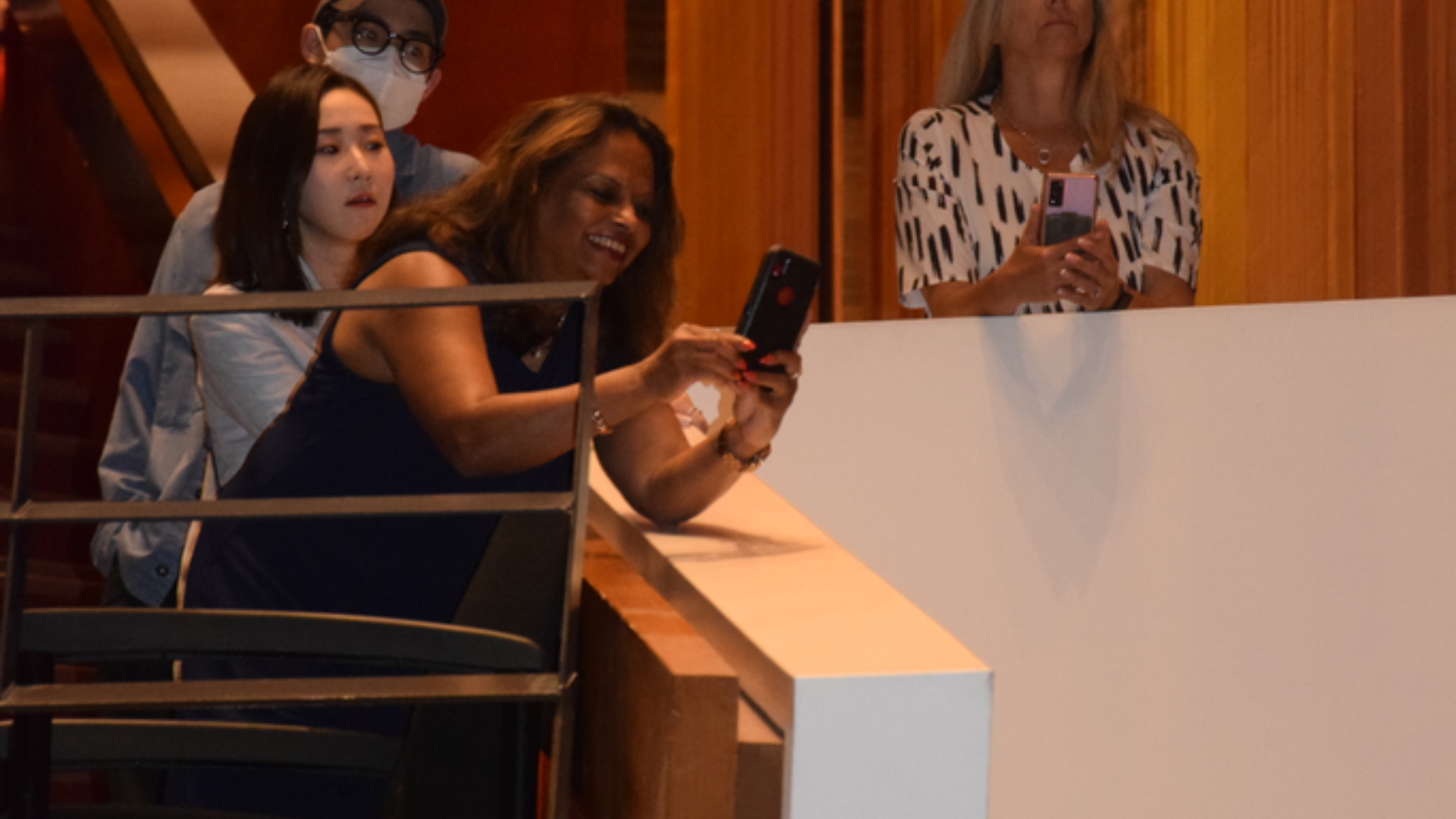 Speaking of parenthood, we can't get enough of this proud mom's big smile. Thanks to all the loved ones who supported our graduates and helped them reach this milestone.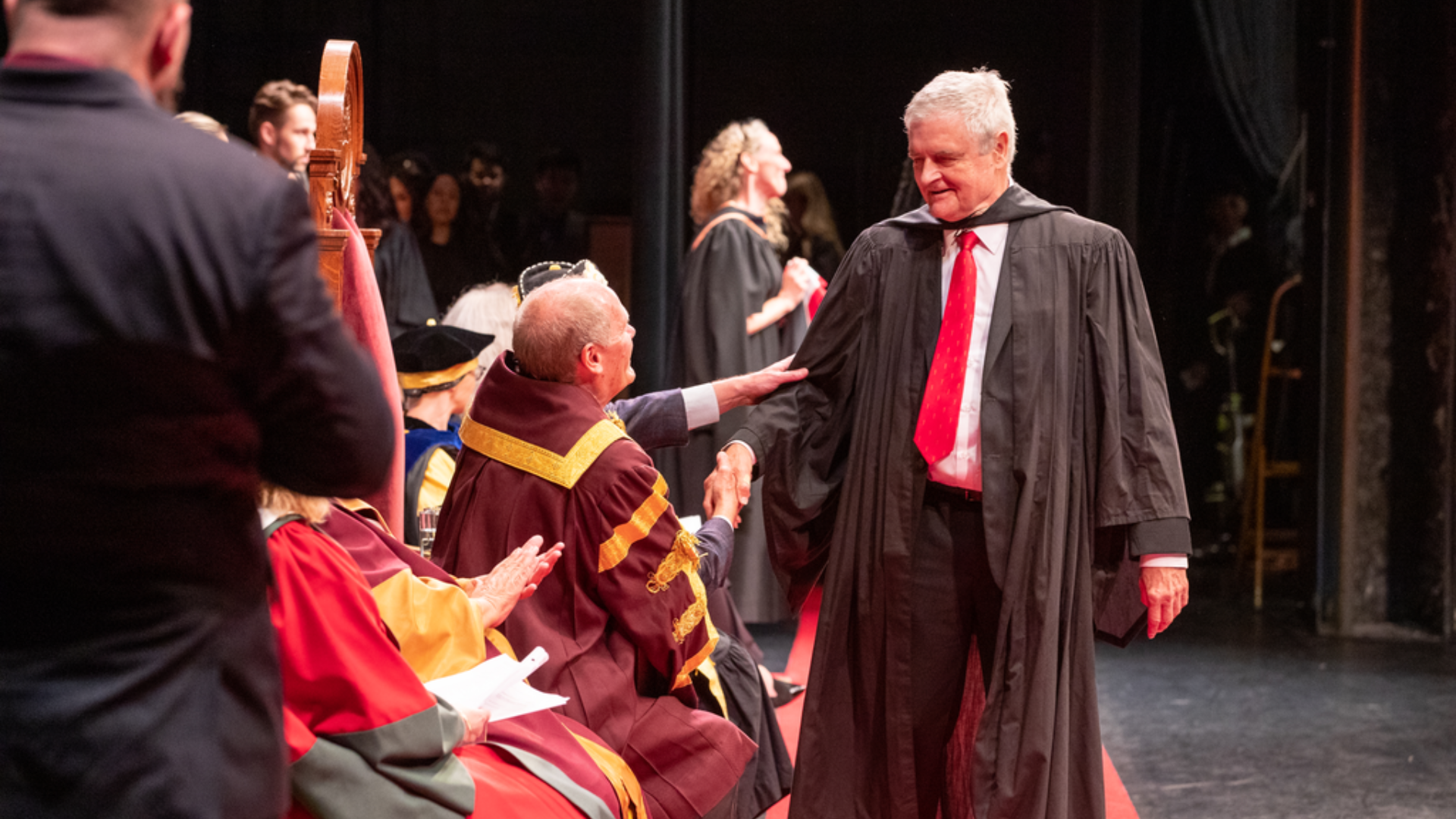 Everyone broke the "please hold your applause" rule for this graduate, even President David Farrar.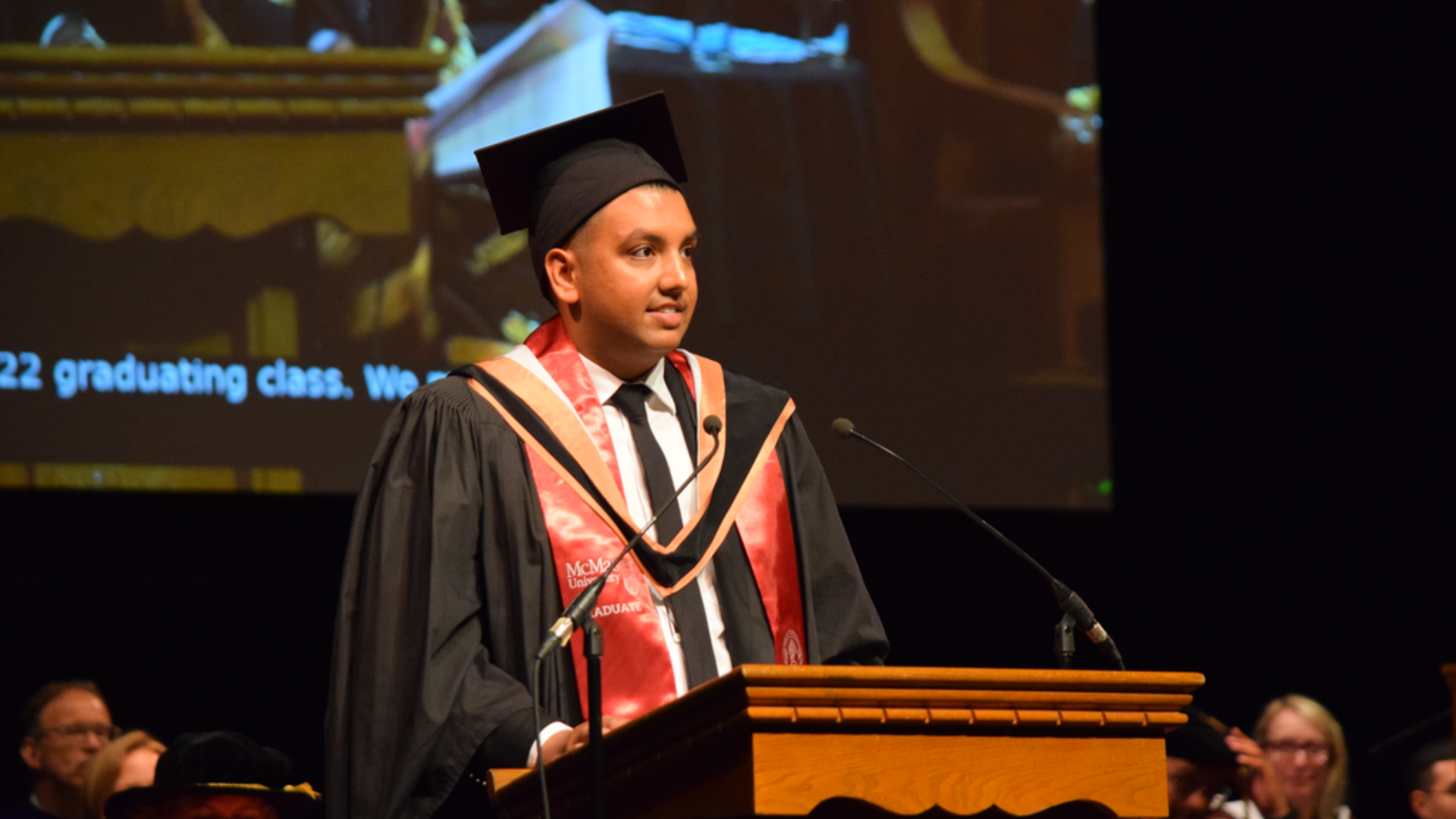 Chirag Sheth delivers his valedictorian address to his fellow DeGroote School of Business graduates.
"Be patient with yourself and take time for reflection. Growth and improvement won't happen overnight, it's a long game. Focus on doing small things to get better every single day and eventually they start to add up."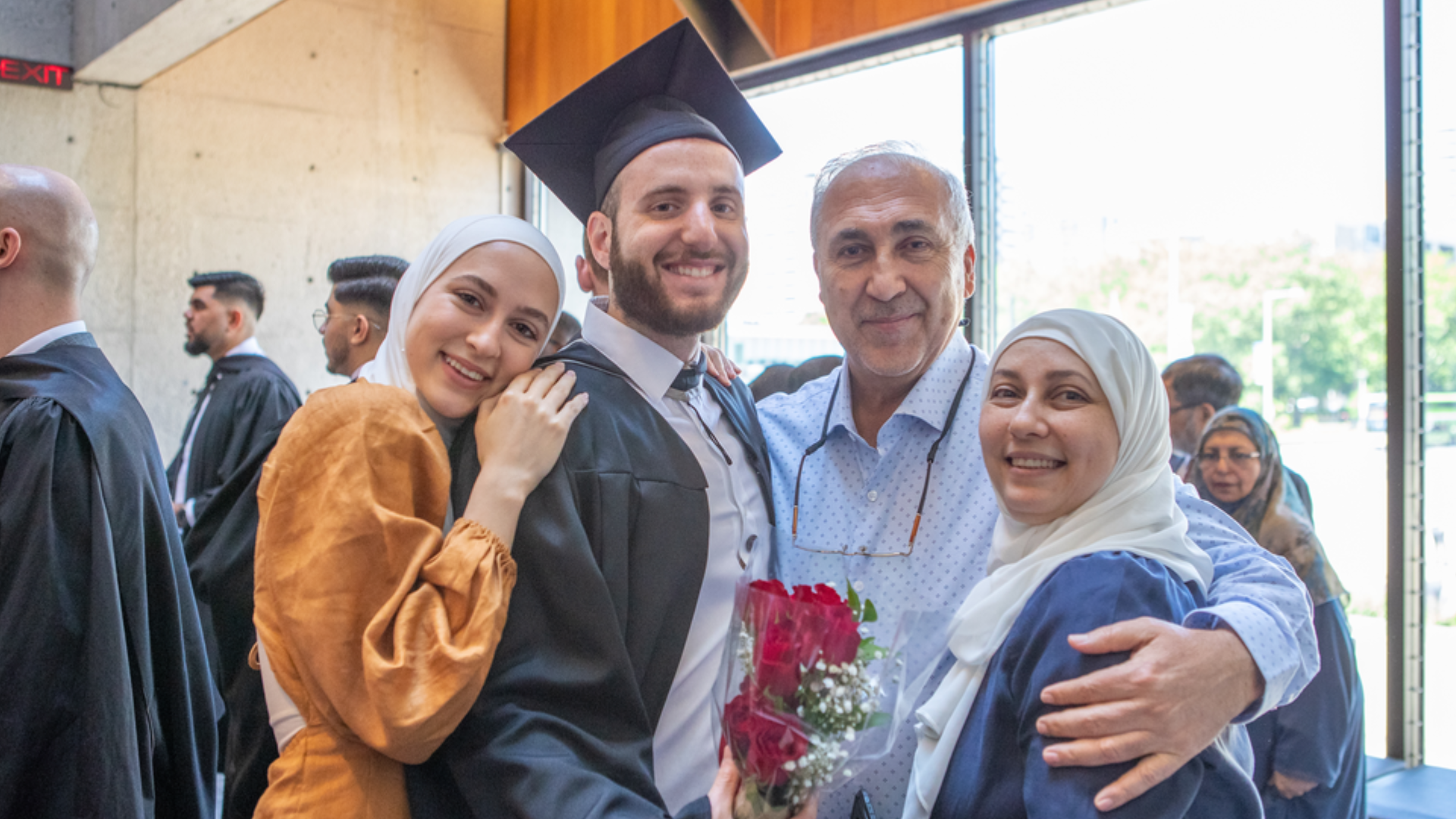 You can just see how proud they are, can't you? Obaba Albaba and his family celebrate his master's degree in manufacturing engineering.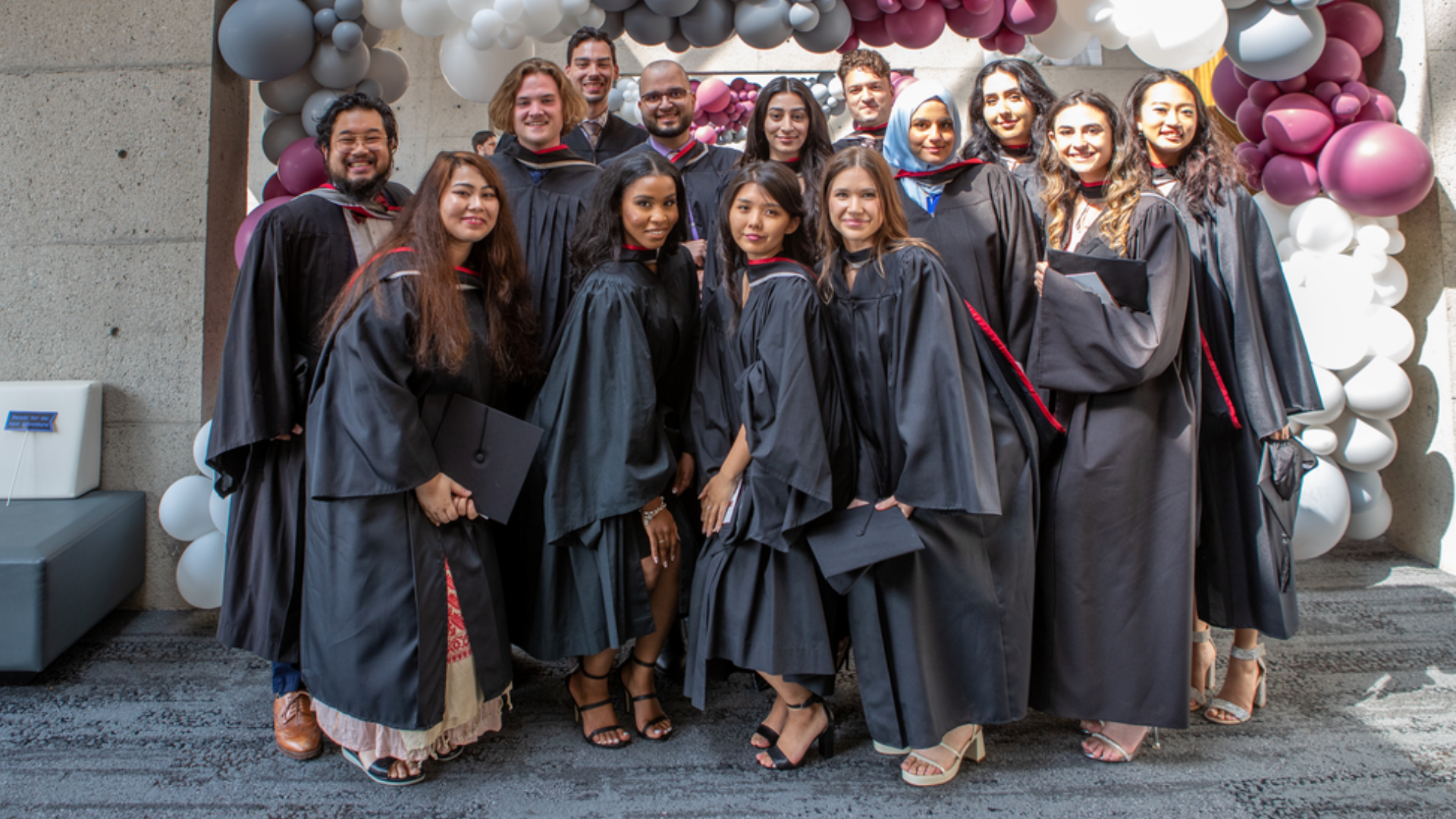 The inaugural cohort of the Master of Public Policy in Digital Society program are ready to put their education to work!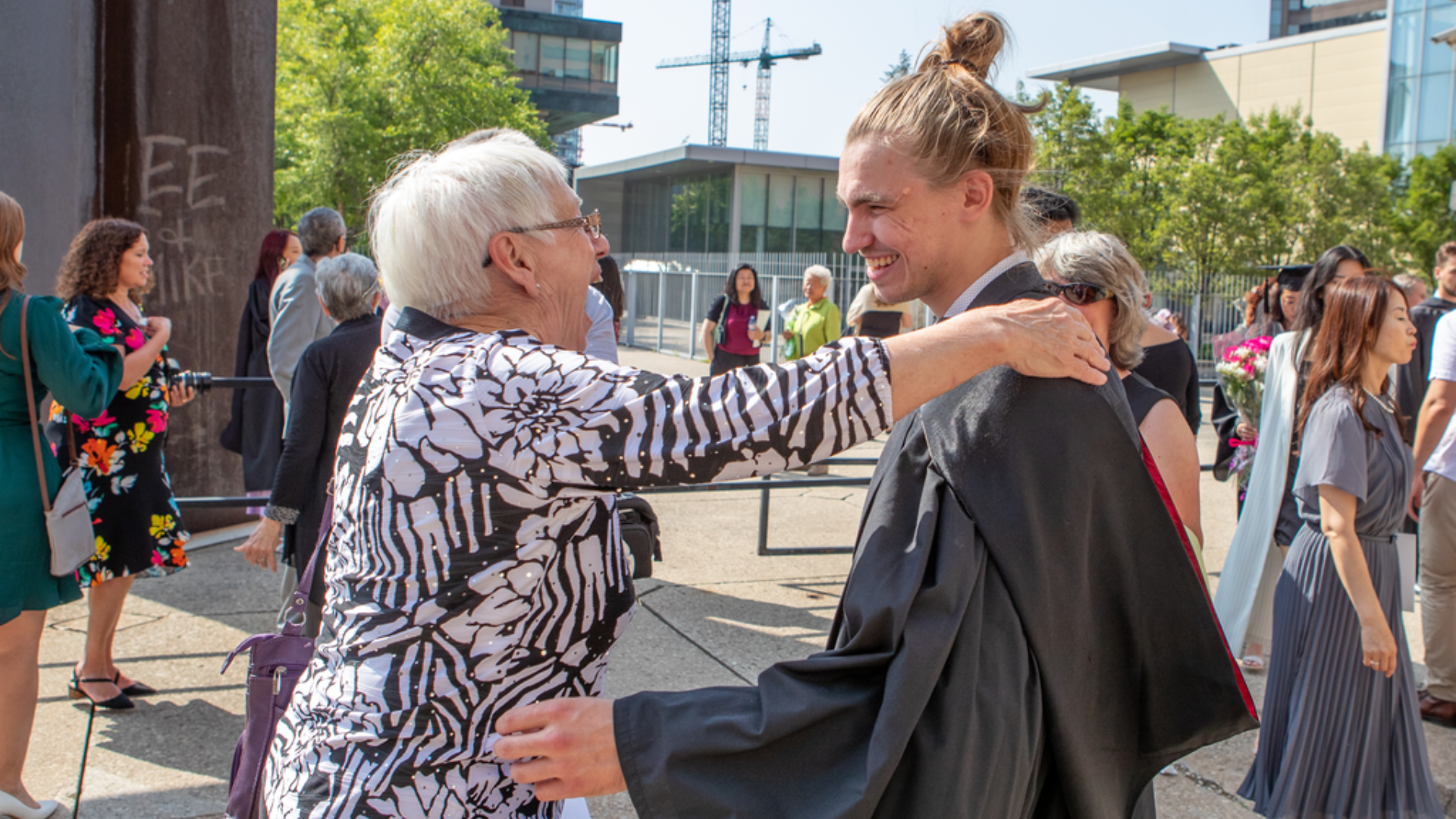 Now that's a proud grandma. Economics graduate Isaac Crawford gets a big hug from his grandmother, who graduated from university herself 61 years ago.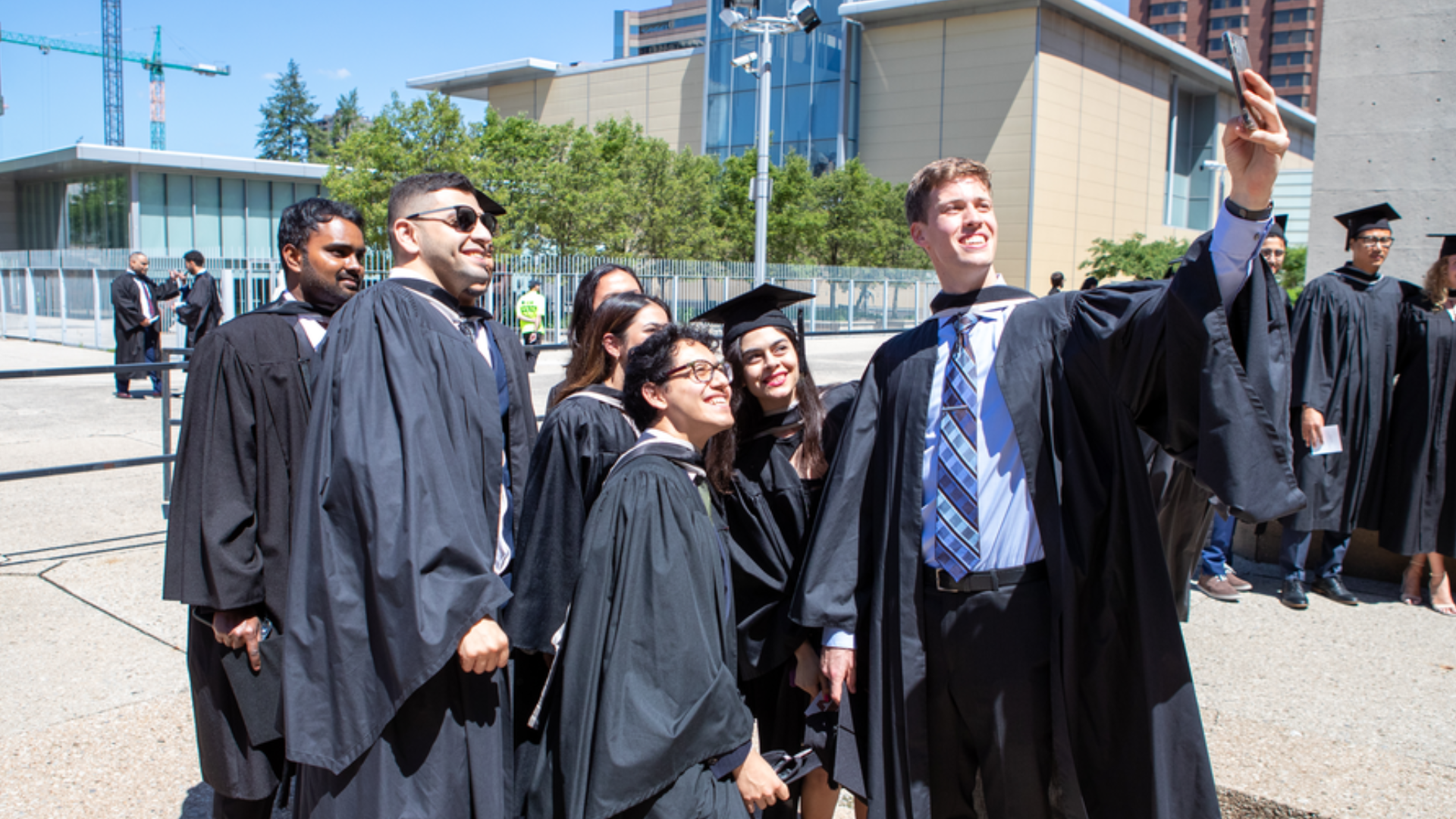 How many engineering graduates do you need to execute the perfect group selfie?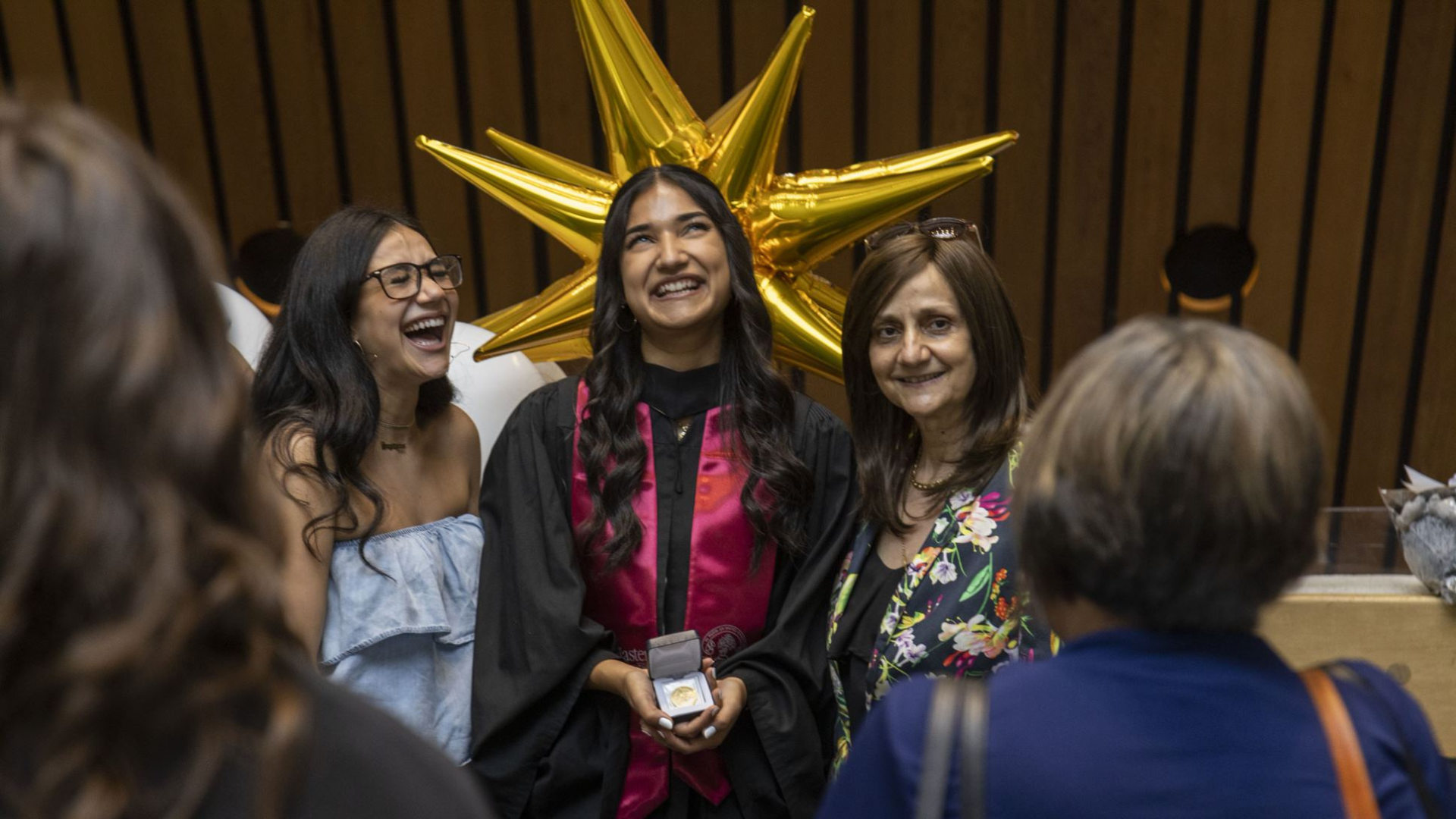 Faculty of Humanities graduate Alexandra Rodriguez celebrates with loved ones moments after crossing the stage to receive her degree.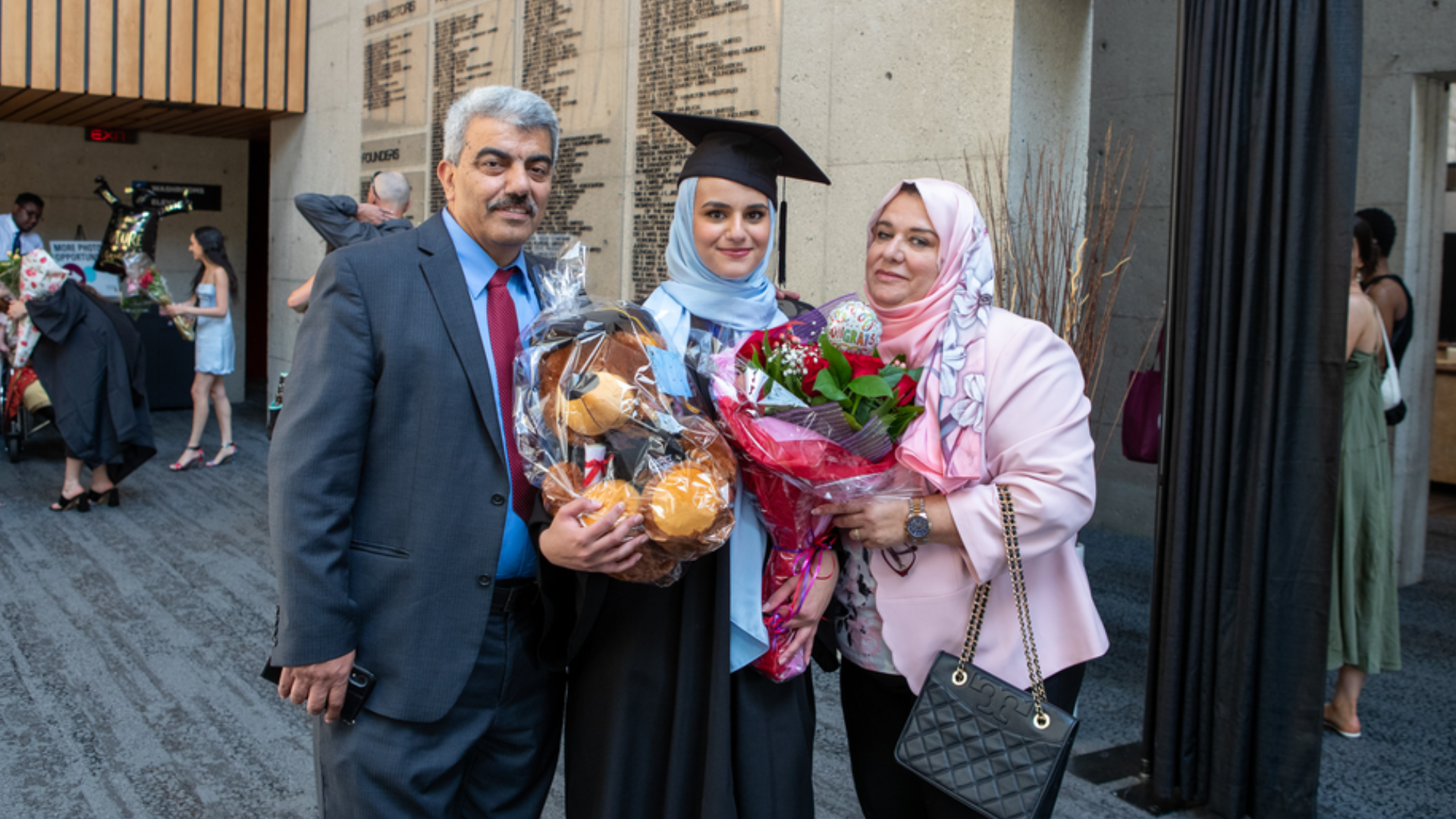 Master of Public Policy in Digital Society graduate Sara Daas poses for a photo with her proud parents.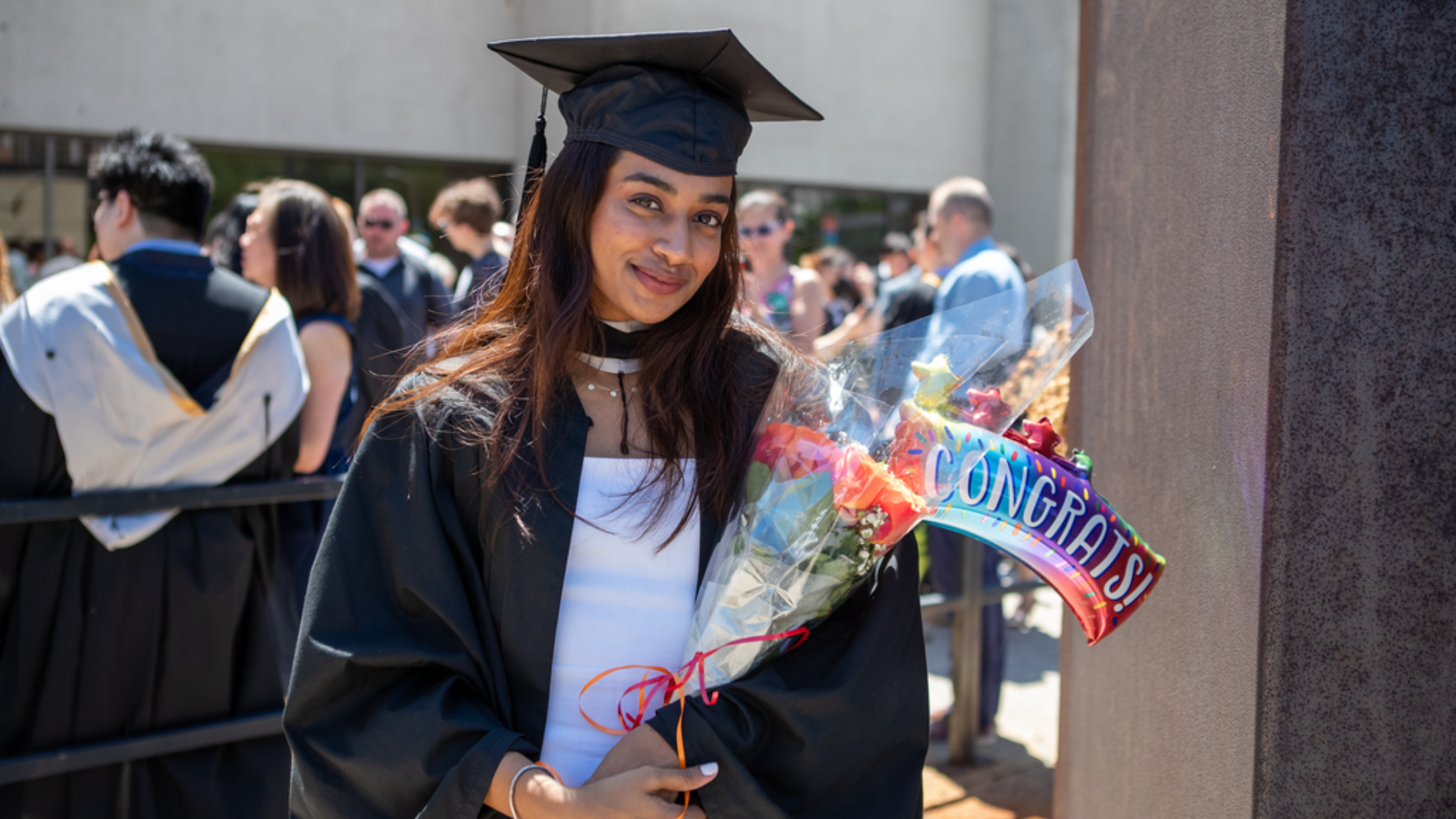 The hat (and the achievement of the master's in engineering and public policy!) looks good on you Sadiyah Manidhar.
Faculty of Social Sciences graduate Emma Baliat celebrates her big achievement with her grandmother and aunt Misook Cho.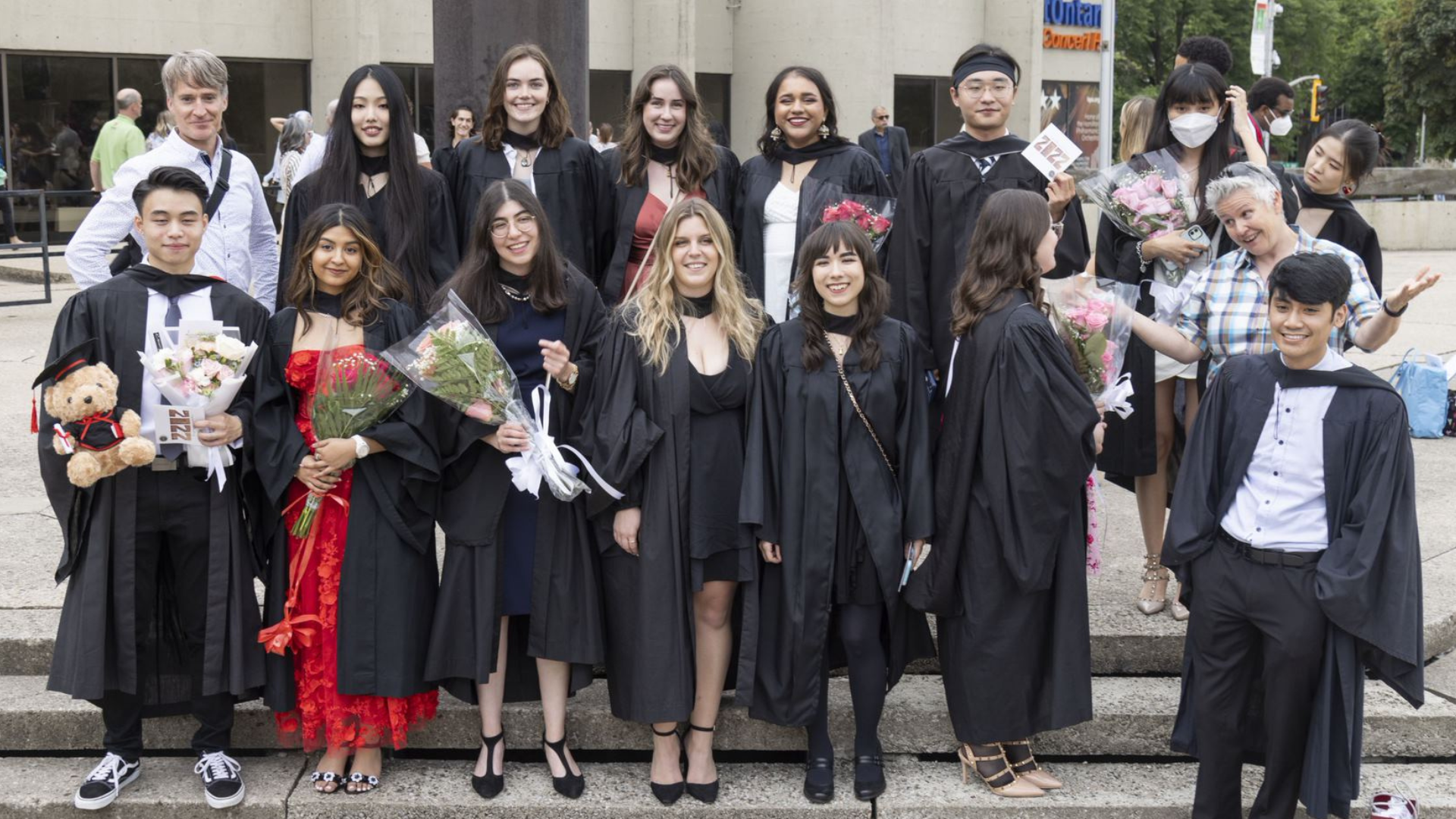 Let's hear it for our media arts students! We can't wait to see what you create next.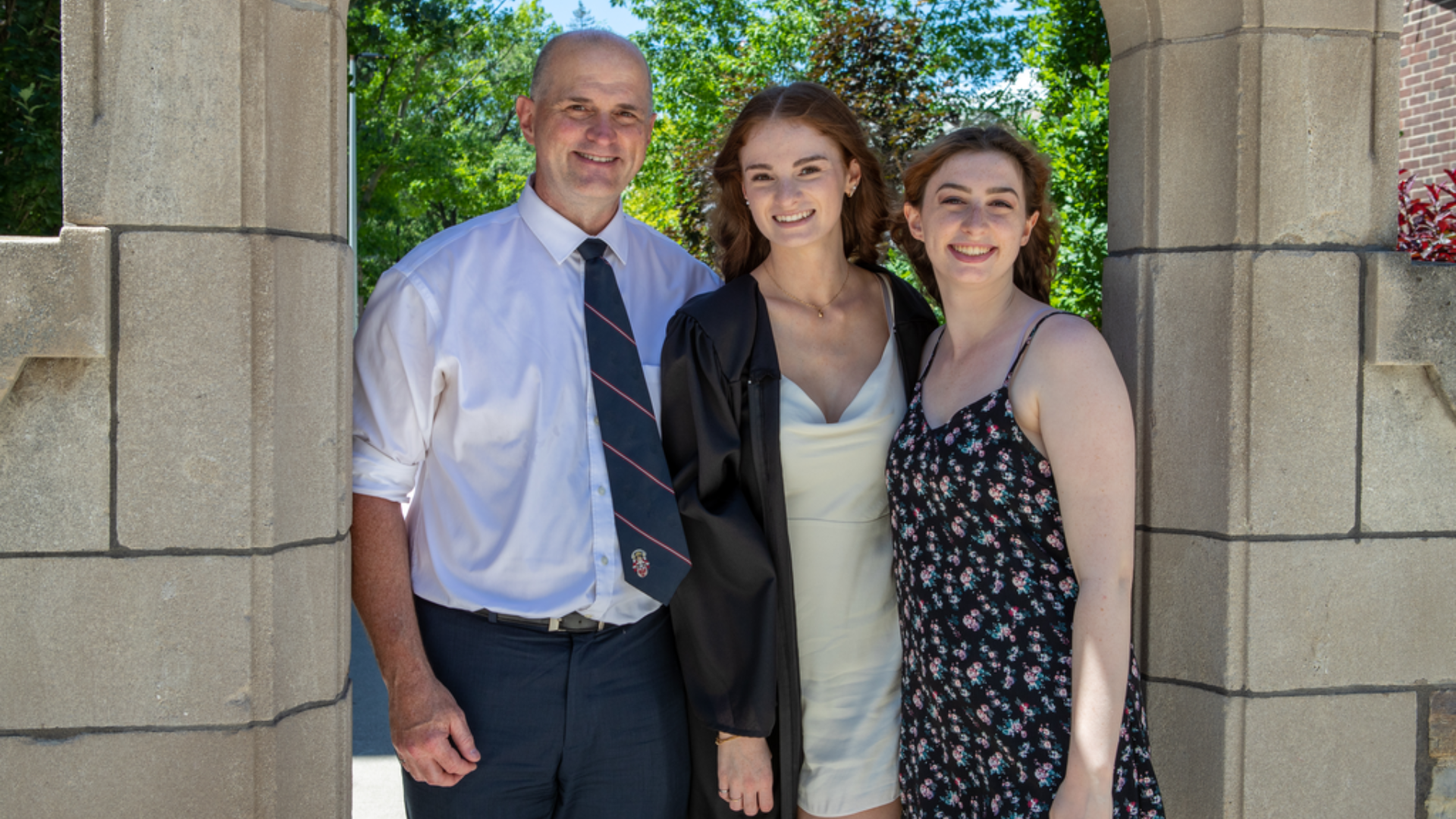 It runs in the family! Civil engineering graduate Catherine Shrimpton joins her sister and father in taking on the title 'engineer.'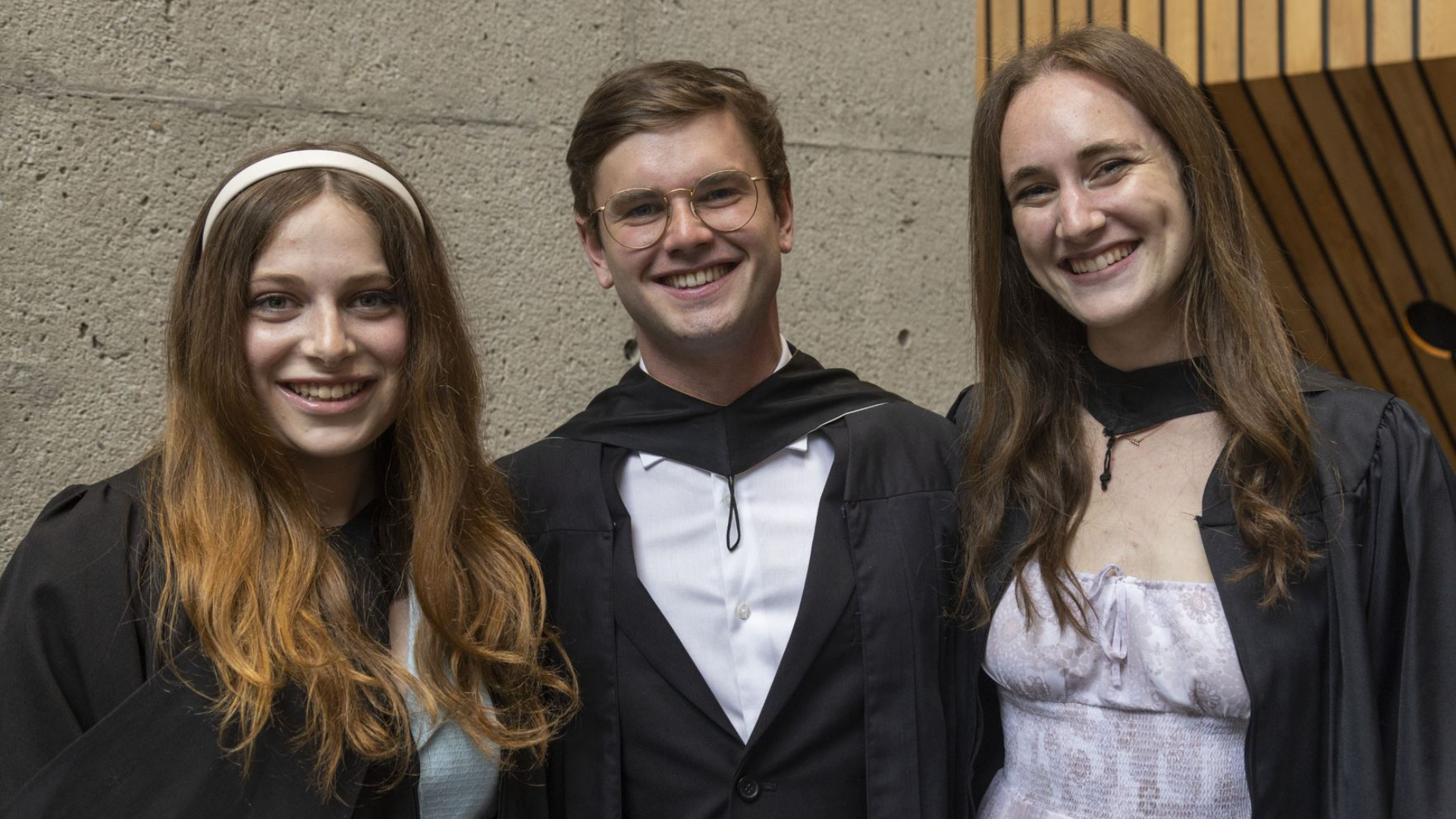 You can now call Ariella Ruby, Jerry Miller and Gillian Maltz proud graduates from McMaster's Faculty of Humanities. Congratulations Marauders! We are so proud of you.