Special events mark 150th anniversary of Gandhi's birth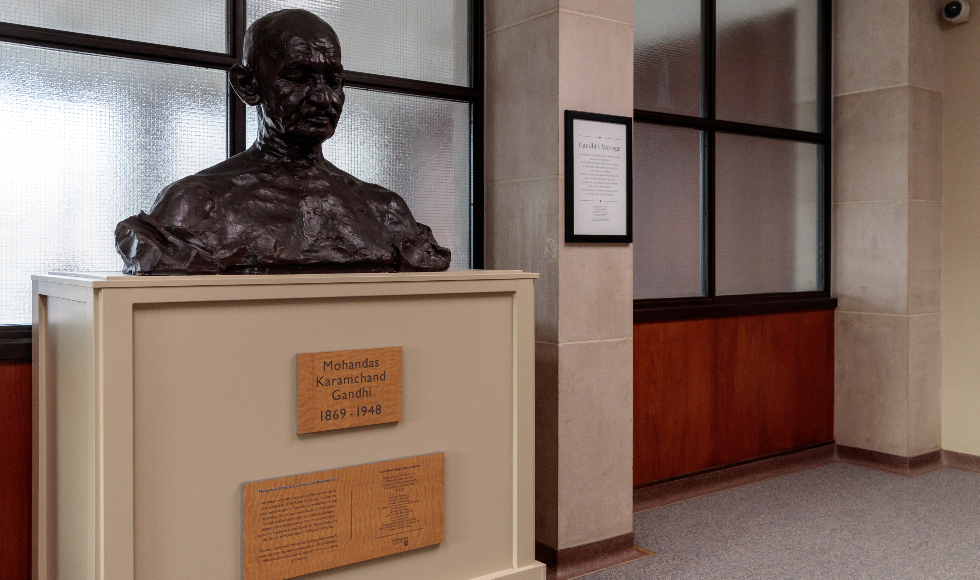 A memorial to Mohandas Gandhi on the second floor of Gilmour Hall. Photo by Sarah Janes.
---
Organizers of Hamilton's annual celebrations of Gandhi are planning an extra-special series of events this year as the world marks the 150th anniversary of the birth of Mohandas Gandhi, a global symbol of peaceful, non-violent resistance, asceticism and inclusivity, who was critical to leading India to independence from Britain, and to challenging India's own social and religious strictures.
The centrepiece of the Gandhi150 festival is the annual Gandhi Lecture, organized by McMaster's Centre for Peace Studies, which this year features celebrated historian and Gandhi biographer Ramachandra Guha, who is travelling to McMaster from India for the event.
Guha, a professor, columnist and acclaimed author, recently published Gandhi: The Years That Changed the World, the second volume of his biography of the man who was popularly known as the Mahatma, or Great Soul.
The community-funded public lecture will analyze four major themes of Gandhi's life mission: non-violence vs violence, the abolition of Untouchability, inter-faith harmony and alternative routes to eliminating poverty — including their contemporary reflections in India and around the world.
This year's Gandhi Lecture (7 p.m. Sept. 19, Health Sciences 1A1) is being combined with the Harry Lyman Hooker Lecture, explained Chandrima Chakraborty, the director of McMaster's Peace Studies program and festival organizer who wrote an op-ed piece published in The Hamilton Spectator on why it is more important than ever to remember Gandhi's legacy.
"More than 70 years after his death," she wrote, "his ideas continue to resonate and even grow in response to an ever-rising tide of sexism, racism, homophobia and Islamophobia."
Highlights of the 27th annual Gandhi Peace Festival include:
a conversation on life-enhancing values Sept. 21
an interfaith prayer on the anniversary date of Gandhi's birth, Oct. 2
a conference on fighting hate and racism in Hamilton Oct. 4
the annual Gandhi Peace Festival march through downtown, Hamilton followed by a cultural program Oct. 5
Details regarding the Gandhi Lecture and Gandhi Peace Festival are available here.