Space course students shoot for the moon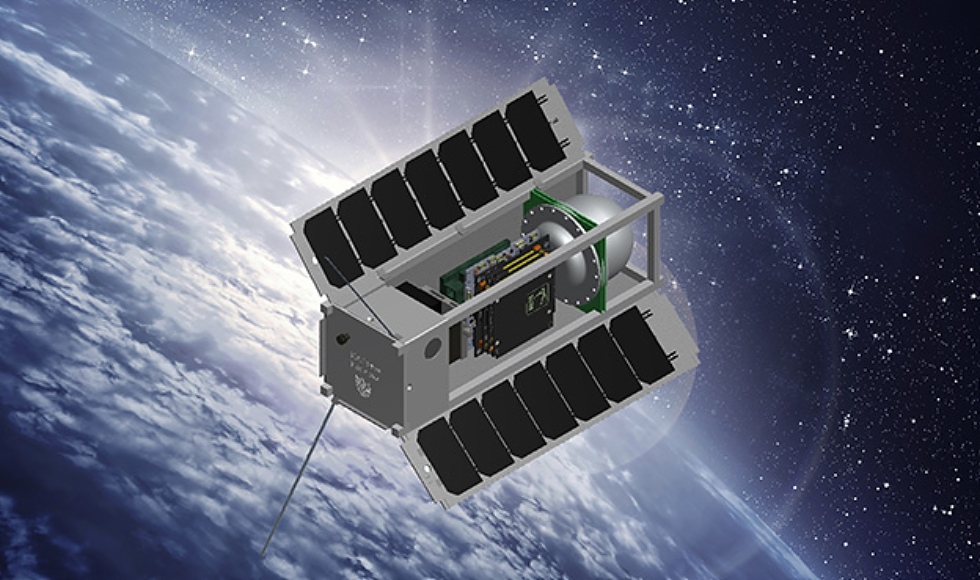 ---
Space exploration has long captured the human imagination.
Science missions meant to unravel the mysteries of our solar system and beyond have given rise to technological innovations like space craft, probes and satellites, which have led to incredible scientific discoveries and profoundly changed our understanding of the universe.
Recently, a group of McMaster students got the chance to learn first-hand what it's like to design a space mission of their own thanks to a unique experiential learning course offered for the first time this term by McMaster's School of Interdisciplinary Science(SIS).
Introduction to Space Mission Design, a one-unit course which was open to students from a number a Faculties, was developed and taught by Andrei Hanu, a former researcher at NASA's Goddard Space Flight Center and now a senior scientist with Bruce Power, and Eric Johnston, a research scientist at Bubble Technology Industries Inc..
Hanu and Johnston – both McMaster alumni – are part of a team of McMaster researchers that designed and built a small satellite scheduled to be launched and deployed from the International Space Station in 2021.
Read: McMaster-made satellite to be launched as part of Canadian Space Agency Program
"We thought the most interesting course we could teach would be in space mission design," says Hanu. "Some of these students have fantastic imaginations so we thought it would be neat to guide them through the design process and give them the freedom to come up with their own small satellite mission."
Over five, three-hour sessions, Hanu and Johnson taught students from multiple disciplines the basics of space mission design, providing an overview of the science and engineering concepts critical to designing a small satellite mission.
"There are a lot of things to think about," says Johnston "For example, orbital dynamics – we talked about which orbits are available commercially and the features that different orbits offer from a scientific perspective. Also, if you want a powered system, how do you generate electricity? How do you talk to other satellites or to people on Earth?"
"Then there's altitude determination and control – if you want to aim your antenna in a certain way, how do you do that? We talked about all of this in the course," he says.
Working as a team and with guidance from Hanu and Johnston, students used what they learned to develop a concept for their mission and completed a "mission concept handbook," a standard document created for almost all space missions. 
Inspired by real-life preparations underway by government agencies and private companies to return astronauts to the moon, the students developed a concept for a small satellite that would orbit the moon and, using a radar system, scan its surface for ice and mineral deposits.
"Both Eric and I were really impressed with what the students were able to deliver in such a short amount of time," says Hanu. "Their science mission was fantastic because it was timely, and it lines up with what the space industry is actually trying to do in the next three or four years.
"The foundation they developed was extraordinary," he adds. "Somebody could take that proposal and develop it."
Students Nikola Medakovic and Gurinder Sandhu say the course was a valuable learning experience which provided them with a unique opportunity to hone their problem solving and project management skills while gaining valuable insights into the space industry.
"The course was illuminating, as it gave an insider perspective," says Medakovic, a third-year student in philosophy who hopes to pursue a career in aerospace law. "It was a golden opportunity to learn more about the space industry, as well as how people in the industry, like Andrei and Eric, operate and think. I also really enjoyed the interdisciplinary class dynamic."
Sandhu, a fourth-year student in the Life Sciences program, agrees. "I wanted to broaden the scope of my understanding outside of biology and chemistry by challenging myself to understand and translate scientific papers in other fields," he explains.
"The opportunity to work on a group project in an interdisciplinary team allowed me to integrate multiple perspectives informed by different expertise," he adds." I was also able to talk about something I'm interested in with a group of passionate classmates and instructors and that alone in worth the price of admission."
Introduction to Space Mission Design is one of a number of innovative experiential learning courses and opportunities offered by the School of Interdisciplinary Science this past term. Other courses included 3D printing, Egyptian Hieroglyphics, Electronics for the Rest of us! and a Kentucky caving fieldtrip. Learn more about experiential learning opportunities in SIS.
 Read: Experiential learning courses helping Life Sci students to "find themselves" academically