Soup! (There it is) – With recipe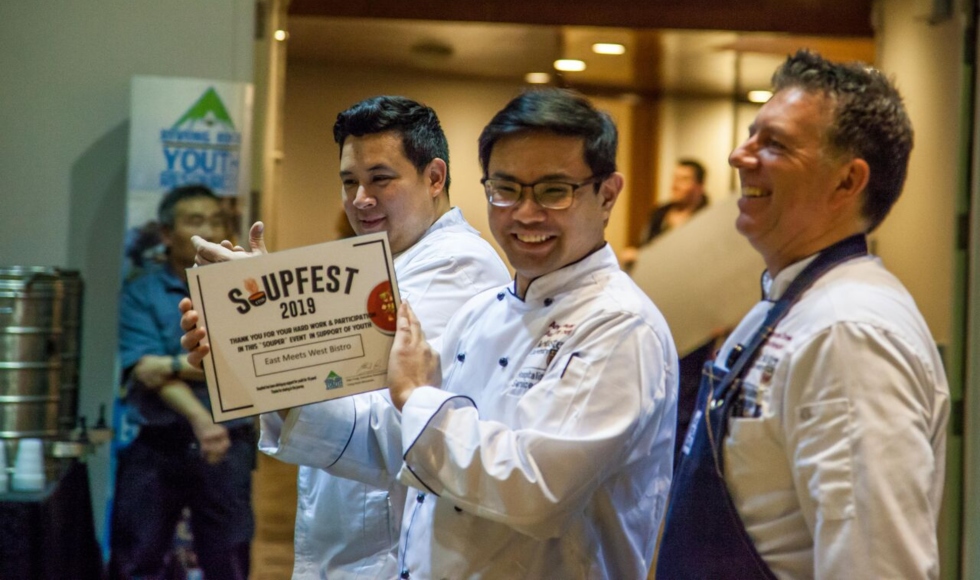 Andy Leung and the McMaster team won most creative soup at Soupfest. (Photo by Colin Hatherill.)
---
Led by East Meets West Bistro assistant chef Andy Leung, the McMaster team won top prize for most creative soup at Hamilton's annual Soupfest event in February, a fundraiser for Living Rock youth resources. The Buffalo chicken soup also placed third best overall, based on attendee voting.
"The most famous thing on campus is the Buffalo chicken wrap," says Leung. "That's a staple in the university world. That's what students like, so that was an inspiration for me."
Leung says their secret ingredient was a Tabasco "caviar" garnish: little pearls of Tabasco hot sauce generated by a chemical reaction called reverse spherification. McMaster executive chef Paul Hoag created the custom topping.
Leung developed the recipe (see below), worked out the budget and then spent an entire weekend pre-making 200 litres of soup that turned into more than 1,400 portions served at the event.
"It was a tough weekend of preparation," he said. "One of the hardest things was to get the consistency of the soup. I had to puree two litres of the soup at a time using a Vitamix. So that was a good four to five hours of just blending."
The East Meets West Bistro beat out about 20 other Hamilton-area restaurants for the creative prize. Visitors formed a long line in the Hamilton Convention Centre to get the vegetable puree base topped with fried chicken, ranch sauce and Tabasco pearls.
Leung says he's not usually a big fan of competitions, but he sees the value in participating in the event.
"The best thing was to have the whole team get together and get away for a day, try something new together and help the community out and give back," he said. "Sometimes you have to get out there to see what others are offering. We didn't win best soup, we were third overall, but next year we'll try again. Last year, we didn't place for best soup. This year, third. Next year we'll get even a little bit better. It's all about self-improvement."
Nine McMaster hospitality staff members volunteered to take shifts serving: John Barreda, Melanie Cottrell, Lincoln Crowe, Colin Hatherill, Hufriya Kateli, Kirsten Mak, Dixon Midigo and Michael Zhu.
East Meets West Bistro Cream of Buffalo Chicken Soup
Ingredients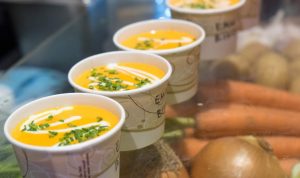 500g finely diced carrot (apx 2C)
500g finely diced celery (apx 2C)
1kg finely diced onion (apx 4C)
8 cloves minced garlic
250g butter
4 kg potatoes, peeled and diced (apx 12 medium potatoes)
5L chicken stock
150g Havarti cheese
4 roasted red peppers (jarred)
1 cup cream
2 Tbsp paprika
1 Tbsp white vinegar
4oz Tabasco Buffalo-style hot sauce
Salt and pepper to taste
Yield 5L
Method
Cook carrots, celery, onions and garlic in butter over low heat until soft
Add chicken stock and potato
Cook for 30 min until all vegetables are tender and potato broken down
Add roasted red peppers and cheese
Puree in blender and strain
Add cream
Season with Buffalo Sauce, Salt/Pepper
Garnish with fried chicken, Tabasco "caviar", ranch sauce and chives