Siemens provides McMaster with $458M software grant for product design and development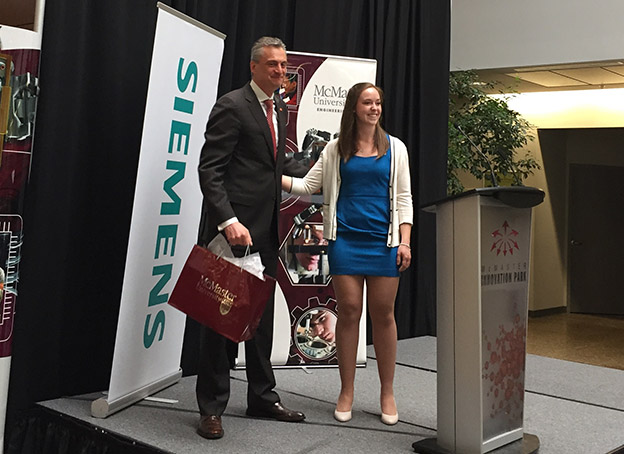 Siemens' Joris Myny and fourth year mechanical engineering student Melissa Parisi at the McMaster Manufacturing Forum, a full-day event held at the McMaster Innovation Park, McMaster Automotive Resource Centre.
---
A multi-million dollar software grant from Siemens Canada will give McMaster University students the opportunity to use the same technology that companies around the world employ to design some of today's most sophisticated products.
The in-kind software grant from Siemens product lifecycle management (PLM) software business has a commercial value of more than $458 million, and includes the company's NXTM software, Teamcenter portfolio, Tecnomatix portfolio, LMSTM solutions, the Fibersim portfolio and the Syncrofit portfolio. These software offerings represent a comprehensive set of solutions for computer-aided design and manufacturing, finite element analysis, lifecycle data management, digital manufacturing, systems engineering, simulation/ test, and multi-material/composites design optimization. Siemens is a leading global provider of PLM software and services for a wide variety of industries including automotive, aerospace, machinery, medical devices, shipbuilding and electronics.
"This grant further strengthens our relationship with McMaster and our commitment to providing today's engineering students with the opportunity to employ these real-world PLM software solutions in their research and academic work, said Robert Hardt, President and CEO, Siemens Canada Limited. "Siemens is on the leading-edge of technology globally, and we are proudly helping to empower the next generation of highly-skilled graduates."
The grant announcement was made on April 9 during the McMaster Manufacturing Forum, a full-day event held at the McMaster Innovation Park, McMaster Automotive Resource Centre and a number University campus labs, which brought together industry experts, research staff, faculty, students and other stakeholders and included panel discussions, information sessions and an industry open house. The forum's theme this year is Manufacturing a Renaissance: A Made in Canada Solution.
"McMaster University is pleased to strengthen its robust partnership with Siemens Canada," said Ishwar Puri, Dean, McMaster University Faculty of Engineering. "In-kind contributions such as this enable McMaster to provide the best technology possible to our students so they can drive innovation forward in today's evolving manufacturing sector."

Engineering students and faculty will use the sophisticated software at the McMaster Manufacturing Research Institute, one of the largest institutes of its kind in Canada. The 15,000- square-foot facility is designed to meet the complex needs of leading manufacturers in the polymer, automotive and aerospace industries, as well as the tool, die and mold industry.
The software will help enable students to develop the advanced skills required by the more than 77,000 global customers who already use Siemens' PLM software and technology solutions.
"Our students will now be able to use industry leading design, analysis and manufac- turing software to solve real world problems in their design courses" said Stephen Veldhuis, Director, McMaster Manufacturing Research Institute. "This means they will have the opportunity to gain the experience and knowledge necessary to contribute immediately when they graduate and the solid background needed to support a productive lifelong career in manufacturing."
McMaster signed a memorandum of understanding with Siemens in April 2014 to foster greater collaboration between the university and the engineering, research, management and manufacturing giant.