Showing the world the value of investing in the Hamilton area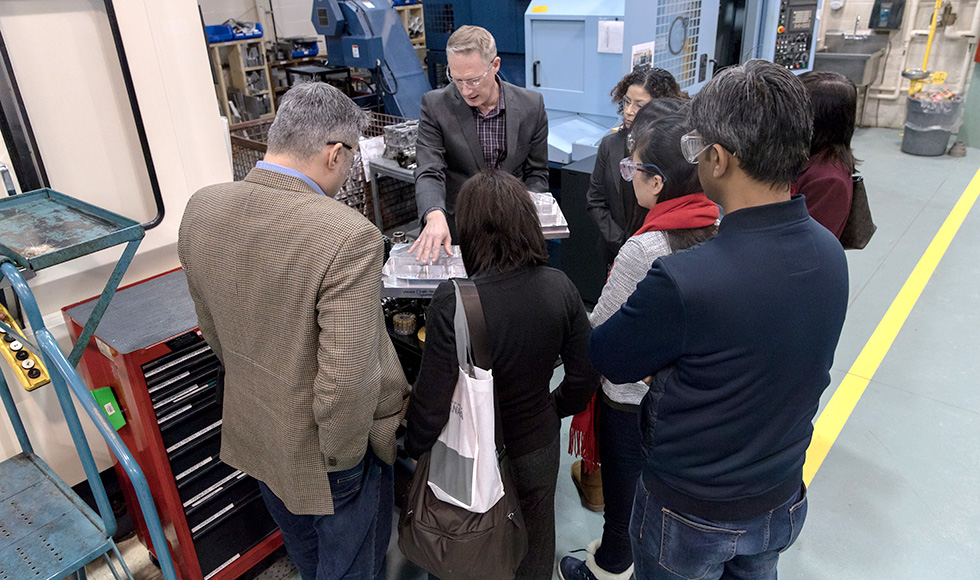 ---
The new team charged with attracting increased international investment to Canada was on campus Friday, learning more about how researchers and facilities at McMaster make the Hamilton area such an attractive place to do business.
The group – part of the investment promotion agency announced by Global Affairs Canada in 2016 – will work in countries around the world to highlight Canada's strategic strengths and increase foreign investment in the country.
The investment officers toured the McMaster Innovation Park, the Michael G. DeGroote Institute for Infectious Disease Research and the McMaster Manufacturing Research Institute as part of their stop in Hamilton.
Gay Yuyitung, executive director of the McMaster Industry Liaison Office, says McMaster's research strength plays a significant role in developing and diversifying Hamilton's economy.
"Working in partnership with the City's economic development office makes great business sense," she says. "Our goal is virtually the same. Showcasing our research to an international audience is critical to our ability to attract potential research collaborators, investors, and industry partners who are interested in our intellectual capacity — our researchers and talent pool — and our state-of-the-art infrastructure."
The tour of the infectious diseases lab was led by Lori Burrows, professor of Biochemistry and Biomedical Sciences, who told the investment officers about McMaster's work in the search for new antibiotics.
Stephen Veldhuis, a professor of Mechanical Engineering, showed the officers the future of Canada's manufacturing sector at the McMaster Manufacturing Research Institute. That's where researchers are working on enhancing the competitiveness of manufacturing operations by improving productivity and reducing cost.
One in eight jobs in Canada is linked to foreign investment, and foreign-owned enterprises employ approximately two million Canadians.