Shining a light on Hamilton's aspiring writers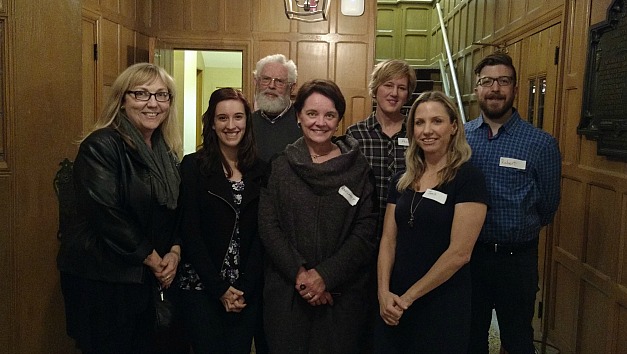 Words and Music, an event hosted by the McMaster University Library, featured readings from emerging writers (from left) Denise Davy, Nichole Fanara, Ken Watson, Margaret Nowaczyk, Pamela Hensley, Janis Crowe and Robert Pasquini.
---
"It's so exciting to be here tonight," says Pamela Hensley before reading an excerpt from her work, Lola Lascaire to an audience of faculty, staff, students and community partners gathered at the University Club.
It was a sentiment echoed by all seven aspiring authors who participated in the event, many of whom were reading their work in public for the first time.
The readings were the centrepiece of a special event jointly hosted by McMaster University Library, The Department of English and Cultural Studies and the Hamilton Public Library aimed at showcasing the work of aspiring McMaster and Hamilton authors who have spent the past four months honing their craft with the guidance of Kim Echlin, the 2015-16 Mabel Pugh Taylor Writer-in-Residence.
"We often work with established authors, but this is a wonderful opportunity to support writers who are at the beginning of their careers," says McMaster University Librarian Vivian Lewis. "Libraries traditionally focus on reading. In this case, we get to focus on the craft of writing. This event is a way for us to both provide a platform for emerging writers, and to connect with the local writing community both on campus and in Hamilton."
The evening concluded with a reading by Echlin, who shared a passage from her latest novel Under the Visible Life. Echlin was accompanied by Pianist Jason Scozzari, a fourth year student in McMaster's Honours Music program.
During her residency, Echlin split her time between campus and Hamilton Public Library, working with the apprentice authors in both locations. Echlin also became involved in the Hamilton writing community through initiatives like gritLIT and visited local schools to talk about the creative writing process.
The Mabel Pugh Taylor Writer-in-Residence program is funded in part through a generous donation from the Taylor family and is co-sponsored by McMaster's Department of English and Cultural Studies and the Hamilton Public Library.
Writings from a Residency
Read excerpts from two of the writers who has been working with Kim Echlin over the past four months:
Lola Lascaire by Pamela Hensley
Pamela Hensley has an engineering degree from the University of Western Ontario and an MBA from University of Michigan. Originally from Ottawa, she worked in the US, Japan, and Germany before moving to back to Canada six years ago. Pamela is the author of several works of short fiction, her latest published in EVENT magazine, and is in the early stages of writing her first novel. She lives in Ancaster with her husband and daughter.
 Our Future Forms By Robert Pasquini
 Robert Pasquini is a 4th year PhD candidate in English and Cultural Studies at McMaster. His poem entitled "Dissolution" appeared in the online publication Ditch, and his short story "The Curator" was published in Hamilton Arts and Letters. Robert's scholarly and creative work reflects his unyielding fascination with all things nineteenth century, science fictional, and evolutionary.