Meet Health Sciences valedictorian Sergio Raez-Villanueva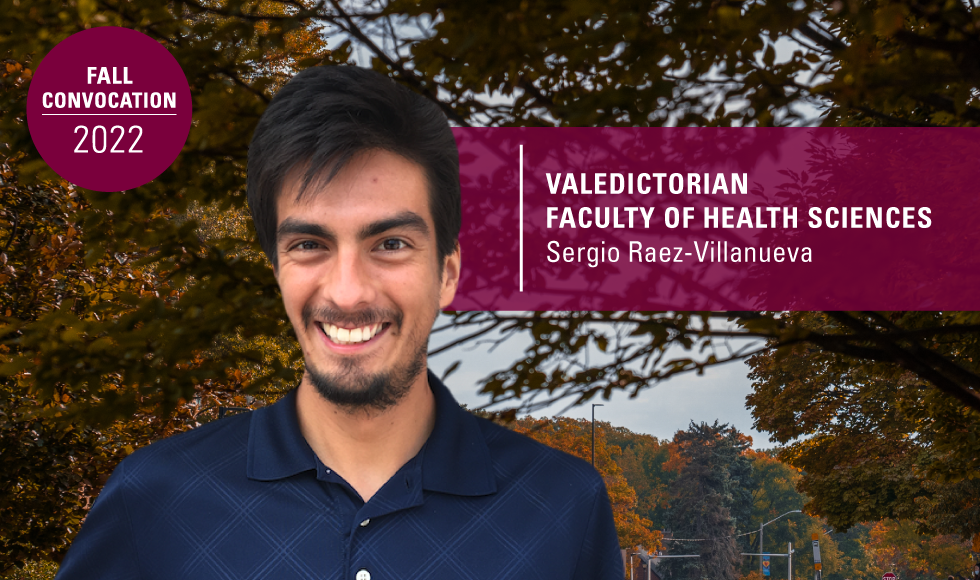 "Success is going to sleep and feeling like you made the best out of your day," says Sergio Raez-Villanueva. "Success should not be compared between individuals, it should be measured from within." (Headshot of Raez-Villanueva courtesy Lauren Negrazis)
---
Sergio Raez-Villanueva, the valedictorian for the Faculty of Health Sciences, will be graduating with a MSc in medical sciences. We asked him about his time at McMaster and what he learned as a student, athlete, choir member and community leader.
---
Name
Sergio Raez-Villanueva
Hometown
I was born and raised in Lima, Peru. That is, until 2010 when my family and I immigrated to Canada to make a new home. Since then, I have been living in Mississauga, Ontario, and I am honoured to now be a Canadian citizen while still being a proud Peruvian citizen through dual citizenship. I consider myself to be very lucky to be living in a mosaic of cultures and learning from many other customs in Canada
What is the degree and subject you pursued? 
I pursued a MSc in medical sciences while working closely with a Hamilton start-up company, Allarta Life Science Inc. I also did my BSc in biology with a specialization in physiology, along with a double minor in music and statistics (that's a mouthful!). My MSc thesis led me to work with my academic supervisor (Alison Holloway), my industry supervisor (Harald Stover) and additional committee member (Jeremy Hirota) in developing benchtop screening tools to assess hydrogel capsule compositions to contribute to the development of cell therapy encapsulation techniques for the cure of diabetes mellitus. See a fun one-minute-long video about it here.
Why did you choose to attend McMaster?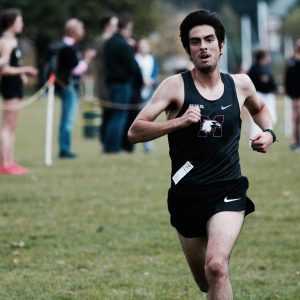 There're two sides to that question: an athletic side and an academic side. First, as a competitive long-distance runner, McMaster University has one of the best long-distance varsity programs in the country – I have had the pleasure of representing my university in provincial and national competitions and developing as an athlete with fantastic teammates.
Academically, McMaster has one of the most intensive research-involved science programs in the country as well – I could not pass on a fantastic opportunity to develop as a researcher and improve both my hard and soft skills in the process. Alas, McMaster offered the best of both worlds in providing an enriching educational experience while balancing an active and healthy lifestyle. A great example is all the enriching activities that I did during one reading week as an undergraduate student, from dissections to running. Read about it here.
What do you plan to do/see yourself doing in the future? 
I don't need to think on this too much as I am already "in the future." After defending my thesis in August and fulfilling all my graduation requirements, I am now working at the University Health Network (UHN) in Toronto at the Princess Margaret Cancer Centre. I am a clinical research study assistant managing cancer-related projects and being a point-of-contact between biotech/pharma companies and health-care workers to deliver the best trials for patients while complying with federal regulations. I am thrilled to be learning more on this crucial aspect of medicine delivery and development to combat cancer.
A bit further into the future, I hope I can continue using my knowledge and skills to better aid in the fight against this and other diseases including diabetes mellitus, and further support patients to fight and recover from these diseases
Any advice to your first-year self? 
I would tell my first-year self (and truly to any first-year student) to live in the moment. It is easy to think of what's ahead and forget to enjoy the present. Time only flies more when we get older and cherishing those moments where we stop to take it all in makes all the difference! Think of those moments as you reflect on your time at McMaster – and before and beyond!
Any advice for current or future students? 
I would tell any student to trust in yourself and be open-minded. Successes but also failures come and go in university. We need to have the spine to learn from our mistakes and from things out of our control and continue to ground ourselves humbly to the idea of pursuing excellence amid our successes. We are constantly learning, and we must use what we learn to help our community. Being open-minded makes us acknowledge that no experience, opportunity or interaction with someone is small enough to help us grow as a person and as a community.
How has McMaster shaped the person you are today? 
It has defined me as someone who is adaptable during enjoyable experiences as well as during challenging situations, whether in my studies, my athletics or my personal life. To me, it is the community within McMaster that has made all the difference – there are fantastic professors, supervisors, colleagues and fellow students that are on their own journey, but at the same time being welcoming to help you in your own personal journey too. Through my time at McMaster, I have become someone willing to work hard to do what is right and support our community through our knowledge, skills and action.
What events did you enjoy the most at McMaster or in Hamilton? 
One of my favourite memories is going to concerts (and participating in concerts) by the McMaster University Choir. I can't say enough how hard this group of like-minded students and staff from many backgrounds work to deliver high-calibre performances for all sorts of important dates, including the holidays or supporting underrepresented communities and organizations. As a tenor, I have had a blast singing in this group while becoming a better musician and meeting new people. Of course, representing McMaster in competitions for Cross-Country and Track & Field provincial and national competitions has also been the cherry on top.
What is your definition of success? 
In my opinion, success is going to sleep and feeling like you made the best out of your day. We all have different capacities and different dreams and aspirations. But we all have a goal to accomplish. Rome was not built in a day, but it had to be built. We can't expect our dreams to be fulfilled without putting the work in ourselves; it may start small but working slowly towards it is what matters. Success should not be compared between individuals, it should be measured from within and, again, from how we go to bed thinking in what we have done that day to get closer to our goals.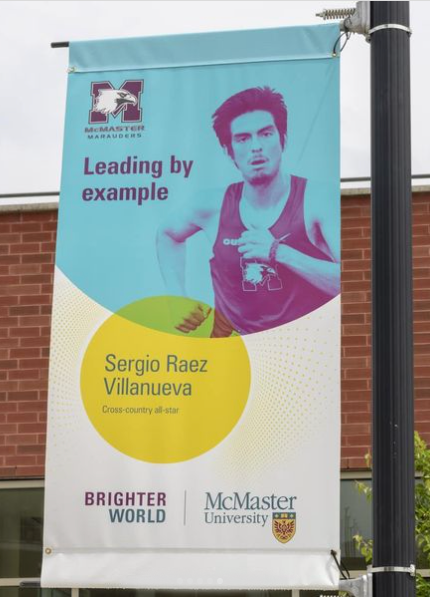 How has McMaster helped you to create a brighter world? 
McMaster's constant quest for excellence in research and community-building and global reputation has shaped me to become a role model for my peers, especially in terms of working hard, either individually or collectively. When I was featured on a campus banner for McMaster University's Brighter World Campaign in 2018, I believe the slogan used to describe me said it best, "Leading by example." To create a brighter world, we need to be team players; to become effective leaders and enact positive change in our communities, our words and promises need to be reflected in action. Whether academically or athletically, my time at McMaster has taught me that the first step to genuine leadership is for our actions to reflect our desired outcomes, especially one of striving for a supportive community.
What motivates you to work hard? 
On one end, I like to see my work be used for the betterment of our communities – I like to think of what I do as a reflection of my character. Every project, research article or community service that I provide will be used by someone at some point; how could I not deliver my 100 per cent with this in mind? Our work is there to help others, I strive to help them the best that I can! On the other end, I always want to make my family proud of what I do, which leads me to do my 110 per cent. I would not be the person that I am today without the sacrifices and support that I have received from my relatives and loved ones. Working hard is the very least that I can do.
Who is your favourite professor? 
I have been extremely fortunate to have taken many diverse courses in many disciplines throughout the years with dedicated professors. Tracy Wong, the previous conductor for the McMaster University Choir, led me to believe in my artistic abilities and to tackle the world with flexibility but with vigour, much like in a performance. Alison Holloway, my academic supervisor, has led me to become the researcher that I am today; words alone are not enough to show how grateful I am for her guidance and genuine care during my undergraduate and graduate years under her supervision in her lab.
If you could live anywhere in the world for a year, where would it be and why? 
I would love to live in Japan and learn from its culture and traditions. Apart from being encouraged to learn the language further by living there, Japan's customs are unique and quite different compared to those of the Western world; further, Japan's biotechnology and biomedical research industry is very advanced. I would love to learn from Japan's citizens regarding these advancements and their society as a whole.
While at Mac, did you receive donor-funded financial assistance (e.g., a scholarship, award, bursary)? Any thoughts on the importance of giving back to your alma mater to support future generations? 
I was blessed to receive the Alexander Graham Bell Canada Graduate Scholarship for the master's level (CGS-M). As well, I was also funded by the Mitacs Accelerate Program, thanks to my industry partnership with Allarta Life Science Inc. during my MSc thesis.
In addition, during my undergraduate years, I was very fortunate of to be supported in athletic financial assistance through several awards sponsored by anonymous individuals for my commitment to the varsity cross-country and track & field programs at McMaster. I was also selected as Athlete of the Year at McMaster in 2018.
The support and funding that I have received have been instrumental in allowing me to do the things that I do – we truly rely on the generosity and support from these organizations and generous individuals. It is my hope that in the future I can also provide that same level of support to further generations in my alma mater, as I know the real impact that this funding provides to aid students in their quest for excellence in their education, and ultimately their impact on their communities.