Seeing the world through another's eyes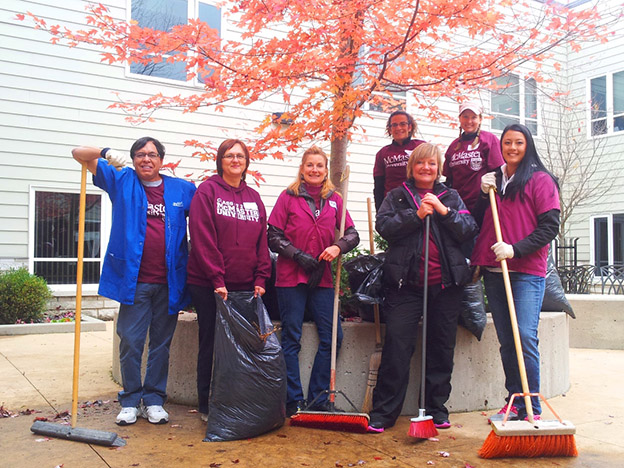 Who knew there could be so many leaves on one patio? McMaster staff members cleaned up the gardens at St. Peter's Residence in Hamilton, one of the placements from the TMG Day of Service on November 7.
---
"Could a greater miracle take place than for us to look through each other's eyes for an instant?"
—Henry David Thoreau
On November 7, close to 80 McMaster staff members had the opportunity to look through another's eyes for much more than an instant.
As part of the inaugural TMG Day of Service, management staff from more than 40 departments spent the day cleaning, painting, gardening, stocking shelves, serving meals – even decorating Christmas trees – at eight non-profit agencies in the Hamilton area. A ninth group went on a six-kilometre hike through the McMaster forest to assist with the preservation of native species.
I was one of eight managers who spent the day cleaning the outdoor patios at St. Peter's Residence, a long-term care facility on Hamilton's west mountain. As soon as we walked in the door at the beginning of the day, our preconceptions of what "long-term care" looks and feels like were quickly proven wrong. We were struck by the beautiful facility, the warmth and professionalism of the staff, and the wide range of thoughtful and caring services available to the residents (including an onsite hairdressing salon).
My team leaders were Laurie Ham, manager of conference and event services, and Deb Garland, team lead, engagement and wellness, in Organizational Development.
"I volunteered because I'm a new member of the McMaster team," said Ham. "I'm interested in connecting with my colleagues and getting out to build community, which I know is a big priority here at McMaster," she said, adding: "The day was fantastic."
"I know how important volunteering is, because it's a big part of my own role at McMaster," said Garland. "It was great to feel so appreciated by the residents and staff members at St. Peter's and to see the impact we had."
The idea for the day came from The Management Group (TMG) committee, with strong backing from Roger Couldrey, McMaster's vice-president, administration, who provided the closing remarks for the day. "My biggest hope was that this would be one of the best development opportunities you could ever have," said Couldrey. "I think it worked exceptionally well."
This year's nine placements were: Eva Rothwell Resource Centre at Robert Land, Living Rock, St. Matthews House, Welcome Inn, Homestead Christian Care, St. Peter's Residence, Mission Services of Hamilton, Wesley Urban Ministries, and McMaster Forest and McMaster Outdoor Recreation.
The hashtag #tmgmacserve was created on Twitter for photos and tweets from the day.