Searching for researchers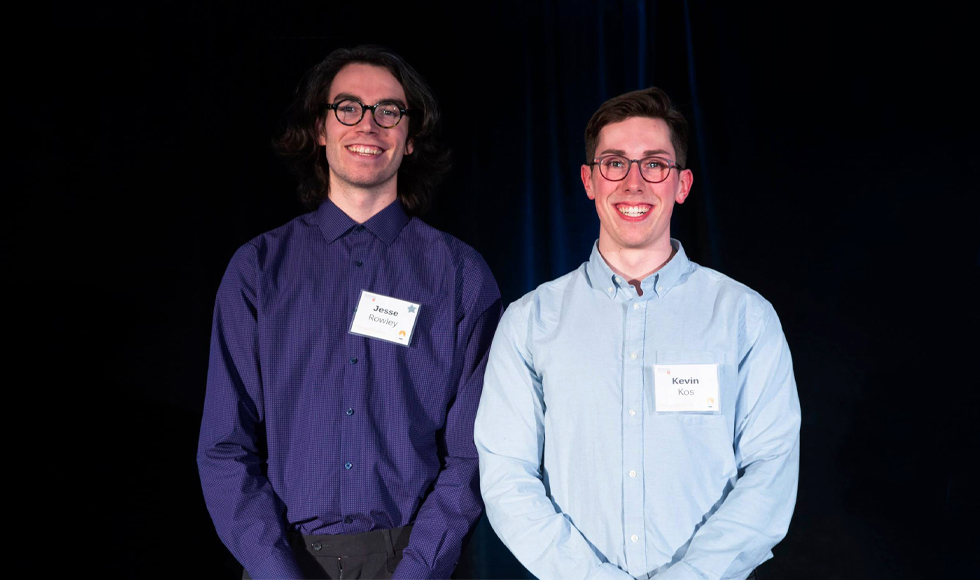 Photo of Jesse Rowley (left) with Kevin Kos (right) during their Pitch Competition presentation.
---
Interested in earning some money and contributing to a McMaster research project? Jesse Rowley and Kevin Kos have an app for you.
While working on campus one summer with the Grounds and Waste Management department, Rowley, a computer engineering student, met Kos, who was completing his Bachelor of Science degree. Rowley had found it challenging to recruit participants for research studies, when he had worked in a neuroscience lab.
Rowley shared an idea for a possible solution with Kos and, after some more computer programming training, the two launched RSearch, a central social platform that helps connect academic researchers with motivated participants.
"The website provides a large pool of potential research participants, while also putting opportunities in front of students who may be looking to make extra money," says Rowley, who will enter his third year this fall.
RSearch will soon be accessible via a phone app as well. The site is designed for undergraduate and graduate students from any Faculty (and it's not only for undergraduates like comparable websites). Community members are also encouraged to browse the studies that are looking for participants.
The long-term plan, says Rowley, is to convince other universities in Canada and the United States to join and create a larger database of research studies and participant opportunities. 
"Researchers at Mac no longer need to spend unnecessary amounts of time marketing their studies on campus," says Kos, who will start his master's degree in biomechanics at Mac in the fall. "It takes five minutes to post a study on our website."
Rowley and Kos were finalists in The Forge pitch competition this spring.  This summer, they participated in the Forge's Startup Academy program. 
The Forge is a collaborative makerspace where entrepreneurs from McMaster and Hamilton can access advanced equipment and resources to design and build innovative new services and products.
Rowley says the Forge has helped them diversify, fill knowledge gaps in how to market themselves, and connect them with mentors who have encouraged their fledgling business.
"As a result of McMaster's research-intensive nature," adds Kos, "we think a business like ours will do well on campus — and also throughout Hamilton, because of the city's support of technology-based industries." 
More than 105 tech companies have graduated from The Forge since its founding in 2014 with more than 300 employees hired and $26 million of private and public investments raised.