Students bring bright ideas and solutions to inaugural sustainability pitch competition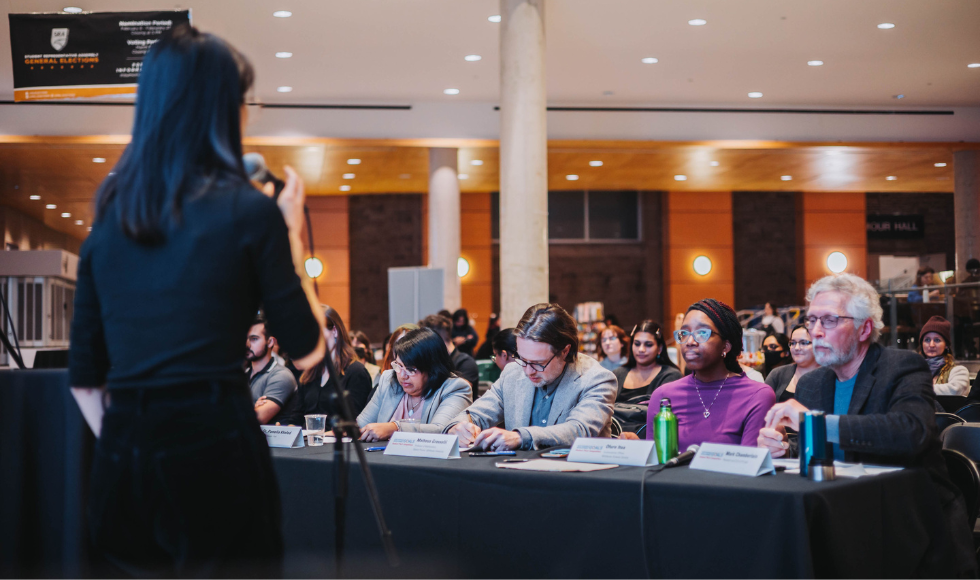 21 teams of students took part in McMaster's first Sustainability Development Goals (SDG) pitch competition in the McMaster University Student Centre (MUSC) on March 8th. (All photos by Antonio Adams)
---
How would you encourage waste reduction at Centro? Or active and sustainable travel in the city? What about improving gender equity and empowering women?
65-plus innovative student thinkers teamed up to share their bright ideas and solutions to these challenges this week at McMaster's first Sustainability Development Goals (SDG) pitch competition. Three winning teams took home $2,000 in prizes each.
The competition, which was open to all McMaster students, had 21 teams of two to six students from all six Faculties sharing three-minute pitches that tackled one of three challenges, each aligned with the United Nations' Sustainable Development Goals, and specific to either McMaster's campus, the Hamilton community or our international society.
The teams, which had time to prep beforehand, first delivered their pitches to a panel of academic, community and industry experts from McMaster, the City of Hamilton and the community early in the evening Wednesday, March 8.
From there, nine teams advanced to present their pitches to an in-person audience and judges in the MUSC Atrium. Teams were assessed on a rubric that considered the clarity with which their pitch addressed the problem; how feasible their solution was; and the potential for impact.
Here are the winners:
---
Mac's GREEN Deposit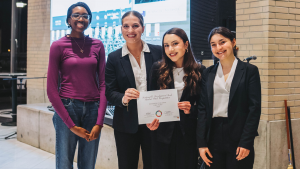 Alexandra Bovie, Diviya Leonard and Isabella Demakos won the McMaster Challenge with an idea to encourage waste reduction in McMaster's Centro dining area using a 3 R's (Reduce, Reuse, Recycle) approach.
"I hope our idea to incentivize the closed-loop container option through a deposit system at McMaster eateries inspires new ideas for sustainable change," says Alexandra Bovie, a third-year integrated business and humanities student.
"Pitching at McMaster's first SDG challenge has been a great opportunity to gain confidence in thinking on my feet and clearly presenting a new idea to a crowd."
---
Hamilton Transit Together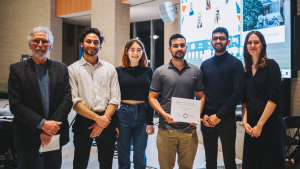 Omer Choudhry, Josefine Hjelde Thomsen, Savanna Cherry, Muhib Kazmi and Ismail Arif won the Hamilton Challenge with their idea to increase active and sustainable travel before, during and after Light Rail Transit construction.
"It was great to bring the Sustainable Development Goals to life in this competition. Our idea for live, interactive digital boards at LRT stops aims to increase accessibility and safety, helping all Hamiltonians, from children to older adults, to be more comfortable taking public transportation," says Choudhry, a fourth-year life sciences student.
---
Have a Mice Day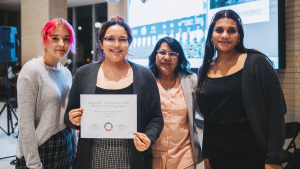 Ashley Grew, Marina Nevison and Simran Dhindsa won the Global Challege for their idea to achieve gender equity and women's empowerment with a unique take on female representation in pre-clinical medical trials.
"Our idea is to promote equity by increasing the representation of females in pre-clinical medical research, starting with model organisms, such as mice. This will positively impact women's health by improving the understanding of female biological systems, preventing misdiagnoses and making medical treatments safer for women," says Grew, a fourth-year biology student.
"Presenting was a little stressful, but exciting."
---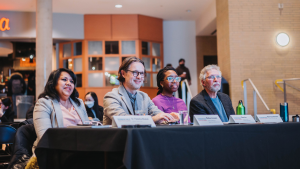 Each challenge was judged by a panel including Mark Chamberlain, president of PV Labs and co-founder of Bike for Mike not-for-profit, Pamelia Khaled, academic and poet, Ofure Itua, sustainability officer at the McMaster Science Society, and Matheus Grasselli, deputy provost at McMaster University.
The event was hosted by McMaster Academic Sustainability Programs and the Office of International Affairs, and was supported by the Office of the Provost, Office of Sustainability and many other campus partners.
The pitch competition was one of many events taking place as part of SDG Week across Canada, an initiative that raises awareness of the SDGs among students, faculty and staff and encourages them to act toward achieving the United Nations Sustainable Development Goals in their own communities.