Science is history: New group to promote the study of science's past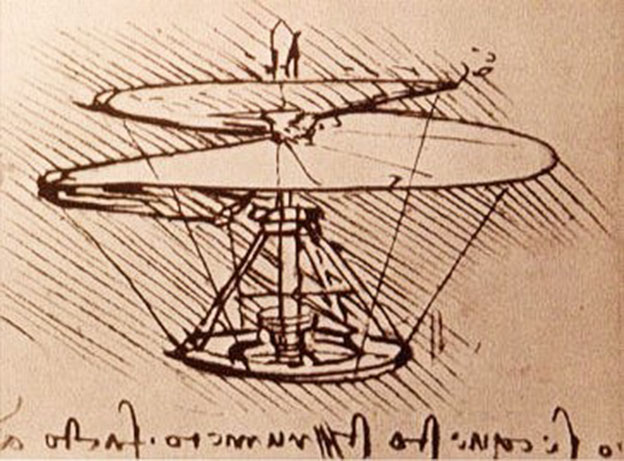 Leonardo da Vinci's 'helical airscrew', sketched in the early 1480s. The design is thought to be the inspiration for the modern helicopter, first built in the 1940s. A new network of campus researchers devoted to the study and appreciation of the history of science and technology will come together Tuesday night.
---
McMaster has lots of scientists.
From chemists and biologists to physicists and astronomers, the science community on campus is large and diverse. But McMaster's scientists have a problem.
"When it comes to studying the history of science, there's no formal way to connect with others," says Rob Cockcroft, postdoctoral research fellow and manager of the McCallion Planetarium. "There's no way to discuss and share ideas with others who have similar interests."
Until now, that is.
With the help of some Forward with Integrity seed funding, Cockcroft and Integrated Science Program teaching professor Sarah Symons are launching the History of Ideas, Science and Technology Research and Education Network – HISTReENet for short.
The pair hopes to use the project to connect researchers and students with an interest in the history and philosophy of science and technology through dialogue, speakers and special presentations.
"Understanding where things come from keep people from taking things for granted," says Cockcroft.
Cockcroft recently finished a science PhD and began a postdoctoral fellowship in ancient Egyptian astronomy. He says a conference he attended as part of his new work inspired an appreciation for the importance of science's past.
"How did we come to think like we do? Why is it that we have 365 days in a year? Why do we split the day into 24 hours? Seeing where that comes from is pretty cool."
The network will launch September 24 with a meeting at 3:30 p.m. in the Mills Library Connection Centre.
Cockcroft can be reached at cockcroft@physics.mcmaster.ca.