Science grads support future generations of environmental researchers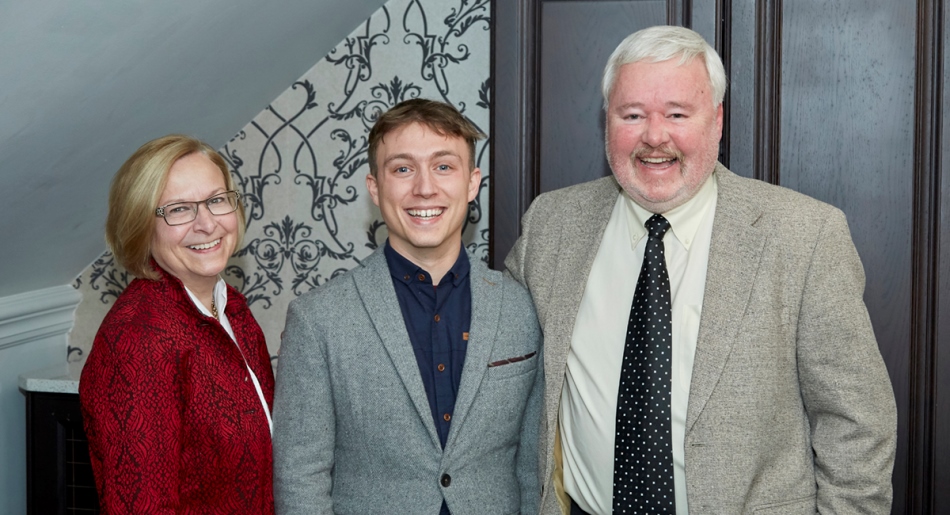 "Graduate students are the legs on the caterpillar. They move the science forward," says Margaret Gadsby '78, who with Brad Fairley '79 has created a scholarship and a travel prize for graduate students in environmental studies at Mac. Julien Gordon is the first recipient of the Fairley-Gadsby Ontario Graduate Scholarship.
---
A laboratory with rats, mosquitos and cockroaches doesn't sound like the most romantic setting, but that's where they met.
Margaret Gadsby '78 was the lab technician and Brad Fairley '79 was a student. "We were thrown together by our professor," says Margaret. Their prof had asked her to help Brad with his scientific writing. "I created a monster – he's a much better writer than I am," she quips, while Brad counters with: "She's much smarter than I am."
Both credit their time as undergraduates at Mac with building a strong foundation for their careers. "I learned how to learn," says Brad, while Margaret notes her work as a lab technician gave her the confidence to pursue a graduate degree. "I came away with the sense that I could do this," she says.
They both went on to graduate studies and forged successful careers as environmental scientists. Now retired, Margaret was most recently Vice-President of Regulatory Affairs at Bayer Crop Science. Brad currently works with Stantec Consulting as Senior Associate, Stream Restoration Lead, Canada East.
A new graduate scholarship and travel prize
The couple has given back to McMaster with annual gifts for many years. They have now stepped forward with a $100,000 donation to support graduate students who are researching environmental issues, their causes, effects, mitigation and/or ecosystem restoration. The gift creates the Fairley-Gadsby Ontario Graduate Scholarship and the Fairley-Gadsby Research Travel Prize.
The gift was announced at a private event on November 22. McMaster student Julien Gordon is the inaugural recipient of the graduate scholarship.
Margaret and Brad have also included McMaster in their estate plans, which will significantly augment the two endowments. Their bequest will establish the Fairley-Gadsby Post-Doctoral Fellowship and the Fairley-Gadsby Prize for a recipient of the Fairley-Gadsby Ontario Graduate Scholarship to recognize notable academic achievement.
A fun process
How did they decide where to designate their donation and their bequest intention? "The process was more fun than we expected," says Margaret. "We had some really good discussions."
"It was a pleasure to meet Margaret and Brad, two exceptional scientists," says Rob Baker, who was Dean of Science at the time and now serves as McMaster's Vice-President, Research. "We had a number of great meetings to brainstorm how they could impact McMaster's world-class research in a way that was meaningful and personal to them."
Brad and Margaret decided to bolster research in ecology.
"McMaster has done really well on the research side. It's become a powerhouse," says Brad, who explains they chose to support graduate students because of their direct impact on those research strengths.
"Graduate students are the legs on the caterpillar," says Margaret. "They move the science forward."
The couple emphasizes that a bequest gift has significant tax advantages for one's estate. And making a donation during their lifetime will give them the satisfaction of meeting students and seeing their vision come to life.
Solving complex challenges, one step at a time
"Over my career, I've done a lot of helping people from diverse sciences learn to talk to each other," says Margaret. "The challenge for science is to take an understanding of a complicated problem and try to make incremental progress."
Although retired, she's busier than ever. She sits on the Scientific Advisory Board of the Global Institute for Food Security at the University of Saskatchewan, she teaches literacy and numeracy, she mentors three young women, and she is an avid gardener – among many other pursuits.
Brad still works full-time, specializing in stream restoration. He oversees teams of professionals across many disciplines, from botanists to engineers to landscape architects. Which brings him back to their gift to Mac.
"We really want to encourage the different sciences to work together," he says. "The challenges we face are complex. They are not unidimensional."
"We believe there are people at McMaster who understand that," adds Margaret, "and we believe that giving them more resources can only help. We want to hatch more students who will say: 'What can we do to make this one step better?' That's something that has an impact."
Margaret Gadsby '78 and Brad Fairley '79 | Photo by JD Howell