Science grad: "When in doubt, saying 'yes' leads to a more exciting story"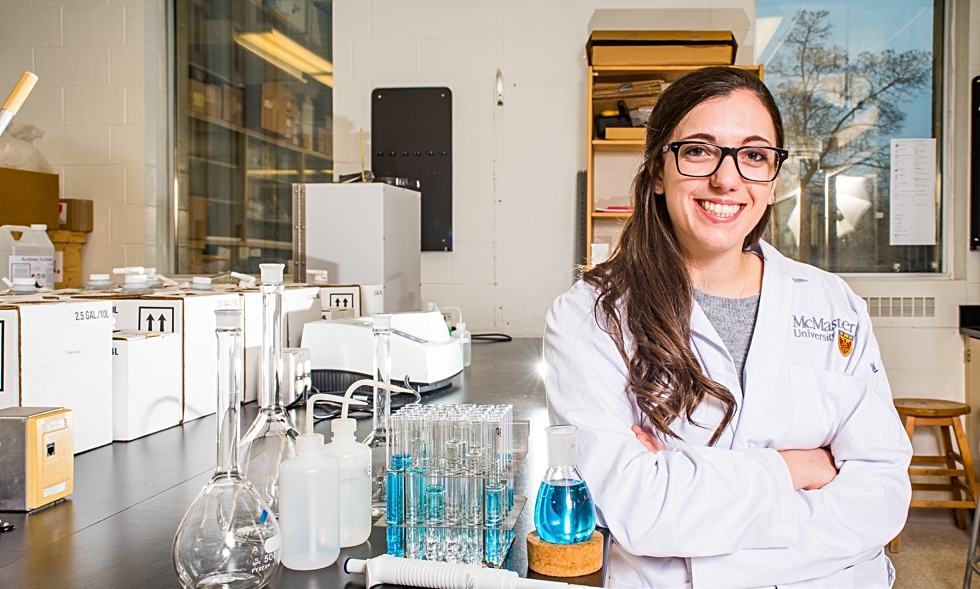 When chemical biology graduate Victoria Marando (pictured) went to Sweden for a co-op placement at the Karolinska Institutet, she never expected she would end up travelling across Europe as a member of a Swedish field hockey team.
---
When Victoria Marando arrived in Stockholm for a co-op placement at the Karolinska Institutet, she never expected that within weeks she would be playing on a Swedish competitive field hockey team – after all, she had never played a game of field hockey in her life.
It was an unexpected turn of events, but a unique opportunity and a rich cultural experience, which Marando embraced – giving her the chance to travel throughout Europe, and make lasting friendships.
"I say 'yes' to things if I think I can do it, even if I'm not sure – then I find a way to make it work," says Marando, who graduates this week from McMaster's Chemical Biology Co-op program. "I usually find that when in doubt, saying 'yes' leads to a more exciting story."
This fall, she begins graduate studies at the Massachusetts Institute of Technology (MIT), the recipient of a full scholarship. It's the next step in a personal and academic journey that, for Marando, has been about making the most of opportunities, wherever they arise.
She says, for her, the Faculty of Science's co-op program opened up a number of such opportunities. "I didn't know co-op existed until I came to Mac, but once I found out, I saw it as a chance to get work experience, and also to travel," says Marando who had always been interested in exploring new places and cultures, and was particularly interested in pursuing a placement in Europe.
Through a friend of a friend, she found a position at the Karolinska Institutet – one of the world's leading medical universities – and was soon in Stockholm at the Helleday Laboratory, working with the medicinal chemistry and cellular biology teams in the lab, helping to develop and test new compounds as potential cancer treatments.
"When I first got there, I didn't know a single person in all of Sweden, and I didn't speak a word of Swedish, so I was mainly focussing on my work and on getting settled in," she says. But it wasn't long before she made friends at the lab, one of which played on a field hockey team –Nacka LHK–and suggested that Marando try out.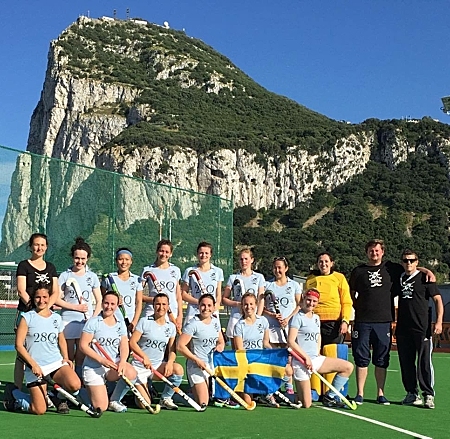 "They were looking for a goalie," she says. "I had never played field hockey before, but I was a goal keeper for my soccer team in high school, so I knew how to track a ball and make a save."
Marando tried out and made the team. She worked in the lab during the day and went to practices one or two nights a week. On weekends, she travelled with her team mates, playing in towns throughout Sweden, as well as in a tournament in Demark, and even in a large international tournament in Gibraltar where she faced teams from Lithuania, Italy, Spain and England. "The games were livestreamed," she says. "My parent's watched it and the co-op office watched it in Canada, it was really cool!"
Watch video of Marando playing in the Eurohockey Club Champions Challenge
She says the experience was among the most rewarding of her life. "Some of my closest friends from my time in Sweden were from the field hockey team, some of the greatest memories are from travelling with the team and so I can't even imagine how different my experience would have been if I hadn't said 'yes' to that tryout."
Marando says her experience in Sweden helped her to grow as a person and taught her how to be independent – lessons that would serve her well in her next co-op position at NMX Research and Solutions, a small biotech start-up in Montreal where she took on a very different kind of challenge.
"My position at Karolinska was primarily an academic position – this time, I wanted to work in industry and get that experience," she says, "NMX was started by a professor from the University of Quebec and he saw a lot of benefit in university-industry partnerships – he was passionate about it and now I've become passionate about it."
Part of a small team of researchers, Marando worked on a number of projects, including one aimed at reducing the side effects of drugs. She also screened compounds to identify which ones were effective in inhibiting the proteins associated with a number of different diseases to find out which of those could be used as starting points for designing new drugs.
While she was at NMX, she also took on another significant challenge – working with the company founder to organize the first annual Academic-Industry Partnership Symposium. "It was something he had wanted to do for a while, but he just didn't have anyone to help him with it, so I told him I'd be willing to take it on."
It was a daunting task on a tight timeline, and though Marando says it wasn't easy, they pulled the conference together in only a few months. "It was really last-minute – but it was really successful," she says. "We ended up with 210 participants, and it looks like the conference will be happening again this year."
A few weeks ago, Marando was in Boston, looking for apartments and exploring the campus at MIT. She says although much of her research, including her thesis, has been related to cancer treatment, she's considering focusing her graduate work on antibiotic resistance. She says she may even look into joining a field hockey team.
"I'm going to see how things go and let the opportunities that are available to me decide my next steps," she says. "So far, I've been going where the opportunities are, and that's worked out well, so I'll see where that takes me."