Schulich Leaders start their undergraduate careers with a special commitment, and a special award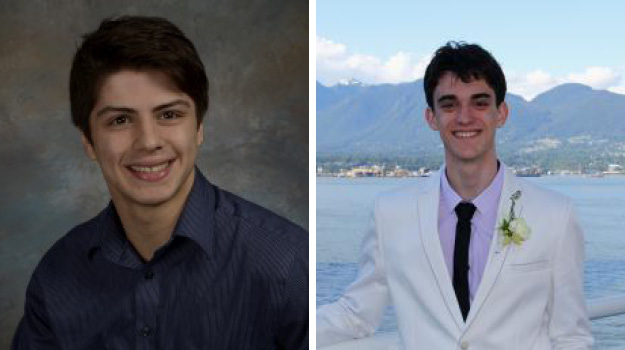 McMaster undergraduate students Alex Dhaliwal (left) and Liam Lawrence have been recognized as 2013 Schulich Leaders alongside 38 other scholarship recipients from across the country.
---
One is starting his university career in the Integrated Science Program, heading for what he hopes is a career in medicine. The other is studying Engineering, with an eye to a career in education.
Meet Alex Dhaliwal and Liam Lawrence.
Both have started their experiences as McMaster students with a special award reserved for some of Canada's most promising scholars and citizens. They are McMaster's 2013 Schulich Leaders.
Dhaliwal is a graduate of Laura Secord Secondary School in St. Catharines, while Lawrence graduated from Kitsilano Secondary School in Vancouver.
They are among 40 Canadian recipients of $60,000 Schulich Leader Scholarships who will study at 20 selected universities across the country.
The Schulich Leader Scholarships annual program recognizes students who demonstrate excellence in academics or community leadership, or both, and plan to study one of the STEM subjects: Science, Technology, Engineering or Mathematics.
Every high school, secondary school and CEGEP (in Quebec) is eligible to nominate one student to compete for the four-year scholarship. This year there were 996 Schulich Leader Nominees.
Dhaliwal, 18, says the scholarship encourages him to continue to participating in academic and extracurricular activities and to learn as much as he can from both.
"I feel like this scholarship is an investment in my education, and it motivates me to try and take as much as I can out of my university experience at McMaster," he said.
Dhaliwal says he loves the iSci program, which employs a multidisciplinary, project-based approach to teaching and learning science, one that he hopes will be a step toward a future career in medicine.
He says the program, the beautiful campus and the welcoming atmosphere made it easy for him to decide to come to McMaster.
Lawrence, also 18, credits the support of his family for helping him earn the Schulich honour.
"For me, receiving a Schulich scholarship is a sign that I'm moving in the right direction," he said. "I've always put my maximum effort into my academics and leadership activities, and it's immensely encouraging to have received an award for my work. It has fueled my desire to continue putting my all into everything I do."
Eager to "pay it forward" after his positive early experiences at McMaster, he is hoping to serve as a residence rep and a teaching assistant.
He is planning to focus his broad goal of combining Engineering and education, with an eye possibly to becoming a professor himself one day, or starting an educational company.
He chose McMaster because it was the perfect size and because of the sense of community.
"It has been the most exhausting, intense, and amazing time of my life so far," he said. "I feel like I'm learning so much every day, and meeting so many new people who share my interest and passions. I feel honored to be here."