Scholarship honours late student's passion for scientific research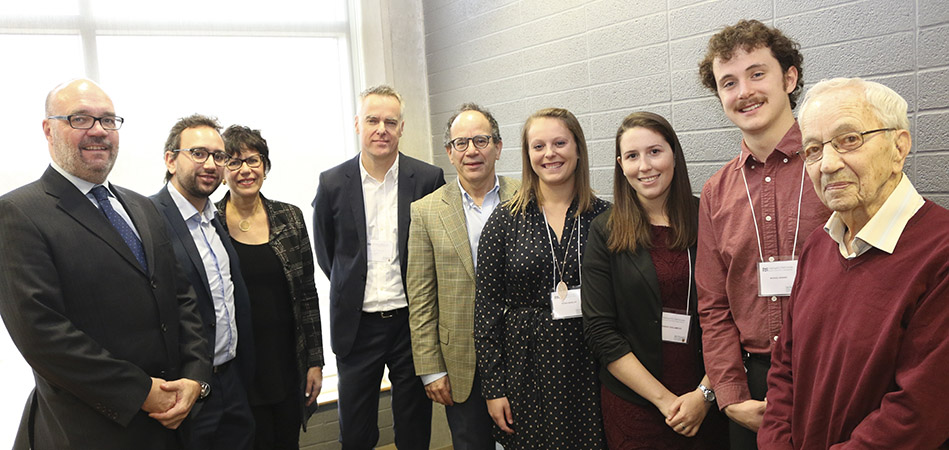 From left: Gerry Wright, Director of the Michael G. DeGroote Institute for Infectious Disease Research (IIDR); Aaron Hart, Michael's brother; Jill Kamin, Michael's mother; Justin Nodwell, former IIDR member; Murray Hart, Michael's father; Fiona Whelan, recipient of the Michael Kamin Hart Memorial Scholarship; Savannah Colameco, scholarship recipient; Michael Ranieri, scholarship recipient; David Hart, Michael's grandfather.
---
Michael Kamin Hart was a gifted Master's student studying biochemistry at McMaster's Michael G. DeGroote Institute for Infectious Disease Research (IIDR) when he received the untimely diagnosis of non-Hodgkin's lymphoma. He passed away on June 5, 2011 at the age of 25, but his legacy lives on thanks to a scholarship in his name that's fuelling critical research at the IIDR.   
Now in its sixth year, the Michael Kamin Hart Memorial Scholarship was established by Michael's family as a way to honour his passion for scientific research. It is awarded to a master's student, a PhD student, an undergraduate researcher, and, new this year, a staff member who demonstrates academic excellence, leadership and a similar devotion to science that Michael exhibited.
Known among his family and peers for his intellect and "off-kilter" sense of humour, Kamin Hart inspired everyone around him with his drive to accomplish great things, particularly in the area of antibiotic resistance.
"Michael Hart was one of our most promising students working on the antibiotic resistance crisis," said Gerry Wright, director of the Michael G. DeGroote IIDR.
"It's a sad story, but the scholarship is a celebration of the impact he had. It's now become an annual marker of excellence within the group, and a real shot in the arm for the young people who get them," he added.
This year's recipients of the scholarship are Savannah Colameco (summer undergraduate), Michael Ranieri (summer undergraduate), Sara Dizzell (MSc) and Fiona Whelan (PhD).
"This award gives me the platform to share what I'm most passionate about: my research. I owe many thanks to the Hart family for their very generous support," said one of the recipients, Michael Ranieri.
The scholarships were presented at the sixth annual Michael G. DeGroote IIDR Trainee Day last week. Trainee Day offers the IIDR community a forum to recognize and celebrate the cutting-edge work being done by its students and postdoctoral fellows.   
Centered on the theme of "World changing people, research and ideas," the event featured 12 talks and more than 50 poster presentations, as well as a keynote address by Dr. Arturo Casadevall, Bloomberg Distinguished Professor and Chair of the W. Harry Feinstone Department of Molecular Microbiology and Immunology at the Johns Hopkins Bloomberg School of Public Health. He is an internationally renowned microbiologist and immunologist and a advocate for integrity and creativity in research and support for trainees.
A video tribute for Michael Kamin Hart and the scholarship in his name, may be found here: http://bit.ly/2f7WSTA .