Sarah Symons featured in latest issue of Scientific American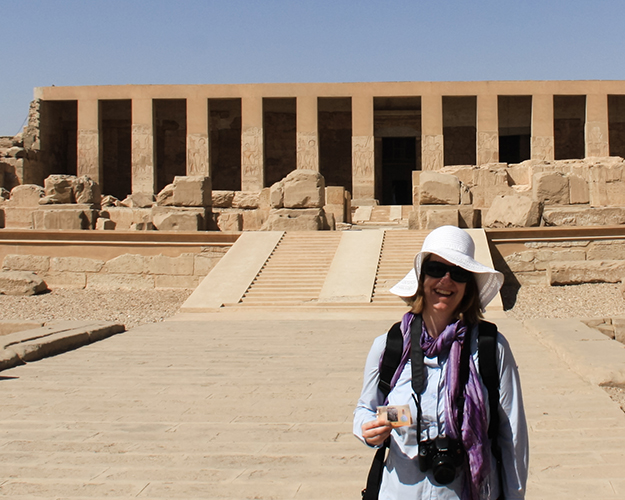 In addition to her research and teaching efforts, Sarah Symons is also director of McMaster's William J. McCallion Planetarium. The planetarium runs public and private shows every week, presented by a competent and enthusiastic team of graduate students. The facility offers a valuable link between the Department of Physics and Astronomy and the greater Hamilton community.
---
McMaster astronomical researcher Sarah Symons has co-authored a piece entitled "Stars of the Dead" for the October 2015 edition of Scientific American.
Read an excerpt from the story or browse the full text below:
Archaeologists first began discovering these intriguing coffin records in the 1890s while exploring tombs in the nearby burial complex at Asyût.
After opening up certain rectangular caskets that held the mummified remains of local nobility, the explorers found very specific designs on the inside lids instead of the plain wood or the extracts from religious texts seen in most ancient Egyptian coffins.
These special drawings depict an organized table of star names, recording the movements of selected stars, such as Sirius, throughout the year.
Symons is a teaching professor in the Department of Physics and Astronomy and the Integrated Science Program. Her main area of research involves the history of science, with a particular focus on ancient Egyptian astronomy.
She examines descriptive texts written in hieroglyphs, astronomical tables, depictions of the sky on the ceilings of temples and tombs and small instruments such as sundials.
One of the unique features of Egyptian astronomical activity is the construction of "star clocks" — tables of star names charting the position of constellations through the nights of the year.
Through her work at McMaster, Symons is trying to deduce the way these tables were developed and the observational methods used to construct them.
The article was co-authored by Elizabeth Tasker, a former postdoctoral fellow at McMaster and current assistant professor at Hokkaido University in Sapporo, Japan.