Meet science and engineering valedictorian Sara Moetakef Imani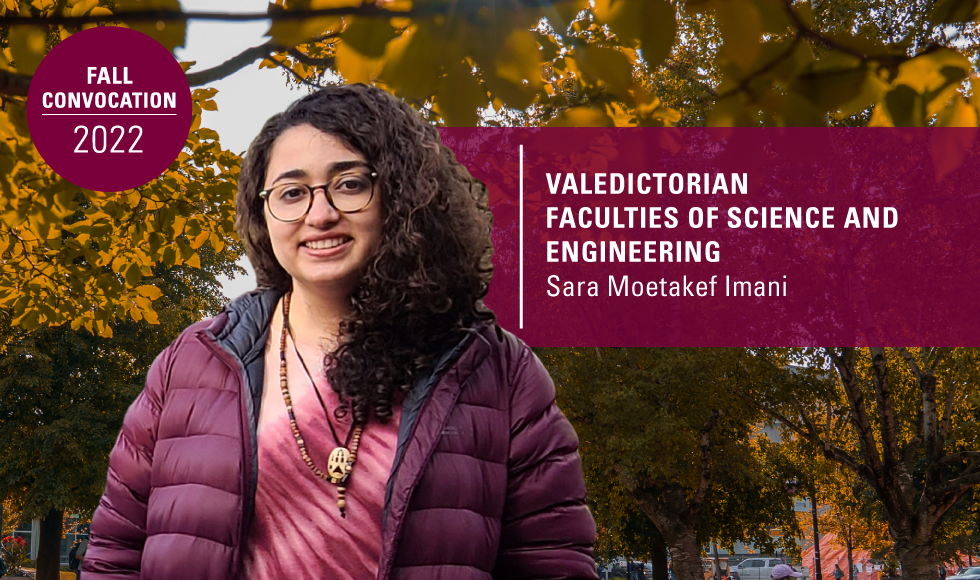 "Success in every profession, is to love what you do and try to make an improvement around you," says science and engineering valedictorian Sara Moetakef Imani
---
Sara Moetakef Imani says her time at McMaster has prepared her to help solve pressing challenges in the biomedical engineering field. We asked the PhD student and valedictorian for the Faculties of Science and Engineering what advice she would share with other students as she gets set to cross the stage at convocation. 
---
Name 
Sara M. Imani 
Hometown 
Mashhad, Iran 
What is the degree and subject you pursued? 
I did my Master's and PhD in biomedical engineering at McMaster University. My PhD focused on developing surfaces for pathogen repellency and biosensing under the supervision of Dr. Tohid Didar and Dr. Leyla Soleymani. 
Why did you choose to attend McMaster? 
Among the grad schools I applied for, I chose McMaster because of the strong interdisciplinary and collaborative engineering and medical environment.  
What do you plan to do/see yourself doing in the future? 
I have started my postdoctoral fellowship at McMaster University. As I enjoy academic environments and research, I would like to become a researcher and professor in the future to innovate and solve pressing challenges in the biomedical engineering field.  
Any advice to your first-year self? 
I would say to my first-year self to try to enjoy the journey more and be more positive about the hardships along the way. 
Any advice for current or future students? 
The advice that I would give is to try to engage in different activities at McMaster, try to socialize and build friendships and also professional connections. Try to enjoy the journey, with dedication, time-management and effort you can reach your goals. So, don't be hard on yourself! 
How has McMaster shaped the person you are today? 
At McMaster I learned to envision the impact of my research and work globally and tired to truly make an impact.   
What events did you enjoy the most at McMaster or in Hamilton? 
I really enjoyed the annual biomedical engineering symposium at McMaster. I met other graduate students working in the biomedical engineering field and learned about their research. There were many interesting keynote speakers every year. We had a fun and friendly time after the presentations with the open mic performances. 
What is your definition of success? 
Success in every profession, is to love what you do and try to make an improvement around you. Success is that you feel confident and happy with your efforts in life.  
How has McMaster helped you to create a brighter world? 
McMaster encourages collaborations and is an extremely research-intensive university. Along with the high quality research done at McMaster, it has helped me to grow as a young scientist and work on globally demanding research topics. 
What motivates you to work hard? 
Thinking that my work would have a positive impact in the world is what makes me to try my best. 
Who is your favourite professor? 
During my graduate studies at McMaster, I had the opportunity to work with many professors from various disciplines. I was very lucky to have worked with them and learned a lot from my mentors. It's really hard to just pick one. I'd like to thank them all for their support.    
If you could live anywhere in the world for a year, where would it be and why? 
I would choose Europe. I would like to explore many of the historic sites, nature, learn a new language, and of course learn about the research in their top universities.  
While at Mac, did you receive donor-funded financial assistance (e.g., a scholarship, award, bursary)? Any thoughts on the importance of giving back to your alma mater to support future generations? 
No, I didn't. I believe giving back to the community and McMaster by helping future students to reach their goals is important. I hope one day I could have such an impact.