Meet Business, Social Sciences & Humanities valedictorian Samantha Hirsch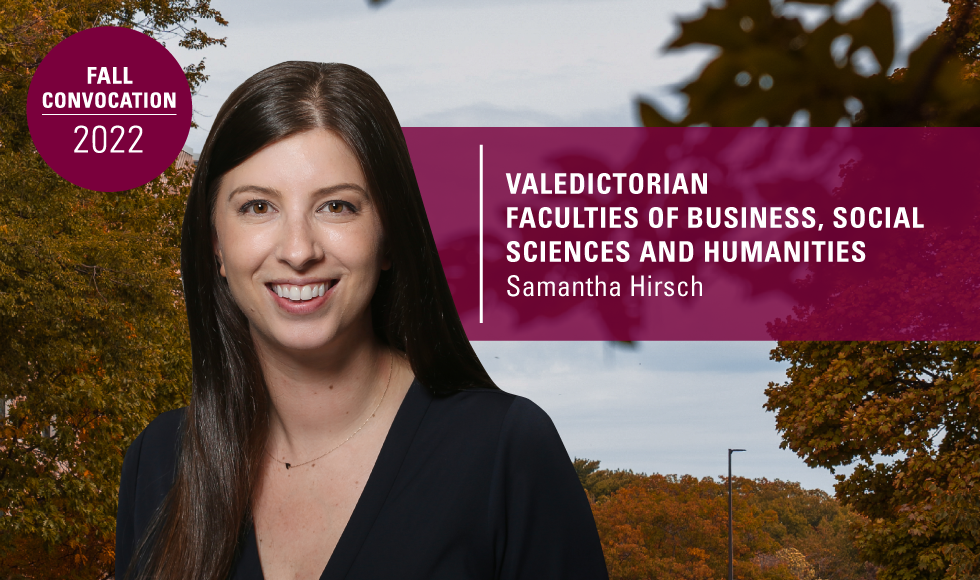 Samantha Hirsch is graduating from the DeGroote School of Business' Blended Learning MBA program and is the valedictorian for the Faculties of Business, Social Sciences and Humanities.
---
Samantha Hirsch earned her master's of business administration while working and starting a family. We asked the valedictorian for the Faculties of Business, Social Sciences and Humanities what she learned about herself while juggling it all.
---
Name:  
Samantha Hirsch 
Hometown:  
Raised in Halifax, Nova Scotia, and now call Waterloo my home. 
What is the degree and subject you pursued?  
Master's of business administration
Why did you choose to attend McMaster? 
DeGroote School of Business offers the Blended Learning MBA program, which meant that I could continue my career while obtaining my MBA. This was huge for me, because I love working in marketing and didn't want to have to pause my career trajectory to go to school. Also, the faculty, alumni and professors were all so supportive and approachable in every interaction I had with McMaster. I knew it would be a great place to continue my education—and it was! 
What do you plan to do/see yourself doing in the future? 
I've thoroughly enjoyed being able to help mentor and grow the careers of my direct reports at ScotiaBank and Sun Life. I look forward to leading larger teams and being able to impact a greater change, both in terms of their personal development and in the output of our team. 
On a personal level, I plan on growing my expertise in marketing. Sometime in the near future I hope to continue my education with a PhD. The DeGroote School of Business really ignited my natural curiosity and I never want to stop learning new things.  
Any advice to your first-year self? 
I'd tell myself that I am capable of more than I realize. Becoming good at something is about putting in the time and effort. With dedication and consistency, I can master any skill or goal I set for myself.   
Any advice for current or future students? 
Ask for help. There is no reason to struggle. There is always someone willing to help you if you just ask. Every time I asked a classmate for help, they were so open and incredible. In turn, they felt comfortable coming to me when they needed help. This give and take of collaboration and support is what builds a stronger ecosystem within your peers. 
How has McMaster shaped the person you are today? 
I learned a lot over the last three years about who I am as a leader, both personally and professionally.  I did a lot of reflection during my time at the DeGroote School of Business on my strengths, values and core traits; my biggest takeaway is that leadership is about optimizing what I'm good at, and not about simply working to fill all my weaknesses. I would much rather build a team that complements my skillset. I learned how to lean into my authentic self and be proud of what I bring to the table as an individual. That sweet spot — strengths and passions — is where I can truly thrive.  
What is your definition of success? 
Success to me is living a life that is authentic and fits into my core values. Goals and achievements only mean so much if they don't fulfill you. I constantly check in with myself to ensure that I'm doing things that fill me up, and that goes for my personal and professional life.  
How has McMaster helped you to create a brighter world? 
The topics I learned over the course of my MBA, such as design thinking, operations and human resources, all taught me that the work we do in our daily life has a huge impact on the world around us. I want to leave the world around me better than it was before I came along, this means at my job, in my community and in my personal life. I do this by mentoring and supporting my peers and coworkers, but also by giving back within my community and neighbourhood.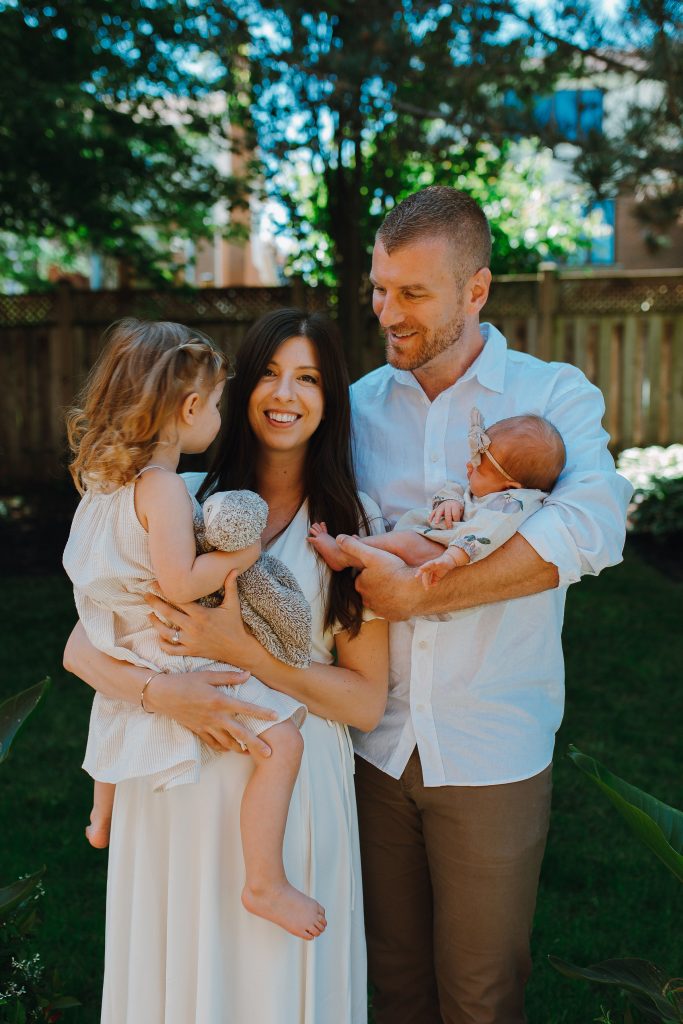 What motivates you to work hard? 
My two daughters, Ellie and August. I wanted to show them that anything is possible — you can be a mom, you can get your MBA and you can work at a job that you are passionate about. I want to inspire them to pursue their education and whatever else they dream up. It wasn't easy becoming a mom over the course of my MBA, but overcoming the challenges was so rewarding. I hope they can see my journey and know that they're capable of anything.  
Who is your favourite professor? 
It's hard to pick just one! Sean Park and Job Rutgers taught our design thinking and strategic foresight course, and those principles left a lasting impact on how I do my job today and how I approach the way I think in both my personal and professional life. I also learned a lot from Haniyeh Yousofpour. Her passion for continuous learning has inspired me to do the same, and her course on negotiations pushed me out of my comfort zone and changed the way I approach my day-to-day interactions. 
If you could live anywhere in the world for a year, where would it be and why? 
I'd love to go back to my roots and live in a house on the coast in Nova Scotia with my family. There's such a charm out East, from the people to the food. My family are all Newfoundlanders, so there's always a pull for me to get back to the ocean and the incredible people that live there.  
While at Mac, did you receive donor-funded financial assistance (e.g., a scholarship, award, bursary)? Any thoughts on the importance of giving back to your alma mater to support future generations? 
No, but I would love to work with the university to give back to other moms who want to continue their education. I want people to know that you can start a family and continue your education. I spent some time talking to parents-to-be considering the Blended Learning MBA program, and there was so much hesitation on whether it would be feasible to go back to school and have a baby. I hope I can continue to empower parents, especially moms, to go to school if that's their goal.