Rush shares limelight with jazz, Latin music, student researchers say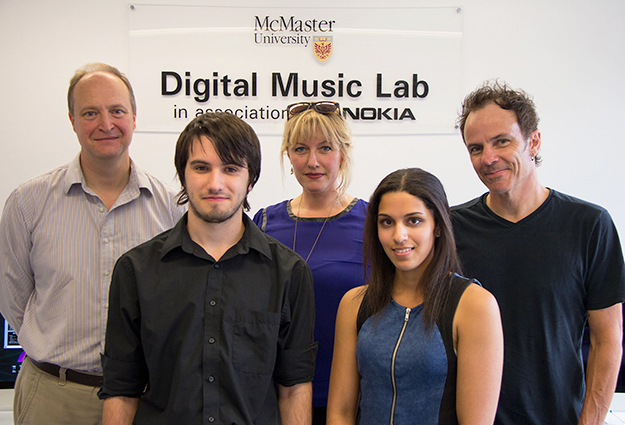 Two McMaster students, James Renwick and Jotthi Bansal (front row), have discovered that die-hard Rush fans also love to spin jazz, classical and Latin music. Back row, left to right: Matthew Woolhouse, director, McMaster Digital Music Lab; Meghan Symsyk of SRO Management Inc.; Andy Curran of Anthem Records.
---
For more than 35 years, Rush has been one of the most popular and progressive rock bands on the planet.
But what do fans of Geddy Lee, Alex Lifeson and Neil Peart listen to when they're not blasting Moving Pictures or 2112?
That's the question McMaster students Jotthi Bansal and James Renwick set out to answer during their summer in the University's Digital Music Lab. What they discovered is that Rush fans enjoy complex riffs and time signatures (both hallmarks of the band's sound) in many other genres of music, not just hard rock.
To conduct their research, Bansal and Renwick tapped into the lab's Nokia music database — home to information about more than 180 million individual song downloads. They identified Rush "fans" as users who downloaded four or more Rush tracks from the database, and wound up with a sampling of 40,000 anonymous music lovers from all over the world.
From there, they simply looked at the other types of music Rush fans were listening to.
"We found that fans of Rush have very discerning tastes," said Renwick, a student in the Department of Music. "There were many lovers of jazz and classical music, and also of Latin music and other classic rock bands." Large pockets of fans were also uncovered in Brazil, India and Mexico, where "all of the classic hits" remain popular, said Bansal, who studies in the Department of Psychology, Neuroscience & Behaviour.
But why Rush?
"We're pretty much huge fans of the band," said Renwick. "They've been able to sustain their popularity and flourish throughout their career, and they have a large and dedicated fanbase." The group's induction into the Rock and Roll Hall of Fame earlier this year also piqued their interest in researching the Toronto trio.
A delegation from Rush's record label, Anthem Records, was on campus Thursday to discuss the team's findings and tour the new LIVE Lab research and performance space. Andy Curran, an Artists & Repertoire representative with the label, explained that the band's popularity among younger fans has been a happy surprise.
"They started out as a cult band, but now this thing almost feels like it's mainstream," he said. "Now it's hip to be a Rush fan." According to Curran, an appearance in the buddy comedy I Love You Man (2009) along with the release of the star-studded Rush documentary Beyond the Lighted Stage (2010) helped introduce the band to a whole new generation, fuelled by the launch of a popular Rush iPad app that same year.
Curran was joined by Pegi Cecconi, vice-president of Anthem Entertainment Group/SRO Management, and Meghan Symsyk of SRO Management Inc.
Formed in Toronto in 1968, the lineup of Lifeson, Lee and Peart was solidified in 1974 with the addition of Peart on drums. To date, Rush has released 20 full-length studio albums (including one with original drummer John Rutsey) and has sold more than 25 million records in the United States alone.
The McMaster Digital Music Lab in Association with Nokia officially opened in March. The facility, located in Togo Salmon Hall, is supported by a $75,000 Social Sciences and Humanities Research Council Insight Development Grant, along with a $7,000 Arts Research Board grant. The interdisciplinary research space is overseen by assistant professor Matthew Woolhouse.