Royal treatment for four faculty members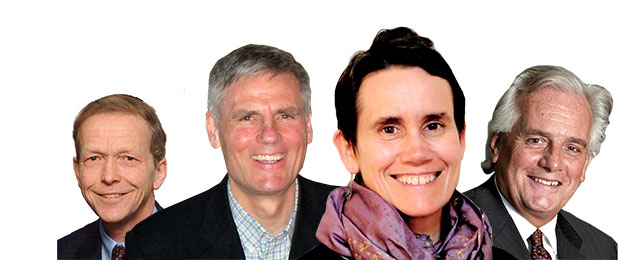 Stephen Walter, John Weaver, Christine Wilson and Stephen Collins were all named Fellow of the Royal Society of Canada today. They will be celebrated at the society's annual gathering later this year.
---
Four faculty members have been elected to the Royal Society of Canada, the organization announced today.
Christine Wilson, John C. Weaver, Stephen Michael Collins and Stephen Walter have all been named Fellows of the Royal Society of Canada.
The society promotes learning and research in the arts, humanities and the natural and social sciences.
"During a long career, all at McMaster, I've benefited from the encouragement and support of colleagues as well as the stimulation of teaching our motivated undergraduate and graduate students," says Weaver, a professor of history. "I appreciate the opportunities I've had at McMaster."
Wilson, a professor of physics and astronomy, is a world expert on the structure and evolution of star formation within galaxies. Her prolific work forms a key connection to understanding galaxy formation in the early universe.
Weaver has been a member of the history department since 1974. His research interests include urban government, housing and suburbanization, criminal justice and land policy on 19th century settlement frontiers. More recently, he has published on the subject of suicide.
Collins, associate dean of research in the Faculty of Health Sciences and professor of medicine, is a pre-eminent clinician-scientist. He is recognized internationally for his work demonstrating interactions between intestinal bacteria, the gut, the immune system and the brain in the context of functional gastrointestinal disorders.
Walter, a professor of clinical epidemiology and biostatistics, has an outstanding international reputation for his work in developing and applying statistical methods in biomedical research. His work has had particular impact in the evaluation of disease screening and diagnostic tests.
Prior to today's announcement, there were already 63 McMaster-affiliated Royal Society Fellows.
Earlier this year, Royal Society president Yolande Grisé commented on the University's extraordinary number of fellows.
"This remarkable track record of recognition is evidence of this institution's success in nurturing high-quality, high-performing scholarly, artistic and scientific excellence," Society president Yolande Grise said at a celebration of McMaster's fellows last spring.
The new fellows will be celebrated at the society's annual gathering in November.