Rob Cockcroft is the University's 'galactic archaeologist'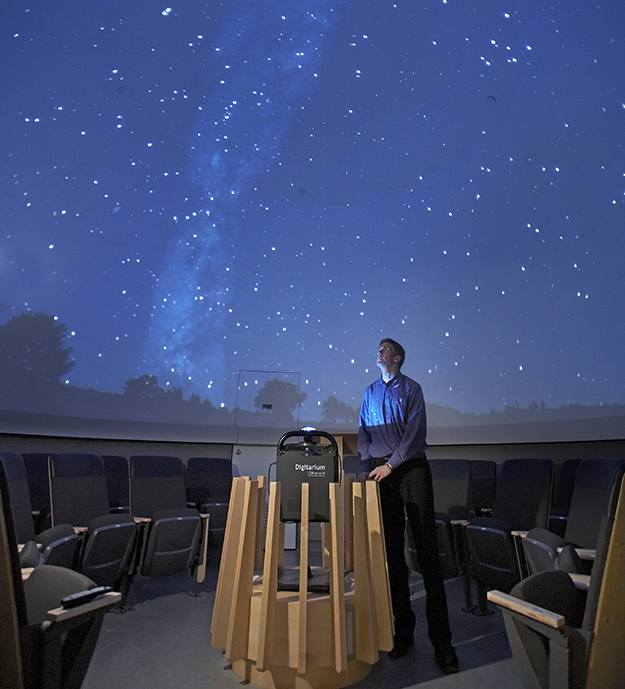 Lifelong stargazer Rob Cockcroft will graduate with a PhD in Astrophysics on Friday. He's served as manager of McMaster's W.J. McCallion Planetarium since 2008.
---
Rob Cockcroft works in the dark. It's where he feels most at home, and some of his best ideas emerge from the night sky like twinkling constellations. Even within the dim confines of McMaster's W.J. McCallion Planetarium, it's obvious that Cockcroft is smiling. Astronomy isn't just a hobby for the facility's manager. It's his passion. His life's work. His raison d'être.
Over the years, he's hosted dozens of student and community groups, delivered public and private presentations and even facilitated a wedding proposal in the planetarium. But lecturing on the heavens is only one aspect of Cockcroft's busy schedule. For the past four years, he's also studied deep space and the origins of the universe at the highest academic level.
On Friday afternoon, Cockcroft will cross the stage at Hamilton Place to receive his PhD in Astrophysics. He'll join more than 1,400 students from all faculties and levels as part of the University's Fall Convocation proceedings.
A lifelong stargazer who loves to ask big questions, Cockcroft has participated in and studied at conferences and research sites all over the United States and Europe, including the world famous CFH Telescope on Hawaii's Big Island, "way above the clouds, freezing cold in the middle of the night." Cockcroft views the universe as a massive, unsolved jigsaw puzzle. It's simply a matter of bringing the right pieces together and hoping they all fit.
His research looks at how galaxies form and evolve – a little something he likes to call "galactic archaeology." By examining massive star clusters (containing up to 1 million stars), he's hoping one day to pinpoint exactly where and how they're born.
Cockcroft's doctoral research at McMaster focused largely on the Triangulum Galaxy – a highly visible spiral system located roughly 3 million light years from Earth. His findings are being used as part of the international Pan-Andromeda Archaeological Survey (PAndAS), which examines the interaction between our nearest neighbouring galaxies, including Triangulum and Andromeda. When it comes to the possibility of life in those galaxies, Cockcroft isn't ruling anything out.
"The sheer huge number of stars in the universe stacks the odds in favour of life on other planets," he explains. "Our problem may not be finding it – that's just a matter of waiting for our technological capabilities to improve – but rather communicating with it. The closest star to us with a planet is Alpha Centauri B, which is four light years away. So if there was something to communicate with, a message from us to 'them' would take four years to reach them, and we would need to wait eight years for a reply."
Originally from Bingley, Yorkshire, Cockcroft arrived at McMaster in 2006 following a two-year stint teaching English in Japan. He became heavily involved in the Faculty of Science's Outreach program, and began volunteering as a weekly show presenter in the planetarium. Just as he was beginning his PhD in Astrophysics, he became manager of the planetarium in 2008 and oversaw the transition to a brand new, state-of-the-art digital projection system. He's also served as Theatre Coordinator at McMaster's 3D Origins Institute since 2010.
Friday will mark the first time his parents have attended a convocation ceremony, and it will also be Cockcroft's first time receiving a degree in person. The momentous occasion was more than enough reason for his father to make his first trip to Canada. After graduation, Cockcroft will spend the next 18 months as a postdoctoral research fellow at McMaster, while continuing to work at the planetarium. After that, not even the sky's the limit.
Fall Convocation will take place on Friday, Nov. 16 at Hamilton Place. The 9:30 a.m. ceremony will involve the Faculties of Business, Engineering, Humanities and Social Sciences, along with the Arts & Science Program. The 2:30 p.m. ceremony will feature the Faculties of Health Sciences and Science.