McMaster medical student named Rhodes Scholar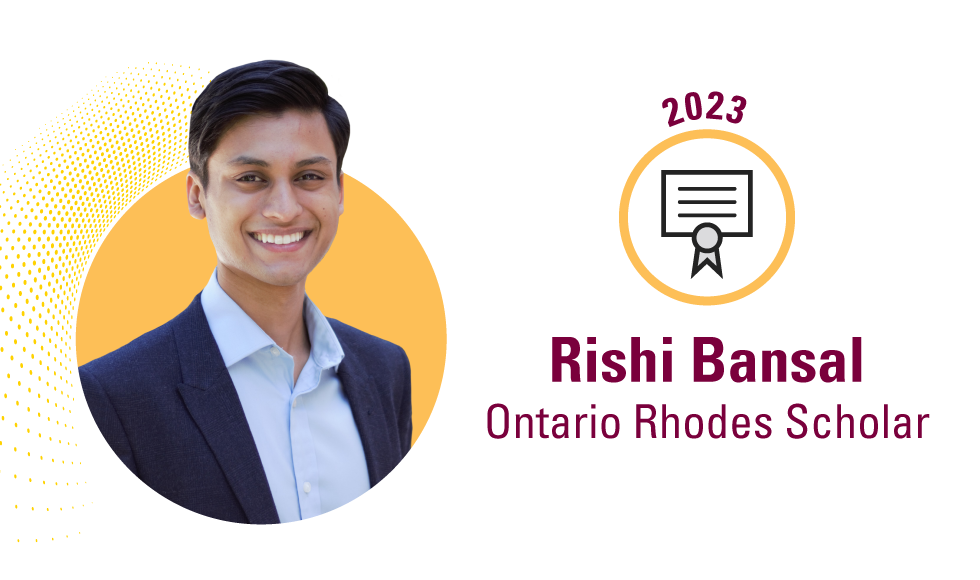 Rishi Bansal, a third-year McMaster medical student and graduate of the Arts and Science program, is a 2023 recipient of the prestigious Rhodes Scholarship.
---
Rishi Bansal has seen first-hand the challenges facing Ontario's health-care system, and as a Rhodes Scholarship recipient, he is determined to be part of the solution.
A third-year medical student in McMaster University's Michael G. DeGroote School of Medicine and a graduate of the university's Arts and Science program, Bansal is one of only eleven students from across Canada to be awarded a 2023 Rhodes Scholarship.
The scholarship, which is among the oldest and most prestigious international scholarships in the world, enables students to pursue their area of study at the University of Oxford. Bansal is the fourth McMaster student to receive the distinction since 2011.
"I am deeply honoured to be among the Rhodes Trust Scholarship recipients this year," says Bansal. "This has been a whirlwind of an experience already, and I'm so excited to embark on this journey and join the vibrant Rhodes community."
---
Watch: Bansal shares how he intends to investigate ways of improving care integration to improve patient health outcomes.
---
As both an undergraduate researcher and as a medical student at McMaster, Bansal has focused much of his time on finding innovative, new ways to improve patient care and address health-care system challenges, many of which have been exacerbated by the COVID-19 pandemic.
As a physician scientist, Bansal will investigate ways of improving care integration across a person's lifespan to improve health outcomes and better support patients throughout their care.
"I am humbled and grateful to the Rhodes Trust for believing in my vision to improve health-care quality and integration," says Bansal, who will study social policy and translational health science.
"I hope that my work at the University of Oxford and beyond will be a source of pride for my community and will better the lives of patients around the world."
Throughout his time as a medical student, Bansal has also been deeply involved in a number of initiatives to support health-care workers and patients throughout the COVID-19 pandemic.
Seeing a need for personal protective equipment (PPE) in the early days of the pandemic, Bansal spearheaded a grassroots initiative to raise funds to provide PPE to health-care workers at Hamilton Health Sciences, Kensington Health and in long-term care homes.
He also co-founded Faces of COVID, an innovative storytelling project that brought together a 10-person team to create profiles of frontline health-care workers, bringing to life the experiences of more than 100 of these essential workers.
During the third wave of the pandemic, Bansal led an open letter campaign to advocate for a provincial paid sick leave policy for employees. The initiative succeeded in collecting more than 700 signatures from Ontario medical students and received national media coverage.
"Rishi is an exceptional student, aspiring physician and leader whose commitment to the greater good is truly deserving of a Rhodes Scholarship," says McMaster President David Farrar.
"He exemplifies McMaster's vision of advancing societal health and well-being through his passion for improving the lives of Canadians through health-care system reform, and I congratulate him on this outstanding achievement."
Bansal is one of 100 students from over 60 countries who will receive a 2023 Rhodes Scholarship. Past Rhodes scholars include former U.S. President Bill Clinton, and former Prime Minister of Canada John Turner.