Residents in residence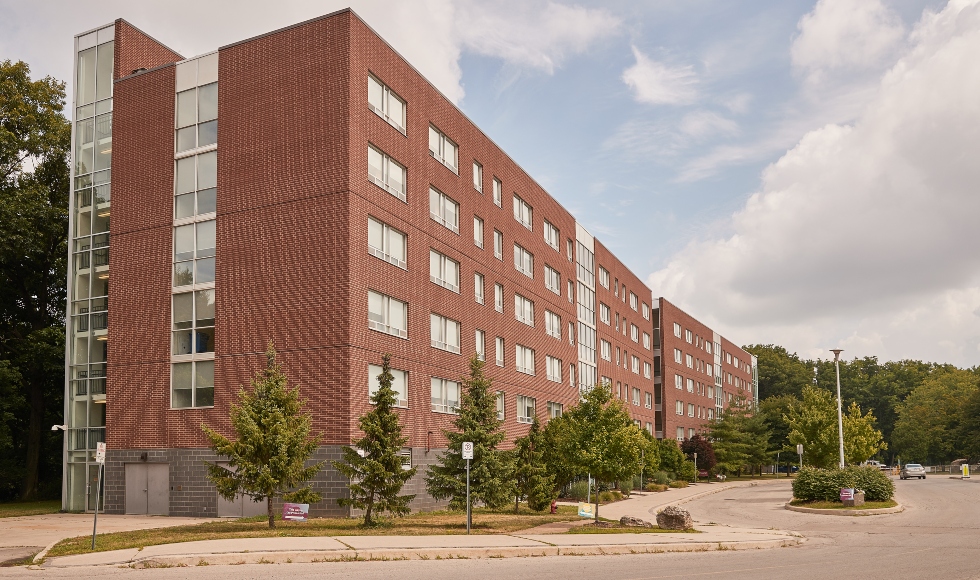 Les Prince Hall, located on the north side of campus beyond Ron Joyce Stadium, has suites with private bathrooms that make them ideal for isolation.
---
An international medical resident is ready to come to Hamilton to help patients in our hospitals and needs somewhere to spend their 14-day quarantine.
Another resident is already working hard in high-risk situations at local hospitals and is worried about the risk of returning home to a vulnerable family each day.
These are the kinds of situations where McMaster University is hoping to help by opening self-contained individual student residence suites to newly arrived and at-risk medical residents and fellows – and to international graduate students from across the university.
The university is making rooms available to those groups in its 249-unit Les Prince Hall through a collaboration with Hamilton Public Health, Hamilton Health Sciences and St. Joseph's Hamilton Healthcare. The collaboration incudes establishing ways to support safe isolation, cleaning and the protection of staff.
Rooms and contactless meal delivery are being offered to:
arriving international graduate students from all faculties, including medical residents, clinical and research fellows who are required to complete 14 days in isolation after arriving in Canada;
medical residents, clinical and research fellows training at Hamilton Health Sciences or St. Joseph's Healthcare Hamilton sites who have been exposed to the pandemic virus, or who are working in high-risk environments and concerned about staying at home with vulnerable family members.
"Having these spaces available means we can continue to fulfill our health care and training responsibilities as safely as possible while minimizing interruption during this period," says Parveen Wasi, associate dean of McMaster's Post Graduate Medical Education program. "This new alternative takes stress out of an already demanding period for these members of our community."
"The first stage of the project is set to run through July 1, but may be extended as circumstances evolve," says Kevin Beatty, McMaster's director of Housing and Conference Services. He said suites in Les Prince Hall, located on the north side of campus beyond Ron Joyce Stadium, have private bathrooms that make them ideal for isolation.
"We want to be as helpful and as responsive as we can," Beatty says. "We are in constant contact with our partners to be sure we are making the most of our resources while offering the safest environment possible."
Typically, once the winter school term ends and students move out in April, residence spaces are rented to conference-goers and other campus visitors, but that demand has fallen away due to the pandemic, creating the opportunity to assist during the COVID crisis, Beatty says.
Those who are in mandatory isolation will be required to stay alone in their rooms for the duration of their quarantine, while those who have not been exposed but who are working in high-risk environments will be able to come and go for work. The groups will be separated within the residence according to public-health protocols.
The accommodation – and contactless meal delivery for those who are in isolation – are being offered at a nominal rate.
The duration and scale of the program will depend on factors that include demand and necessary cleaning and other preparations for the arrival of international and domestic undergraduate students, which is contingent on still-evolving plans for the fall term.
Staff from a wide range of departments across McMaster and local hospital partners have been collaborating for weeks to help pull together this plan to ease the burden for frontline workers and to smooth the arrival of international graduate students.