Remembering Rudy Heinzl, former dean of Student Affairs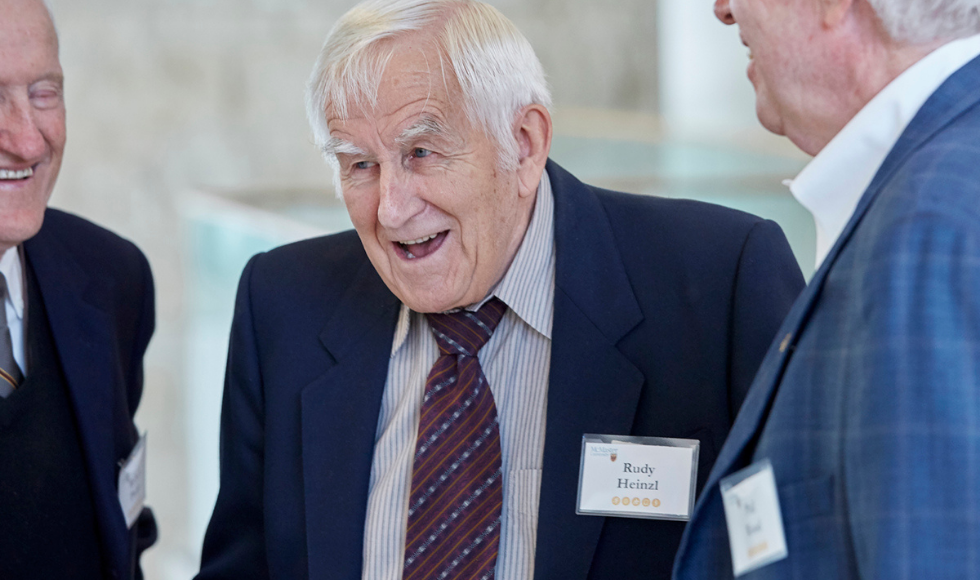 Heinzl was dean of Student Affairs for eleven years, up until 1996. Long after his retirement, he remained a collaborator and friend of the university and strong supporter of students. Photo: Mike Lalich
---
Rudy Heinzl, champion of student voices, friend of the university and former dean of Student Affairs, has died. He was 88.
Heinzl contributed to the Student Services area at McMaster for more than thirty years. He came to McMaster in 1964 and founded the Counselling Service at the insistence of students who knew they had critical needs which were not being met through their academic programs. Initially, he was the only psychologist serving 4,000 students and through advocacy and partnership with students, he built the McMaster Student Counselling Service and served as director until 1985.
Over the next eleven years, he served as dean of Student Affairs at McMaster.
In the same tradition as his predecessors such as Ivor Wynne and Les Prince, Rudy became a legend among the students he served. Recognizing first and always that, students are the purpose of the university, his contact with students was his passion and is his legacy.
Gary Collins, former McMaster Student Union (MSU) president (1990-91) said Heinzl was a dedicated advocate for students.
"He never missed events and he was committed to making the university experience better for students," said Collins, who also collaborated with Heinzl in his capacity as president of the McMaster Alumni Association (2005-2006). "Rudy was caring, compassionate, distinguished, and a down to earth gentleman. He bled maroon and grey."
McMaster students have acknowledged and rewarded Rudy's contributions by creating a special award in his name and paying tribute to him at several dinners, banquets and recognition nights.
John Popham, former MSU president (2006-2007), remembers Heinzl as someone who had a way with uniting people and bringing the best out of a team.
"Somehow, without speaking a word, he'd unite polarized groups, bring life to the party and send everyone home feeling better about themselves and their affiliation with Mac," said Popham. "Rudy was a ball of energy, sharp as whip, never forgot a name and was genuinely interested in what us student leaders were up to, both at school and at home."
Heinzl was a long-standing, active member of many community groups and professional associations, and none more so than the Canadian Association of College and University Student Services (CACUSS). In addition to being the Ontario regional representative, Rudy also served as CACUSS president.
He was also the chair of the Ontario Council on Student Affairs, where he played a significant role in helping influence government policy and practices to the advantage of counsellors and other student support services throughout the province.
For his many impactful contributions, he was made an honorary member of the McMaster Alumni Association in 1997.
"Rudy was the kind of person we all aspire to be and one of his greatest legacies at Mac is the huge number of student leaders who would chant 'Rudy! Rudy!' at Student Recognition Night," says Karen McQuigge, director, Alumni Engagement. "Many of them were not students when he was dean but got to know him because he loved Mac and was such an active member of our community and in turn, they loved him just as much as those who worked with him."
The McMaster community's thoughts and deepest condolences are with Rudy's family, friends and many collaborators in Hamilton and beyond.