Remembering Peter George: 1941 – 2017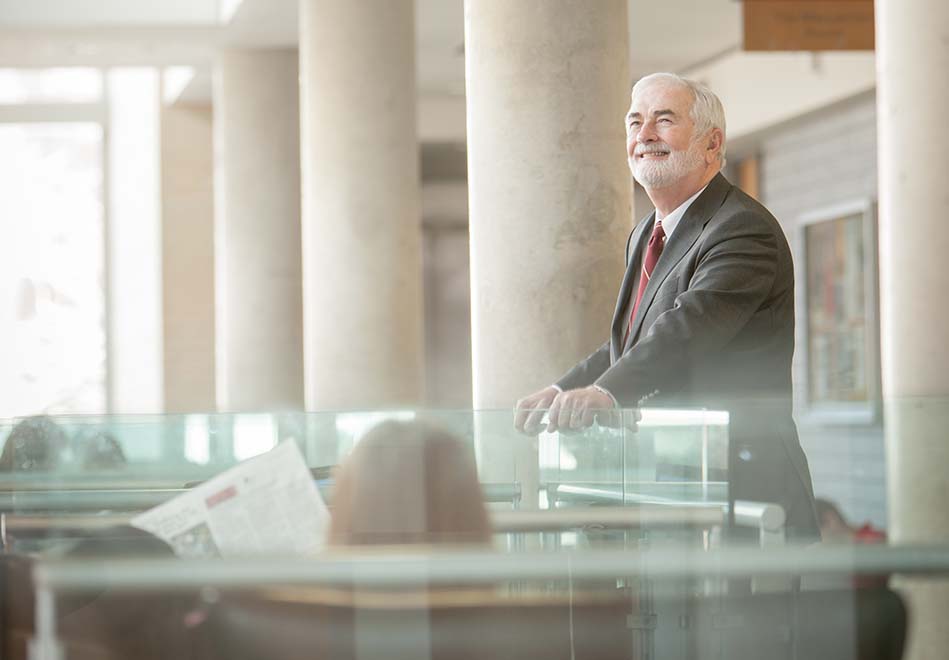 ---
Peter James George, who served three terms as President and Vice-Chancellor of McMaster University before retiring in 2010, has died at age 75.
George oversaw a period of major growth for McMaster, in terms of size, reach and reputation.
Service of Remembrance

A Service of Remembrance and Celebration of Peter's extraordinary life and love will be held at 2 p.m. on Sunday, June 11, 2017 at Therese Quigley Sport Hall, David Braley Athletic Centre, McMaster University.

Reception to follow immediately afterward.

In lieu of flowers, Donations to Wellwood Cancer Resource Centre or The Peter George Centre for Living and Learning at McMaster University will also be gratefully received.
"This is difficult news for all of us. We are thinking of Peter's family and his many friends, here on campus and around the world," said Patrick Deane, who succeeded George in the role. "McMaster University is very fortunate to have had such a champion as Peter George. His legacy is all around us, but I believe it is most apparent in the achievements of our students and researchers, to whose success he was always so dedicated."
Recognizable by his dark brows and cropped white beard, George had been part of the McMaster community since 1965, when he first started as a lecturer in Economics. After attaining full professorship, he would serve as Dean of Social Sciences from 1980 to 1989, before becoming the university's sixth President and Vice-Chancellor in 1995.
George also served as president of the Council of Ontario Universities from 1991 to 1995. He became a member of the Order of Canada in 1999 and the Order of Ontario in 2007.
Read: Mac's longest-serving president, Peter George, 'bled maroon and grey'
In a 2010 retirement tribute video, David Johnston ­– then president of the University of Waterloo, today Governor General of Canada ­– said he and other university presidents considered George "primus inter pares" or first among equals.
"He's a person who's influenced us all in his leadership for higher education," Johnston said.
Lynton (Red) Wilson, who served as chair of McMaster's Changing Tomorrow Today Campaign and started his six years as Chancellor of McMaster University during George's tenure as president, praised his friend's dedication.
"I saw Peter devote himself fully to my alma mater and I saw the impressive and transformative results he achieved over his 15-year tenure," Wilson said. "Peter's career with the University and his time as president and vice-chancellor in particular are the very definition of honorable service."
McMaster recognized George's contributions to the University and the broader community on March 31 by presenting him with an honorary doctorate from the Faculty of Health Sciences and announcing the naming of the Peter George Centre for Living and Learning, now under construction.
For all his success as president, George also endured great personal hardship during his tenure. His wife Gwendolyn, with whom he had raised children Michael and Jane, died early in his first term.
Happiness returned to his personal life when he married Rev. Allison Barrett in 1998, with whom he adopted two daughters. George leaves six grandchildren.
A proud supporter of McMaster throughout his adult life, George's licence plate said, "MAC 4U", and in retirement he remained a familiar figure on campus, cheering on the Marauders football team as recently as this past season.
George had grown up on Toronto Island, learning at a one-room schoolhouse, and becoming the first person in his family to graduate from university, as he did from the University of Toronto.
George's 15 years as McMaster president featured a campus building boom, and he was fond of joking about the perception that he had an "edifice complex".
George cultivated a vision for McMaster with community leaders, including Michael G. DeGroote and David Braley, whose transformative $105-million and $50-million gifts to McMaster – together with other major gifts from both men and from Ron Joyce, Lynton (Red) Wilson, Suzanne Labarge, Michael Lee-Chin and others  – drove the Changing Tomorrow Today campaign, which raised nearly $129 million, and the Campaign for McMaster University, which raised $471 million.
Those gifts, when combined with government and university contributions, helped to build the David Braley Athletic Centre, Ron Joyce Stadium, The Michael G. DeGroote Centre for Learning and Discovery, the Engineering Technology Building, the Ron Joyce Centre, the McMaster Health Campus and the recently completed LR Wilson Hall.
As president, George also oversaw the opening and early stages of the development of McMaster Innovation Park.
Closest to George's heart, though, was building the McMaster University Student Centre, fulfilling a promise that had dated back generations.
A bust of George, unveiled in 2014, overlooks the atrium of that very centre, reflecting the student-centred approach that animated his work at the university.
"I was always impressed with Peter's ability to bring people and ideas together," said George's friend and McMaster supporter Marilyn Hawkrigg.  "His heart was with McMaster and his total commitment to every part of the University inspired so many students, alumni and friends."
In the "Last Lecture" that George delivered before his retirement, he said, "I gave my life to education because there is nothing better than bearing witness to the opening of the human mind and spirit."
The University's flags have been lowered in remembrance of George.