Remembering Martin Luther King Jr. through one of his letters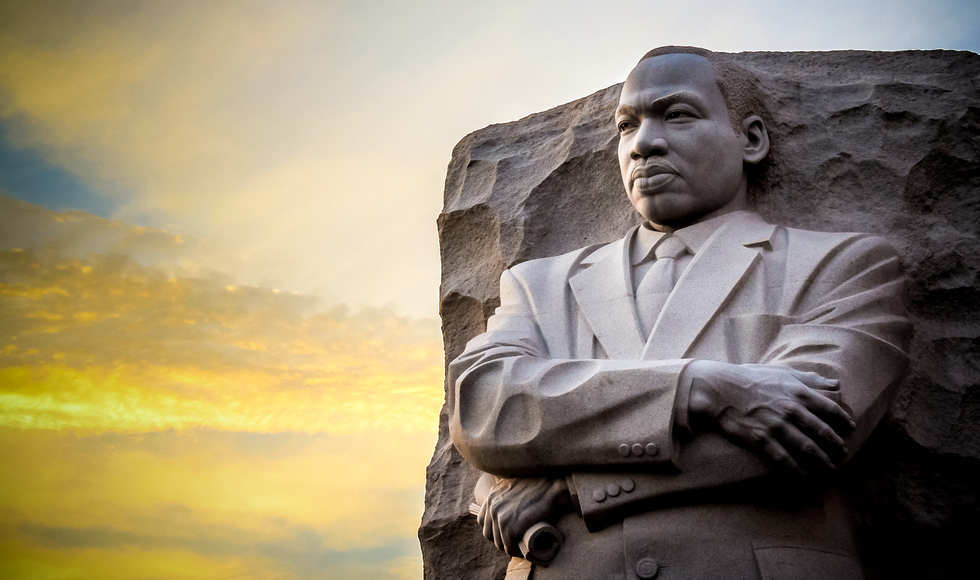 The Martin Luther King Jr. memorial statue in West Potomac Park, Washington DC (Photo by Atomazul/Shutterstock)
---
While Martin Luther King Jr.'s birthday is officially celebrated in the US on the third Monday in January, his actual birthday is January 15.
To mark the day, the William Ready Division of Archives and Research Collections — more familiarly known as the McMaster Archives — has shared a letter written by King to Alan Mendelson, a McMaster professor emeritus in Religious Studies.
The letter thanks Mendelson for passing on a book about Gandhi to King on behalf of Alex Aronson, a Holocaust survivor who was then living in Amsterdam, and outlines some of King's thoughts on Gandhi's teachings.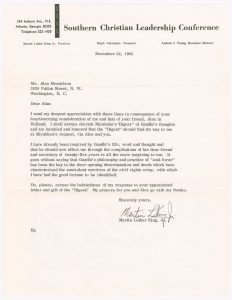 Here, Mendelson shares the story behind the letter in an email to Rick Stapleton, McMaster archives and research collections librarian:
Dear Rick,
I think it is a wonderful idea to display the Martin Luther King, Jr., letter on his birthday. More than  fifty years ago, I made the acquaintance of Alex Aronson, a Holocaust survivor and a remarkable humanitarian. When Alex wanted to meet kindred spirits, he would simply seek them out. For instance, he very much admired Dr. Albert Schweitzer, a world-famous physician, theologian, and musician. Borders meant nothing to Alex, so he  hitchhiked from his home in Amsterdam to Schweitzer's community in Gabon. Once he was settled, Alex found himself being tutored in New Testament by Schweitzer himself. On another occasion, he wanted to talk with Martin Buber so he simply went to his house in Jerusalem on quiet Sabbath afternoon. Again, he was granted a private audience.
In the same spirit, Alex wanted to give a small digest of Gandhi's thought to Martin Luther King. The book on Gandhi had been prepared by the latter's devoted secretary. It had been passed from person to person. Every change of ownership had been accomplished by hand. The only problem was that King was in the United States, one of the few places in the world Alex had never visited. As it became increasingly clear that Alex wouldn't be able to meet King in person, he entrusted me with the book for Rev. King. I was supposed to give this gift to Rev. King in person. Intermediaries were not to be used for fear of disturbing the gentle spirits who had accompanied the book from its original source.
At the time I received Alex's instructions, I was working on my Ph.D. Thesis. I procrastinated and King's fame increased by the year. Unlike Alex, who always thought that great people were accessible, I secretly believed that King was totally inaccessible to an ordinary person such as myself. In any event, I had no free time to seek out Rev. King in Atlanta. I finally came to the sad conclusion that the only way to reach Rev. King was by mail. Expecting nothing, I sent Rev. King the gift that Alex had asked me to hand deliver.
The letter McMaster has was King's reply. I have published (with co-editor Joan Michelson) King's letter in From Bergen-Belsen to Baghdad: The Letters of Alex Aronson (Mosaic Press, 1992). The story of the letter comes to a sad end. Within ten years both Martin Luther King and Alex Aronson had met violent ends, Dr. King by assassination in 1968 and Alex Aronson in 1975 by execution on the orders of Saddam Hussein.