Remembering Margaret Lyons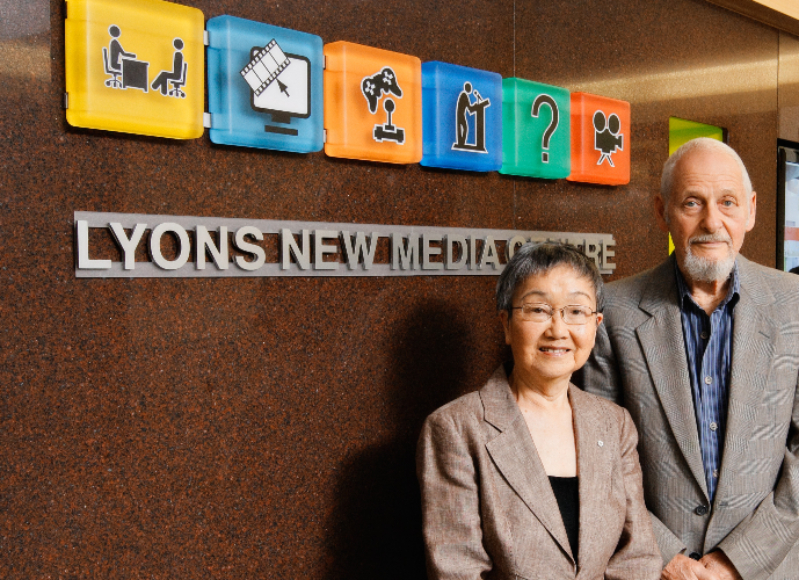 Margaret Lyons and her husband, Ed, outside the Lyons New Media Centre in Mills Library. The Centre was created in 2010 with the support of a generous gift made by the Lyons as well as the Provost's Office, McMaster Library and the Faculty of Humanities.
---
"The first thing I did when I started at McMaster was look for the newspaper," said Margaret Lyons in an interview in 2014 with the McMaster alumni magazine.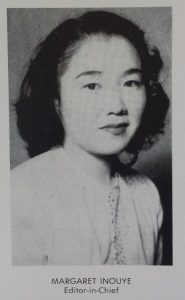 She graduated from McMaster University in 1949 with a degree in political economy — and went on to a four-decade career in broadcast journalism, first with the BBC and then the CBC. Along the way, she broke new ground for women in broadcasting.
Margaret Lyons, C.M., died on Oct. 4. She was 96.
Born Keiko Margaret Inouye in 1923, she first came to Hamilton in 1944. She worked as a chambermaid in Wallingford Hall, before enrolling full-time at McMaster in 1945.
While at Mac, she served as a student leader with the Student Representative Assembly and spent much of her time in the basement of Hamilton Hall, writing for The Silhouette. One of her co-workers was fellow student Edward Lyons. They were married in 1949, the same year they graduated.
Lyons began her career with the BBC, before moving to the CBC to work as a radio producer. In 1970, she joined a team charged with the reorganization of CBC Radio. As the first female head of current affairs at CBC Radio, she oversaw the genesis of such acclaimed programs as "Quirks and Quarks," "As It Happens" and "This Country in the Morning." She went on to become CBC Radio's first female vice-president.
"All of us at McMaster University are immensely saddened to learn of Margaret's passing," said David Farrar, acting president and vice-chancellor. "She was a pioneer and a leader and a devoted champion of McMaster."
Mac memories
"Sunshine streaming through the window under Con Hall, browsing through the Upanishad after looking up the Bhagavad Gita."
–Margaret Lyons '49 & '96 (hon.)
"Making Memories" cover story, McMaster Times alumni magazine, Fall 2015 edition
Lyons contributed to class reunion committees, served on McMaster's Board of Governors for five years and joined the McMaster Alumni Association Board of Directors as a Senate Representative.
She and her husband, Ed, have also established a significant philanthropic legacy at McMaster, including helping to launch the Lyons New Media Centre, located on the fourth floor of Mills Library.
"Thanks to the extraordinary generosity and vision of Margaret and Ed, the McMaster Library now has remarkable space for students from all Faculties to access the latest media production software," said Farrar. "This is a wonderful way to support the next generation of journalists and digital communicators — and a fitting way to honour Margaret's legacy as a broadcast pioneer."
Lorna Somers, McMaster's associate vice-president of development, first met Lyons in 1988.
"Margaret was so much more than a steadfast McMaster champion, donor and engaged alumna and volunteer," said Somers. "In our more than three decades of friendship, she opened doors to people and ideas, challenged traditional thinking, questioned old ideas and provoked new ones. Her knowledge was as expansive as her interests and conversations ranged from literature to music, politics to travel, theatre to technology. In thanking her for all she had done for McMaster, she turned the tables and thanked me, saying, 'I became who I was because of McMaster.'"
Proud of her heritage, Lyons shared her love of Japanese language and culture in numerous volunteer positions, which included roles with the Canadian Association of Japanese Language Educators, Mackenzie House, and Ontario Heritage Connection.
In 1982, Margaret was inducted into the McMaster Alumni Gallery, and in 1996 the university awarded her an honorary doctorate. In 2014, the McMaster Alumni Association presented her with its highest honour, the Distinguished Service Award.
In 2009 she was appointed a Member of the Order of Canada for her contributions as a pioneer for women in Canadian broadcasting and her longstanding commitment as a volunteer. In 2016, she was recognized with an Ontario Volunteer Service Award.
She is survived by her husband of 70 years, Edward Lyons, and her daughter, Ruth.
To learn more, go to the Globe and Mail's website.