Remembering Bob McNutt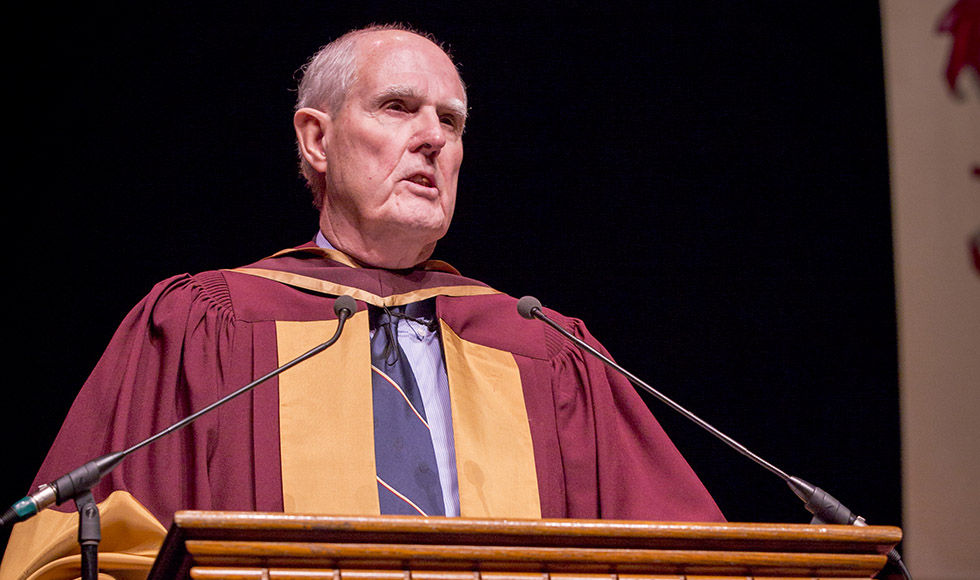 ---
One of McMaster's most versatile and accomplished academic leaders and scientists has died. Professor Emeritus Robert (Bob) McNutt served McMaster in a number of senior roles, providing more than 30 years' leadership to the University, its faculty and students.
McNutt held a wide range of senior university positions throughout his career, including acting provost, dean of the Faculty of Science, interim dean of the DeGroote School of Business and acting dean of Humanities.
"What a lasting legacy Bob has left at McMaster," says President Patrick Deane. "Bob epitomized the very best of McMaster. He was a dedicated leader, researcher and professor who never backed away from an opportunity. The University called on his experience and gentle guidance on many occasions and his contributions and hearty laugh will be greatly missed."
In 2014, McMaster presented Bob with an honorary doctor of science degree.
He first arrived on campus in 1965, as an assistant professor in what was then called the Department of Geology. He was an active member of that department for more than three decades, earning promotion to full professor and then department chair in 1984. He was named dean of the Faculty of Science in 1990.
He left McMaster in 1995, accepting an appointment to be principal at Erindale College, today known as the University of Toronto Mississauga.
Bob retired in 2003 but would return to McMaster with great frequency, serving in a variety of key leadership roles, including as an advisor to the provost during the building of the Ron Joyce Centre in Burlington and as chair of the Budget Model Task Force. He was the former executive director of the Canadian Research Data Centre network based in the Faculty of Social Sciences.
He earned his Bachelor of Science at the University of New Brunswick and his PhD in Geochemistry at the Massachusetts Institute of Technology. He was a respected isotopic geochemist whose most recent research explored the use of Sr isotope as a tracer in water/rock systems, from surface water to brines.
Bob was a member of the American Geophysical Union and the Geochemical Society and a fellow of the Geological Association of Canada.
In recognition of Bob's many contributions to McMaster, campus flags will be at half-mast Thursday.
If people wish to make a gift in memory of Bob: http://bit.ly/2tGBxW5