Reading and remembering land through the work of Mi'kmaq artist Mike MacDonald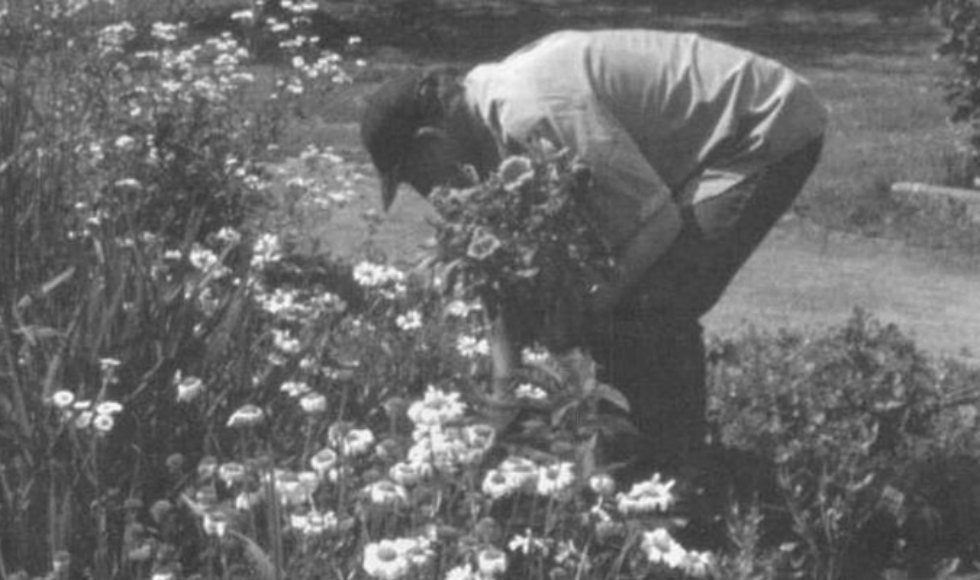 Artist Mike MacDonald working on the Butterfly Reservation installation at Gage Park, Hamilton, in 2000. Image by Dianne Bos.
---
In 2000, as part of an exhibition called Zone 6b: Art in the Environment, artist Mike MacDonald planted Indigenous plants in the carefully composed Victorian gardens in Hamilton's Gage Park and called it Butterfly Reservation – creating a place for butterflies to land, while also acknowledging the colonial legacy of gardens that both enclosed certain plants and excluded others.
The work had largely been forgotten by the city and the park until Lisa Myers, an artist, curator and associate professor at York University's Faculty of Environmental and Urban Change, brought the work back into present memory in this year's Hooker Distinguished Visiting Scholar Lecture, which takes place virtually on October 21 from 6-7:30 p.m, and as part of an ongoing exhibit at the McMaster Museum of Art.
"Mike MacDonald was ahead of his time – he was thinking about insects, and plants, and extractive industries, and the interconnectedness of all these elements together that were often thought of separate at that time," explains Myers, whose talk is called "Collective Remembering: Mike MacDonald's Medicine and Butterfly Gardens."
"In this lecture, I'll be discussing his replanting of Indigenous plants in medicine and butterfly gardens – which are considered artworks – are a kind of re-inscription of land. Re-inscribing a plant existence, a plant vocabulary that represents not just plants, but a connection through creation and all living beings."
Along with the planting in Gage Park, MacDonald, who was Mi'kmaq from Sydney, Nova Scotia, planted gardens in urban areas across Canada in the latter part of his career. Described by the CBC as "the grandfather of aboriginal media art" following his death in 2006, MacDonald was also known for his video installations and media work.
Along with her talk on October 21, Myers has also created an audio walk of the area in Gage Park where MacDonald's garden once existed. The walk is part of enawendawin/relationships, an online exhibition curated by William Kingfisher that is currently running at the McMaster Museum of Art.
"Originally, I was planning to replant the garden that Mike had created in Gage Park – what brought me to making an audio walk instead was that there wasn't much documentation of the garden, and there wasn't much memory of it," Myers explains.
"For me, it felt like coming in and replanting this garden that wasn't even remembered would feel artificial and superficial – like it was just a gesture. So I took a step back and said, how do we remember something collectively that there are very few memories of? And we made the project about remembering."
Along with remembering and honouring MacDonald's work, Myers says she hopes her lecture and audio walk will spark further reflection on land, space, and place, and the role of people within the natural world.
"I would like people to contemplate their embeddedness in the environment, and not separate from nature. I want people to start thinking about place, and how they respond to place, and considering how they're going to take care of this place," she says.
"I also want people to think about Indigenous rights, and access to land – putting Indigenous plants into a Victorian garden is about reclaiming that space."
The Hooker Distinguished Visiting Professor program and lecture series was established in 1979  from a $25 million bequest left to McMaster by physician Harry Lyman Hooker. Each year, supported by the Hooker Trust, respected scholars from around the world provide a formal lecture and educational activities to the McMaster community.
To register for Lisa Myers' lecture, go to Eventbrite. To listen to her audio walk, Finding What Grows, go to Soundcloud.