RBC gift expands Black student success initiatives at McMaster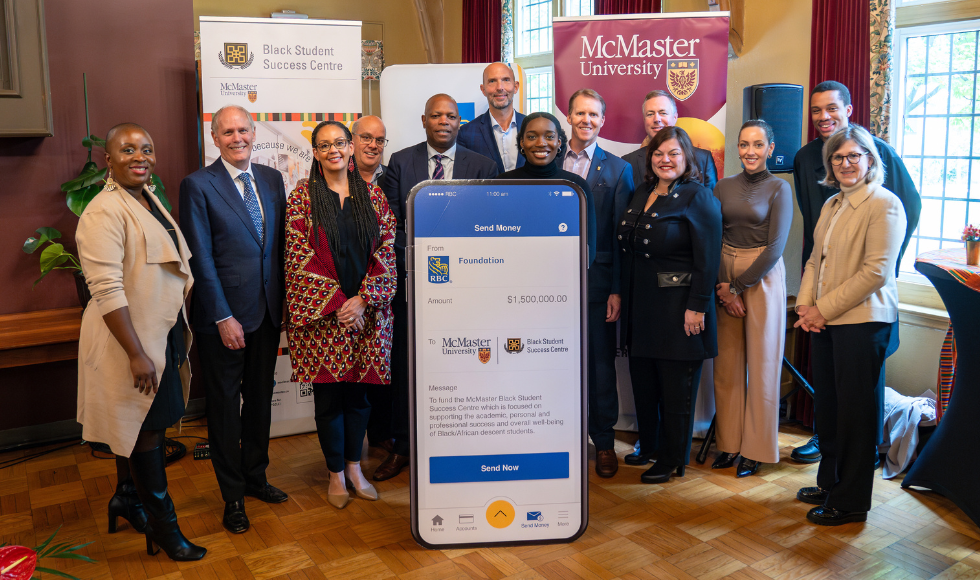 The $1.5-million investment, announced this month on campus, will fund the Empowering Black Student Success: Unlocking Future Leaders program. (Photo by Matt Clarke/McMaster University).
---
Emmanuel Aduwari has always been passionate about the arts. But as an automation engineering student, he didn't have many opportunities to pursue that passion — until he found the Black Student Success Centre. 
"I discovered the BSSC in the summer of 2022 and it has had an immense impact on my life since then," says Aduwari. "I have had the privilege of meeting exceptional people, talents and mentors, not to mention the support to my financial, academic and mental health."  
Now, a historic new gift from the RBC Foundation will enable McMaster's Black Student Success Centre to expand its reach and serve more Black students like Emmanuel, both at McMaster and beyond.  
The $1.5-million investment, announced this month on campus, will fund the Empowering Black Student Success: Unlocking Future Leaders program, which will impact students from high school through university and into their careers.
McMaster President David Farrar said the gift was a powerful investment in McMaster students' success. 
"As we enter the third year of the Black Student Success Centre's work, we look forward to building on our community's success and commitment to equity with this landmark gift," Farrar said. "We're grateful the RBC Foundation shares our commitment to empowering Black youth, and we are excited to see the impact this investment will create in our community."  
The Empowering Black Student Success program will support McMaster's work at every stage of a Black student's educational journey. Black high schoolers will now be able to access the Black Student Mentorship Program, connecting them with McMaster students for mentoring and tutoring. Complementing the mentorship program, the BSSC will also host virtual meet-ups for Black students in grades 11 and 12 to learn about postsecondary opportunities, including assistance with applying for scholarships. A select group of students will also participate in the "Summer in University" program, an immersive, weeklong residency on the McMaster campus to prepare them for university life.   
The gift — the largest ever dedicated to Black student success at McMaster — will also fund a series of lectures and networking events for current McMaster students, part-time work for some students as program ambassadors and a National Black Student Success Conference, slated for 2026.  
Clare Warner, McMaster's senior advisor, equity, inclusion and anti-racism, said the gift would allow the university to significantly expand the supports it offers Black students.  
"We are so grateful to the RBC Foundation for investing in our vision," said Warner. "With this and other programming through the Black Student Success Centre, we're supporting Black students to thrive and ensure they experience a sense of belonging as they transition from high school to university and beyond." 
Aduwari, who is in his fourth year, added, "I am elated to see this support from the RBC Foundation, which will help the Centre touch more lives." 
The gift is part of RBC's Action Plan Against Systemic Racism, which will see $50-million invested to create meaningful and transformative pathways to prosperity for up to 25,000 equity-deserving youth with investments in areas such as skills development and mentoring.  
 "When young people succeed, we all succeed and it's important to foster an environment where all students have equal access to the same opportunities," said Mark Beckles, vice president, social impact and innovation, RBC.  "We're proud to support McMaster University's Black Student Success Centre to help the university increase the number of Black students entering and successfully completing higher education and transitioning effectively to employment, entrepreneurship and post-graduate studies." 
"At RBC, we believe what makes us unique makes us stronger," added Claude DeMone, regional president, Southwestern Ontario region, RBC. "Alongside McMaster University, we're helping to remove barriers and provide equal access to higher education, and in turn, building stronger, more diverse communities for today and well into the future."  
Faith Ogunkoya, McMaster's manager of Black student success, called the gift a crucial investment in Black high school and university students. "We're thrilled that the RBC Foundation sees the impact of what we do and is supporting us to empower even more students," Ogunkoya said.