Provost Susan Tighe wins top civil engineering award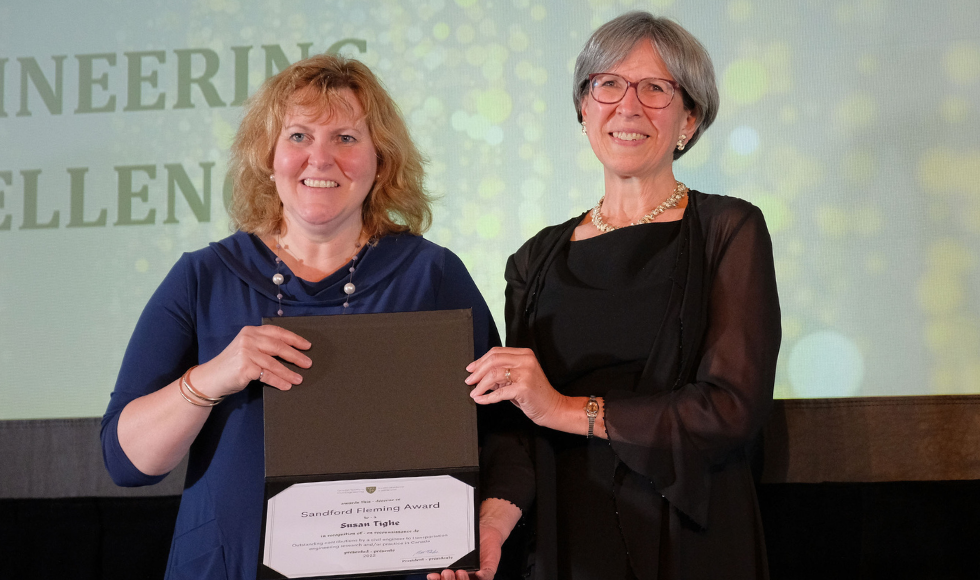 Provost and vice-president (Academic) Susan Tighe receives the Sandford Fleming Award, Canada's top civil engineering award in transportation, from the Canadian Society for Civil Engineering president Brenda McCabe. (CSCE photo)
---
Canada's top civil engineering award in transportation is coming to McMaster.
Provost and vice-president (Academic) Susan Tighe was presented with the Sandford Fleming Award on May 27 at the Canadian Society for Civil Engineering (CSCE) 2022 Annual Conference in Whistler, B.C.
The award recognizes career achievements in civil engineering education and research, as well as a record of service and innovation, said society president Brenda McCabe.
"The Sandford Fleming is our most significant award in the area of transportation," McCabe said.
"I'm delighted that Dr. Tighe is this year's recipient of the award. Her contributions to both transportation engineering research and practice are extraordinary and impactful. My heartfelt congratulations!"
The award reflects Tighe's achievements, which span almost three decades.  They include leading the development of the 2013 Pavement Asset Design and Management Guide for the Transportation Association of Canada and authoring more than 400 technical publications.
As an academic and former Canada Research Chair, Tighe has secured more than $25 million in research funding as a principal investigator/co-principal investigator. These projects have advanced the design, construction, monitoring and management of transportation infrastructure.
As an educator, she has successfully completed more than 100 graduate students and mentored many others since starting her academic career in 2000.
Tighe is a member of the inaugural class of the New College of Scholars of the Royal Society of Canada and was named a member of Canada's Top 40 Under 40.
Over her career, she has received various professional awards, including the Research & Development Medal from the Ontario Professional Engineers Awards (OPEA). She is a Fellow of the Canadian Academy of Engineering (FCAE), Fellow Engineering Institute of Canada (FEIC) and Fellow of the Canadian Society for Civil Engineering (FCSCE).
"The award is a wonderful validation that my professional and academic efforts have made a difference, both at the national and international level," Tighe said.
"Although the role of Provost keeps me quite busy, I do continue to work with students and researchers at McMaster to advance my field."
New fellows
Three professors from McMaster's department of civil engineering were also recognized.
Zoe Li, associate professor, received the Young Professional Engineer Award, for demonstrating outstanding accomplishments as a young professional engineer.
Moncef Nehdi, chair of civil engineering, received the E. Whitman Wright Award, presented in recognition of significant contributions to the advancement of innovation and information technology.
Nehdi was also elected a CSCE Fellow alongside Michael Justason, assistant professor at the W. Booth School of Engineering Practice and Technology, who was recognized for his work in geotechnical and foundation engineering.
Brian Baetz, professor emeritus and former chair of civil engineering at McMaster, and a CSCE Fellow since 2005, said Fellowship recipients are selected for having actively contributed toward the progress of their profession.
"The CSCE has been an impactful force in civil engineering practice and education since 1887," Baetz said. "Being named a Fellow of the CSCE provides a tangible link to this storied professional society and connects you to an impressive group of colleagues nationwide that are continuously elevating the profile of Civil Engineering."