Provincial budget increases physician training at McMaster's medical school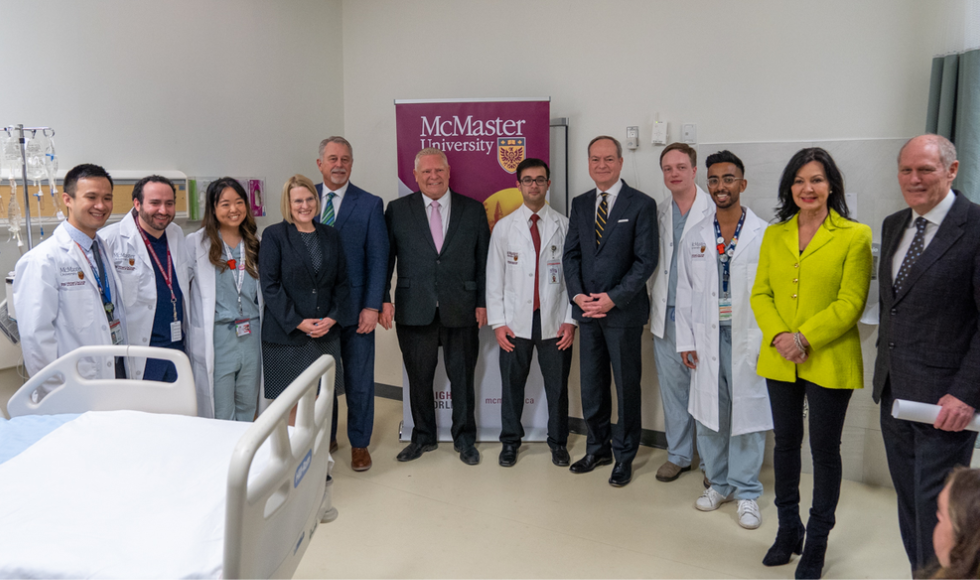 New provincial funding to expand the training capacity at the Michael G. DeGroote School of Medicine was announced by Premier Doug Ford at McMaster's Centre for Simulation-Based Learning on March 30th (Photo by Georgia Kirkos/McMaster University)
---
The 2023 provincial budget includes new funding to expand the training capacity at McMaster University's Michael G. DeGroote School of Medicine, helping to build a stronger and more resilient health care system, as announced by Premier Doug Ford on March 30, 2023 in Hamilton, Ontario.
The province committed to funding both new undergraduate medical school seats and postgraduate medical training seats at Ontario schools, including the Michael G. DeGroote School of Medicine where the announcement was made.
"As the birthplace of evidence-based medicine and problem-based learning, McMaster trains some of the best physicians in the world," says Dr. Paul O'Byrne, dean and vice-president of the Faculty of Health Sciences. "By helping us train more physicians, we are helping to ensure that Ontarians have access to a doctor when they need care and helping to build a more sustainable health-care system in our region."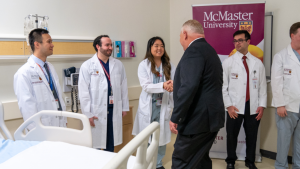 McMaster University's Faculty of Health Sciences is consistently ranked in the top 50 schools in the world for health and medicine and is renowned for its innovative approach to medical education that encourages active participation and early clinical exposure, with over 4,000 faculty across two distributed campuses and four clinical education campuses in Southwestern Ontario.
"We would like to thank the provincial government for supporting McMaster in training more physicians, who are vital to our health-care system," says David Farrar, president of McMaster University.
"By training future medical leaders, McMaster University is helping to advance human and societal health and well-being, both in our province and around the world."
McMaster's Faculty of Health Sciences is also known for its strong research programs and is home to several research institutes and centres, such as the Michael G. DeGroote Institute for Infectious Disease Research, Farncombe Family Digestive Health Research Institute, Schroeder Allergy and Immunology Research Institute and the Centre for Health Economics and Policy Analysis.