Professor emeritus has last words on death and dying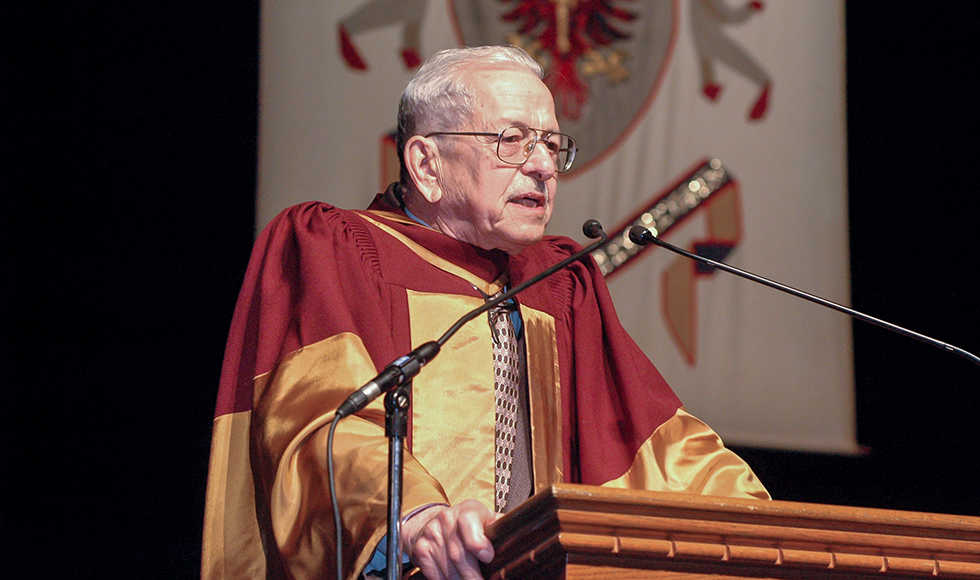 Professor emeritus Ronald Bayne was one of Canada's first geriatricians and a lifelong advocate for better care for older adults. Dr. Bayne, shown here receiving his honorary doctorate at McMaster in 2006, died on Friday after deciding to take advantage of the opportunity for medical assistance in dying.
---
Dr. Ronald Bayne was one of Canada's first geriatricians and spent much of his long career as a passionate advocate for better care for the elderly, working to solve the problems in long-term care homes.
At 98, and racked with chronic pain, he turned his advocacy to another cause critical to the elderly: planning the end of life.
Bayne, who was a professor emeritus of McMaster University, died on Friday after deciding to take advantage of the opportunity for medical assistance in dying.
Before dying, he shared his story with the media and produced a compelling video urging seniors and their families to take control of the end of their lives.
The 12-minute video is a powerful demonstration of Bayne's passion for the cause to the very end, part reflection on death and dying, part rallying cry for better health care and autonomy for the elderly.
"I'm 98 so I am near the end of my life. Fortunately, my mind is still clear though my body is exhausted," he says in the video.
"I want the vast majority of the population, and seniors in particular, to realize that they have far more control at the end than they realize they do. Every Canadian has the right to control their own bodies. There's no question about it. You are legally entitled, and you must insist that your voice is heard."
In the video, Bayne is eloquent and passionate, referring to Dr. William Osler and Shakespeare and his long experience in health care.
"I had a long career as a physician and over these many years I've been struck by the fact that increasingly people are fearing death and dying. I think it's become almost universal," he says. "People themselves have become fearful about what may happen at the end of their lives, and if they're going to be suffering great pain, if they'll get relief.
"I want people to get over this fear of the unknown and make it known. Discuss it openly, realizing that death is inevitable."
He says everyone has the right to end their life if it has become unbearable. "Some people say that's promoting death. Of course it's not promoting death. Death is inevitable, you don't need to promote it. No, this is to reduce suffering and pain. And if you as a person are not likely to pass on soon, you should be able to control your own end of life."
Trained at McGill University, Bayne was a professor of medicine at McMaster's Michael G. DeGroote School of Medicine from 1970 until he retired as a professor emeritus in 1989.
He received an honorary degree from McMaster in 2006 for his advocacy and work raising awareness of the need for better care of the elderly and chronically ill people, and his initiation of programs that work to prevent the warehousing of often marginalized populations.
It is clear from the video that his passion for this work continued through the very end of his life.
"We must have our voices heard. That's what I'm urging people to do in later life," he says in the video. "Take that responsibility. Let us ensure that the health-care system for long-term care is properly organized and managed and supervised.
"We know, from recent experience with COVID, that these long-term institutions were very poorly managed, and in a way, the general public is justified in their fear of what will happen to seniors in those places," Bayne says, suggesting the seniors need to realize they have more control than they think they do.
"We as seniors should be working with our families to discuss the end and how we wish it to occur and building up their [family's] feeling of confidence that it will be peaceful for us and bearable for them. So instead of focusing on the end, build up great memories, happy memories that the family will treasure afterwards."
Bayne had a close relationship with the university over the years, and 13 of his family members have McMaster degrees, including the honorary degree awarded his son-in-law, Michael Hayes, in 2017.
Bayne and his wife Barbara have made several donations to the university, establishing the Ronald Bayne Gerontology Award for a graduate student conducting aging research; and the Barbara and Ronald Bayne Award to provide support for senior students in the Department of Health, Aging and Society who are engaged in practical learning experience as part of their undergraduate studies.
"Dr. Bayne has been a wonderful teacher for all of us from his days at McMaster helping create geriatrics as its own discipline in Canada, to just before his death," said Paul O'Byrne, dean and vice-president of the Faculty of Health Sciences. "I am very grateful for all of his lifelong contributions to improving the health of Canadians."
Parminder Raina, scientific director of the McMaster Institute for Research on Aging, added: "One of Canada's first geriatricians and a physician at Mac, Dr. Bayne founded the Hamilton-Wentworth Group on Aging, the Gerontology Research Council of Ontario (GRCO) and led the Canadian Association on Gerontology in the '80s. His tireless work in the area of geriatrics and gerontology drove the infusion of a lot of provincial funding into research and training in aging at a crucial time.
"His powerful messages around death and dying are inspiring and important."