Pride Month at Mac: Here's what you need to know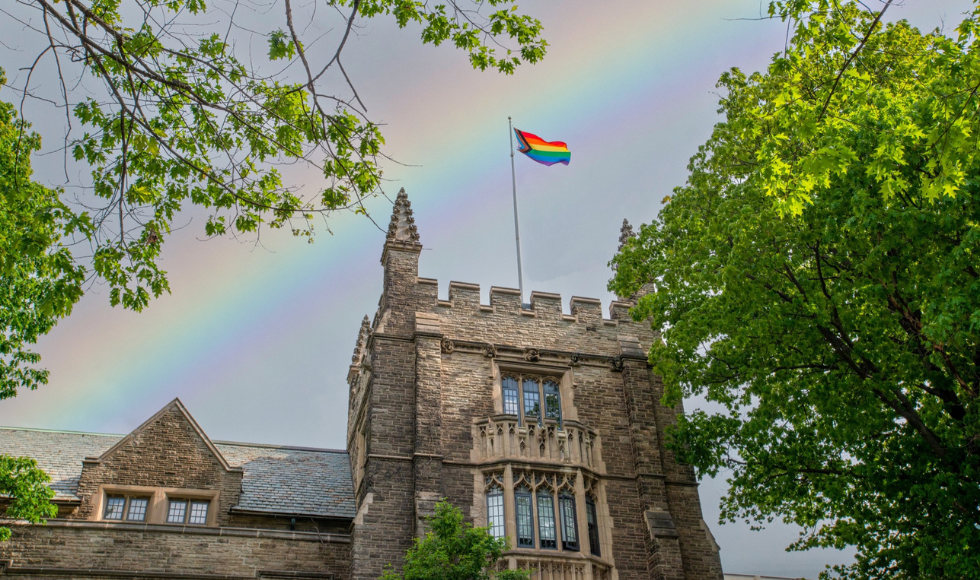 The Pride flag is flying above University Hall to mark Pride Month.
---
The Pride flag has been raised on campus for Pride Month, in recognition of every individual's right to equality, and of the richness that 2SLGBTQ+ individuals bring to our communities.
Here is a list of local events, organizations and resources to celebrate or support the diverse individuals who enrich our community. Whether you are 2SLGBTQ+, gender questioning or unsure, you belong here.
Events
The Student Wellness Centre is organizing a drop in group for gender-diverse and gender-questioning students, a cooking session, a social with guided painting, a queer movie night and a drag lunch — including an appearance by McMaster's own Unita Assk. Click here for more details.
The Faculty of Health Sciences presents a free virtual talk with nurse and equity advocate Ellie Reyes. The June 20 event, What Does it Mean to Save a Life: Redefining Care for 2SLGBTQ+ Communities makes a case for more inclusive care. Click here to register or for more information.
The Uncloseted Comedy Pride Festival runs June 16 through June 18 at the Staircase Theatre in downtown Hamilton.
Local non-profit group Pride Hamilton will hold its outdoor celebration at the end of August, which is good news for many McMaster students arriving just in time for the start of the fall term.
Organizations and resources
MSU Pride Community Centre, or PCC is a student-led, peer support service provided by the McMaster Students Union (MSU) specifically for students who identify as part of the 2STLGBQIA+ community. In addition to providing confidential peer support, the PCC provides educational programming and advocates to challenge attitudes and norms that oppress the 2STLGBQIA+ population, helping establish a safe(r) space for Queer folx on campus and in the GTHA. Click here to follow them on Instagram.
LGBT Youth Line provides service for youth, by youth that affirms the experiences and aspirations of lesbian, gay, bisexual, transsexual, transgender, 2-spirited, queer and questioning youth in Ontario. Get in touch with a peer support volunteer Sunday to Friday 4 p.m. to 9:30 p.m. via phone, chat or text services.
Phone: 1-800-268-9688 | Text: 647-694-4275
Good2Talk is a free, confidential and anonymous helpline providing professional counselling and information and referrals for mental health, addictions and well-being to post-secondary students in Ontario, 24/7/365. Good2Talk serves students at Ontario's publicly-funded colleges and universities, with a primary focus on those aged 17-25.  Phone: 1-866-925-5454
Speqtrum Hamilton is a youth-founded, youth-run, and youth-focused skill-sharing and community building program for queer and trans young people in Hamilton.
Trans Lifeline Hotline is a peer support service run by trans people, for trans and questioning callers. Phone: 1-877-330-6366
For information about supports and resources, contact equity@mcmaster.ca or the Gender and Sexuality Working Group of the President's Advisory Committee on Building an Inclusive Community (pacbic@mcmaster.ca).
More information on Pride
Click here for a synopsis of Pride history or click here for a chronicle of Canadian Pride history.
What do the letters in LGBTQ2S+ stand for? Click here to find out.