President's Awards celebrate McMaster's most outstanding staff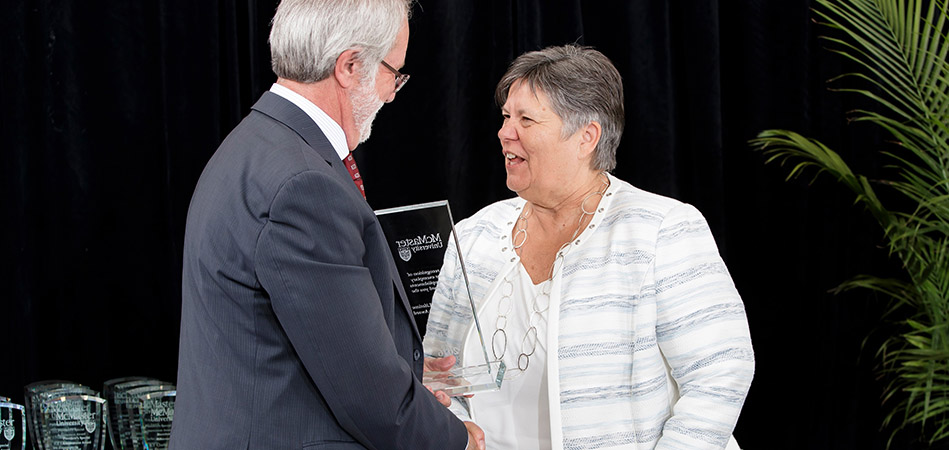 Susan Birnie accepting her award from President Patrick Deane.
---
The annual President's Awards for Outstanding Service took place on May 30th with this year's reception in honour of 103 nominees who were recognized by members of the McMaster community as having made an outstanding contribution to the mission of the University.
The Lifetime Achievement Award, which was introduced in 2016, celebrates six exceptional individuals. The recipient is Susan Birnie, who had a private luncheon at the University Club with close family and friends and also added by Patrick Deane. Birnie is the Director of Education Services for the Faculty of Health Sciences.
Individual Recipients:
Miroslav Cika, Electronics & Workshop Technician: Psychology, Neuroscience & Behaviour
Suvojit Ghosh, Managing Director, CIRC: Mechanical Engineering
Laura Harrington, Managing Director: McMaster Institute for Research on Aging Faculty of Health Sciences
Corinne Jehle, Administrative Assistant, Graduate Program: Sociology
David Lu, Manager, Information Technology: School of Graduate Studies
Courtney Sheppard, Information Technology Analyst: Faculty of Social Sciences
Kristina Trollip, Administrator: Chemical Engineering
Terry Wagg, Machine Shop Team Leader: Mechanical Engineering
Team Recipients:
PAWSS Project Team (Pups Advising Within Social Sciences)
Special Achievement Recipients:
ET Clarke Centre Fire Response
A list of all nominees and recipients, along with their biographies, can be found at www.workingatmcmaster.ca/presidentsawards.