Premier Doug Ford and key cabinet colleagues tour McMaster labs, thank researchers for their critical COVID work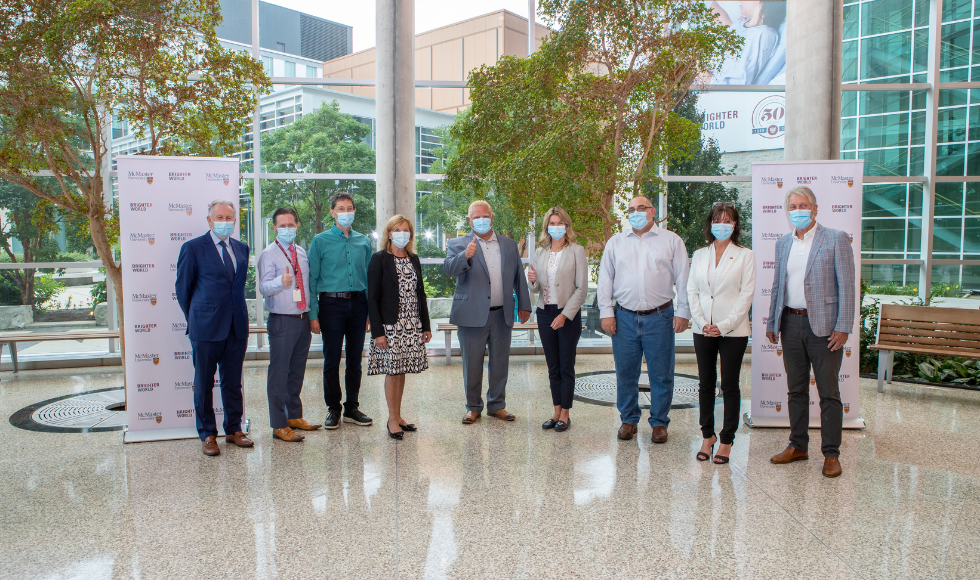 From left to right: Dr. Paul O'Byrne, Dean & Vice-President of McMaster's Faculty of Health Sciences, Dr. Matt Miller, Associate Professor, Associate Chair & Assistant Dean, Biochemistry Graduate Program, Dr. David Earn, Professor of Mathematics and Co-lead, Canadian Network for Modelling Infectious Disease, Honourable Christine Elliot, Minister of Health, Honourable Doug Ford, Premier of Ontario, Honourable Jill Dunlop, Minister of Colleges and Universities, Dr. Brian Lichty, Associate Professor, Pathology and Molecular Medicine and Director of the Robert E. Fitzhenry Vector Laboratory, Ms. Donna Skelly, MPP Flamborough-Glanbrook, Mayor Fred Eisenberger
---
Ontario Premier Doug Ford personally thanked McMaster researchers as he and key members of his caucus, together with Hamilton Mayor Fred Eisenberger, toured some of the laboratories where researchers are working to resolve critical issues related to COVID-19 – and to stave off the threat of similar problems in the future.
Ford and Eisenberger visited campus Thursday (Aug. 12) with Minister of Health Christine Elliot, Minister of Colleges and Universities Jill Dunlop and Flamborough-Glanbrook MPP Donna Skelly.
The visitors leaned in and listened intently as researchers described their work and the provincial, federal and private funding that makes it possible.
The political leaders asked researchers questions about their work and how it is making a difference, including identifying and developing a treatment for rare vaccine-related clotting, plotting the course of the pandemic, developing hand-held rapid tests and formulating second-generation COVID vaccines.
At each stop, the premier thanked the researchers for their work and encouraged them to keep going.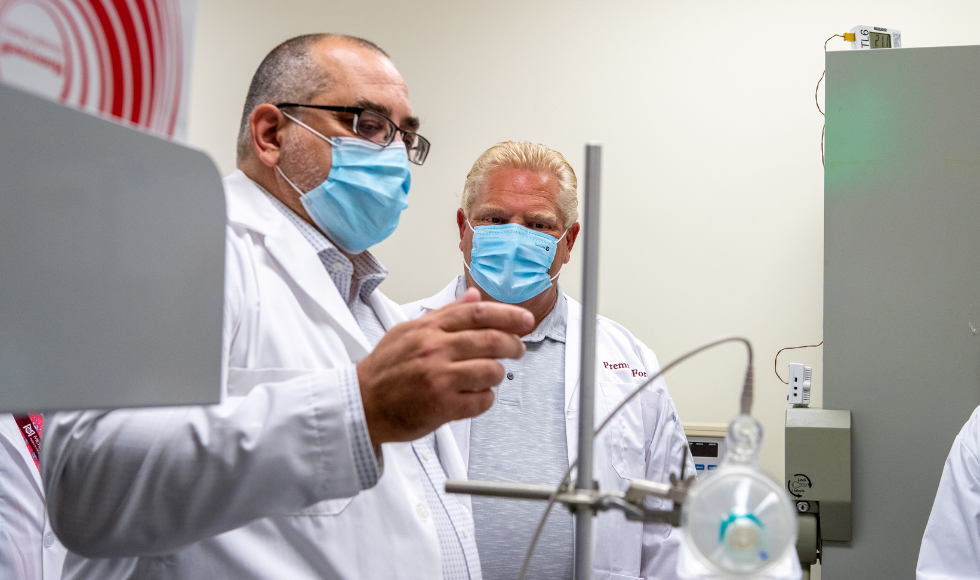 McMaster President David Farrar and Dean and Vice President, Faculty of Health Sciences Paul O'Byrne welcomed the premier and his colleagues for the tour, which included three labs representing McMaster's multidisciplinary work, all of which are part of Canada's Global Nexus for Pandemic and Biological Threats.
The Global Nexus is leveraging McMaster's national and global leadership in infectious disease research, its tradition of evidence-based solutions, its roster of interdisciplinary experts, and its network of partners across universities, industries, governments and not-for-profit organizations to lead Canada's pandemic ecosystem.
"We were very pleased to have the opportunity to show these leaders the work McMaster is doing to help Ontario tackle the pandemic and the impact it is having here and around the world," Farrar said later. "It was clear they were deeply interested not only in these achievements, but in the people who have been working so hard to make us all safer from such threats."
Dressed in crisp lab coats, the delegation visited the McMaster Platelet Immunology Laboratory, where researchers Donald Arnold, John Kelton and Ishac Nazy and their team were the first to identify the mechanism that drives vaccine-induced immune thrombotic thrombocytopenia, the rare but serious clotting associated with vector-based COVID vaccines, and to develop a treatment for the condition.
Arnold explained that another of the lab's important COVID-related achievements was proving that contrary to suggestions early in the pandemic, blood plasma was not a viable treatment for COVID. Such findings, he said, are important because they prevent resources from being wasted in a time of crisis.
Next, the group visited the Biochemistry and Biomedical Sciences lab of Yingfu Li, where the senior scientist was joined by Engineering Physics colleague Richa Pandey. They demonstrated a rapid COVID test they have developed with Canada Research Chair in Miniaturized Biomedical Devices Leyla Soleymani and other colleagues.
The handheld test, which can be adapted to detect other infections and cancers, uses a customized chip to analyze a small saliva sample and produce a highly accurate and easily readable result on a smartphone screen. Li explained that the test, now being developed for broad use, is also much more affordable than other technologies.
"Wow. I love it," Premier Ford said as he leaned in to study test results displayed on a smartphone screen. "Thank you for all you're doing."
Finally, the group toured the Robert E. Fitzhenry Vector Laboratory, where researchers Brian Lichty (Medicine) and Matthew Miller (Biochemistry and Biomedical Sciences) explained how they and their colleagues are preparing for the human trials of a McMaster-made, second-generation COVID vaccine.
After the lab tours, the visitors met with David Earn, a Mathematics and Statistics professor and member of McMaster's Michael G. DeGroote Institute for Infectious Disease Research, to discuss how Earn and his colleagues use mathematics to understand and project how pandemics spread. Earn is co-lead of the Canadian Network for Modelling Infectious Disease.