Poverty, advocacy and the municipal election: "Get informed and be prepared to vote"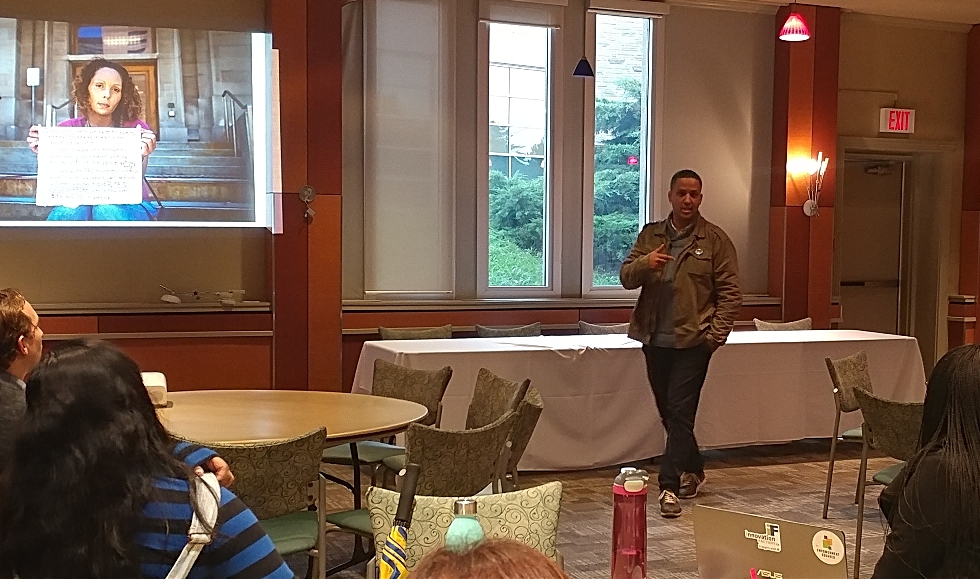 Ward 3 City Councillor Matthew Green was one of a number of poverty experts and advocates that took part in "Poverty, Advocacy, and Municipal Elections," a recent event hosted by the McMaster Community Poverty Initiative.
---
When it comes to advocating for poverty reduction in the upcoming municipal election, learn about the issues, learn about the candidates, and above all, get involved.
That was the message from an event held this week aimed at discussing the impacts of poverty and what citizens can do to both advocate for change in Hamilton, and educate themselves before heading to the polls on October 22.
The event, organized by the McMaster Community Poverty Initiative (MCPI) brought together a number of poverty advocates and experts, as well as Hamilton residents with lived experiences of poverty, to discuss a range of issues from the cancellation of Ontario's Basic Income Pilot, to how to advocate at the municipal, provincial and federal levels.
"In terms of advocacy, the most important thing facing you in this moment is the municipal election and I would encourage you to get involved," MCPI Co-chair Stephanie Baker Collins told McMaster staff, faculty, students and community members who attended the event.
"Be prepared to vote and be prepared to bring out other people to vote," she continued. "Educate yourself as to who is running in your ward. It's hard to tell what someone's plan is from the little card you get in the mail, but it's easy to look up candidates online to see their plan and what they are supporting."
During the event, a number of speakers talked about the importance of advocacy and shared resources and information on poverty-related issues.
Tom Cooper, the director of the Hamilton Roundtable for Poverty Reduction, spoke about the implementation of the Basic Income Pilot in Hamilton, what it's cancellation has meant for those enrolled in the project, and how issues related to basic income connect to policies at the municipal level.
Cooper was joined by Hamilton residents Jessie Golem and Michele Miller, both Pilot participants, who shared their experiences in the program, the challenges they face, and their own personal efforts to advocate for poverty reduction.
"The weapon I have is my camera," explained Golem, who talked about her project, Humans of Basic Incomewhich, through photography, seeks to raise awareness and document the experiences of participants in the three communities taking part in the Basic Income Pilot.
Ward 3 City Councillor, Matthew Green also spoke at the event, stressing the importance of advocating for poverty reduction both during the municipal election campaign, and between elections.
Green asked the audience whether they were angry about the cancellation of the Basic Income Pilot. Though many said, "yes", most said they had not been active in municipal elections. Green then urged the audience to engage in the political process and vote for candidates who support poverty reduction policies. "Politics is going to happen with or without you, that's the truth. So you need to get involved," he said.
Baker Collins concluded the event by discussing advocacy efforts currently taking place at each level of government, and detailed a number of organizations and campaigns dedicated to poverty reduction including; Dignity for All, the Income Security Advocacy Council, $15 and Fairness, the Ontario Coalition Against Poverty, Colour of Poverty – Colour of Change, and Health Providers Against Poverty.
"Good advocacy requires being informed," she said. "There are organizations out there that provide good information and that have advocacy campaigns already underway that you can join. You don't have to do that work on your own."
To learn more about the impacts of poverty, or to find out how to get involved in poverty advocacy, contact the McMaster Community Poverty Initiative.
The McMaster Community Poverty Initiative (MCPI) was formed in 2007 by concerned faculty, staff, and students who were interested in expanding McMaster's role in addressing local conditions of poverty. The MCPI has membership from faculties across campus, and works to enhance relationships between McMaster and Hamilton, with a focus on poverty reduction.
The MCPI is supported by the McMaster's Office of Community Engagement.